Karnataka imposed a strict 14-day curfew starting from April 27, night 9 pm. Essential shops have been instructed to stay open only from 6 am to 10 am. The state government also announced free Covid vaccination for all adults.  It further reveals that all colleges, schools, cinema halls, theatres, gyms, bars, religious places and assembly halls shall remain closed during the curfew period. Moreover, restaurants and liquor shops are permitted for takeaway and delivery.
Karnataka Announces Strict 14-Day Curfew Starting From April 27; Free Vaccination
Karnataka Chief Minister Yediyurappa stated to the media on April 26, "Strict measures to control Covid pandemic will be taken. From tomorrow (Tuesday) night till the next 14 days, there will be a close down for the whole state. From 6 am to 10 am, essential commodity shops will be open. After 10 am, all shops will be closed." Only manufacturing, construction and agricultural sectors will be permitted. This decision was taken to tackle the rising covid cases in the state Public transportation will not function. However, food delivery and home delivery of alcohol will be permitted. On April 25, Karnataka reported 34804 infections, the highest ever which pushed the total caseload to 13.39 lakh. Karnataka also announced free Covid vaccinations to everyone above 18 years of age.
Also Read: Chef Saransh Goila Announces Launch Of PAN India COVID Meal Platform To Assist Quarantined Patients
Karnataka announces free vaccinations for all. State govt to provide free vaccines to those between ages 18-44. Announcement by @CMofKarnataka @BSYBJP @NewIndianXpress @santwana99 @XpressBengaluru

— Anusha Ravi Sood (@anusharavi10) April 26, 2021
Night Curfew & Weekend Curfew Earlier Imposed In Karnataka Till May 4
On April 21, Karnataka breached the 20,000-mark in new Covid cases reported in a single day. The state reported 21,794 new Covid-19 positive cases and recorded 149 fatalities. This took the total number of infections to 11,98,644 and the death toll to 13,646 on April 21. To curb the rising COvid cases during the second wave the Karnataka government after hours of deliberation with the governor imposed a night curfew and weekend curfew in the whole state from April 21 to May 4. During this weekend curfew, only essential workers are permitted to travel by displaying their ID cards. Neighbourhood shops selling groceries, food, fruits, vegetables and milk will only be allowed to function from 6 am to 10 am. Restaurants, eateries and bars are permitted for takeaway and home delivery services. Here's everything that's closed and opened during the weekend and night curfew. 
Also Read: Maharashtra New Curfew Rules: Grocery Shops, Dairies & Bakeries To Remain Open From 7 AM To 11 AM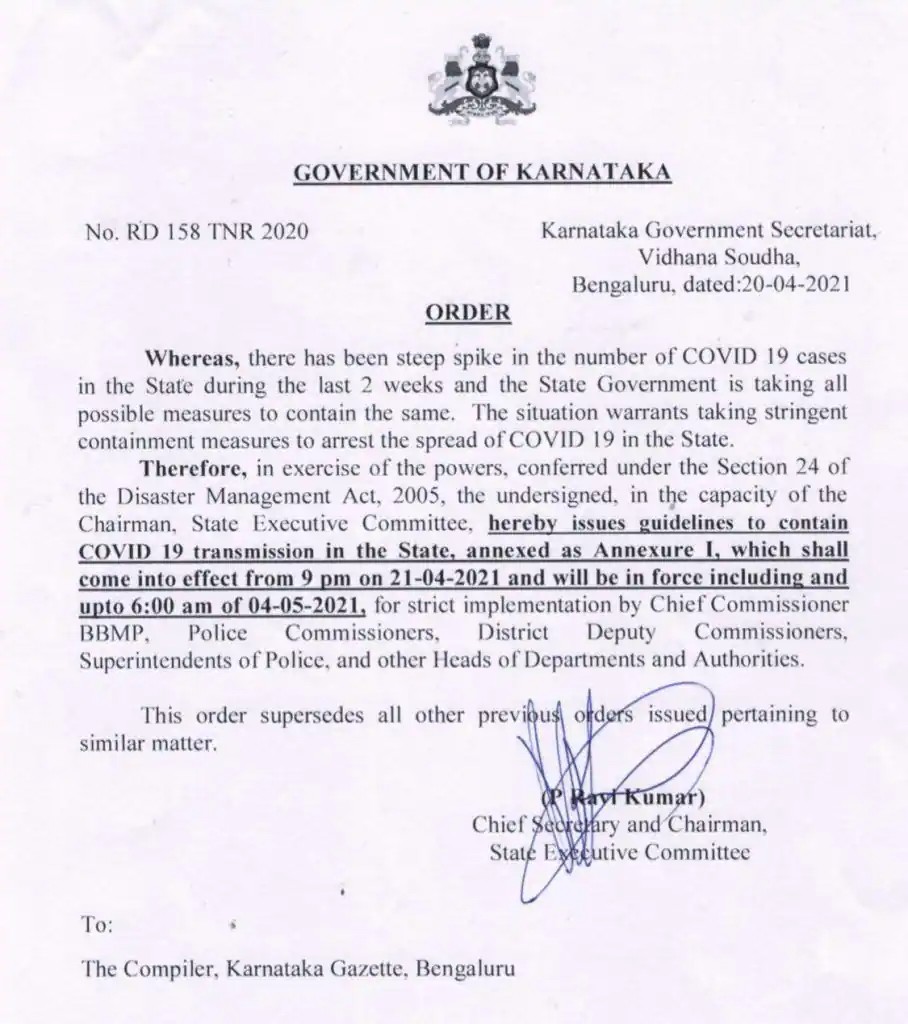 Here's What's Closed In Karnataka During Curfew
Movement of all people between 9 pm to 6 am expect for essentials
Swimming pools, malls, cinema halls, yoga centres, spas, gardens, amusement parks etc
Auditoriums, Pubs, bars and assembly halls
Dining at eateries and restaurants
Religious places of worship ( Priests can perform rituals)
All gatherings pertaining to social, political, religious, entertainment and congregations
Colleges, schools, educational, training and coaching institutions
Also Read: Delhi Weekend Curfew: Here's How You Can Apply For An E-Pass To Step Out
Here's What's Permitted In Karnataka During Curfew
Takeaway and home delivery at restaurants
Takeaway and home delivery at liquor shops and bars
Shops for essential products like ration shops, groceries, fruits, fish, milk, animal fodder etc
Banks, ATMs, insurance offices
Hotels for guests
Barbershops, salons, beauty parlours
E-commerce delivery of products
Inter and intrastate movement
Metros, cabs, and public transport
Marriages with maximum of 50 guests
Funerals with maximum of 20 attendees
Also Read: Flipkart To Acquire Cleartrip As Travel Company Faced Huge Economic Losses Amid Lockdown
Foodies can get their favourite food home delivered during the curfew. Liquor shops will also permit takeaway and home delivery of their stock. Work from home is encouraged in the state to curb the rising Covid cases. Meanwhile, if you need tips on the best desserts in Bangalore, then order a scrumptious waffle from Belgian Waffle Factory.