When it comes to travel and tourism, Kerala is one state that has always made its mark in not just India but in the world. For those of you who don't know let me take you on a trip down memory lane. Kerala has bagged the first spot in the top 20 global trending destinations for 2020. Kochi in Kerala is the 7th best travel city in the world for 2020. And by 2021, tourist spots in Kerala are all set to be specially-abled friendly. So now that you know how amazing this state is, they have once again added another feather to their cap. Kerala now has the world's first marine cemetery in Kozhikode. This is a cemetery that is built by eco-concious groups that will house tombs for the endangered marine life of the state.
What's In It?
Plastic pollution is real, and the marine life is the one that suffers the most. And as a stark reminder to people, this marine cemetery is built at the Beypore Beach in Kozhikode. It's recognized as not only India's but also the world's first-ever marine cemetery. The project is driven by the climate activist Aakash Ranison, Jellyfish Watersports with the support of the Kozhikode district administration and Beypore Port Department, Clean Beach Mission.
Also Read: Kerala Bags First Spot In Top 20 Global Trending Destinations For 2020
This has been built to honour the eight endangered species or extinct fishes like the parrotfish, hammerhead shark, dugong, zebra shark, leatherback turtle, eagle ray, Miss Kerala and the seahorse. This cemetery is built in a unique manner and is quite different from the usual cemeteries made of cement or mud. These are made of iron frames, which are filled with single-use plastic bottles. The cemetery is designed in a manner to reflect the toxic relationship between marine life and single-use plastic. More than 200 single-use plastic bottles are used to build this. Did you know Tirumala Tirupati Temple Goes Plastic-Free! Prasad To Be Distributed In Jute Bags Now?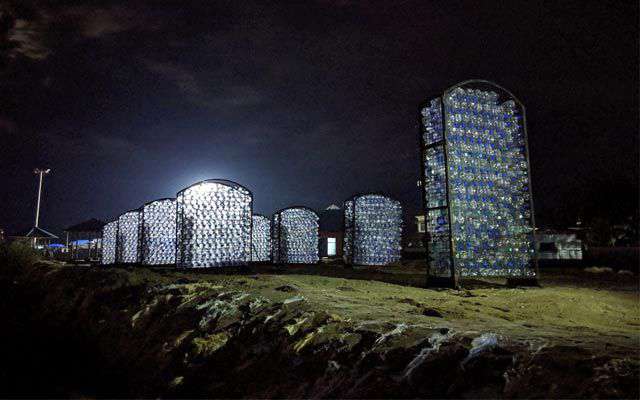 What's More?
Reports state that around 2600 tons of waste and 6.4 million tons of litter are disposed into our seas annually. And out of all this, about 50% of the sea litter is plastic which is really threatening marine life. Every day thousands of fish corpses lie on the sea bed, choking on plastic. The statistics are just tragic, 15 marine species have become extinct, 700 more are endangered thanks to plastic and water pollution. And this Marine Cemetery is a reminder to us about not just the fate of marine life but of mankind in general. And as this cemetery gets bigger, we as mankind will eventually inch closer to our graves. So here's some food, no plastic for thought!
Kerala Bags First Spot In Top 20 Global Trending Destinations For 2020