To witness the beauty and enchantress of Wayanand's lush greenery, a ride on Kerala's longest zipline is a must. The experience of this adventurous activity is thrilling and surely once in a lifetime experience. Say hello to 'Eagles Flight Zipline' that will take you on this adventurous journey in Wayanad. If you want to take a ride on this and to know more about this, keep reading.
Kerala's Longest Zipline In Wayanad
Zipline is always a great idea to go extremely close to nature and witness its magic. Here you will be hanging from 300 metres and feel the thrill of flying like a bird. The picturesque panorama will surely mesmerise you and will make you ride the zip line again and again.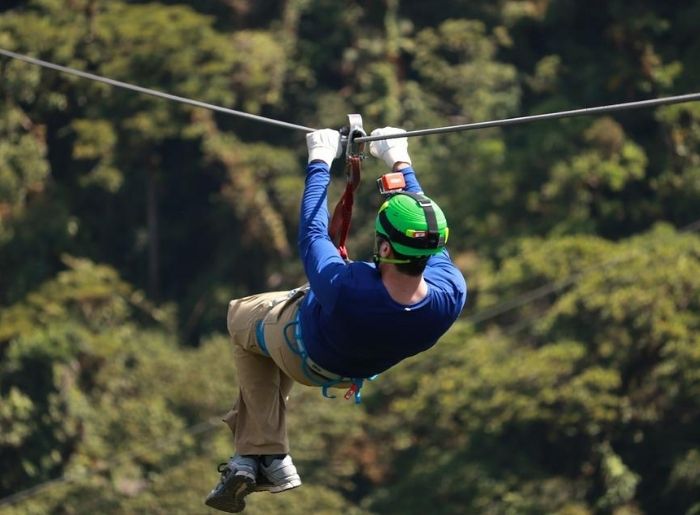 Also read: This Resort In Kerala Has A Giant Swing Facing The Ocean
Rules To Follow While Exploring This Place In Wayanad
The location is about 36 km away from Meppadi in Wayanad.
Vehicles are readily available to reach the destination.
Visitors of 10 years and above can only book this package and go on to experience it.
And weightwise, the maximum weight is 100kg.
It is open all days a week from 9 am to 6 pm.
The duration for each person is 5 minutes.
The charge for each guest is ₹250.
Foods and beverages from outside are not allowed inside.
You need to carry a valid Id proof to experience the thrill.
It is better to carry a bottle of sunscreen and a pair of sunglasses to protect yourself from the sun.
Also read: Iconic Vizhinjam Lighthouse in Kerala Reopens After 2 Years
Every step and process of this experience is completely safe with professional instructors. The instructors will guide you in every step and the experience will seem easy if you listen to and follow every instruction of the instructor meticulously. The safety gear, helmets, and harnesses will be provided by them. Kerala's longest zipline is surely a special experience and surely a must to do while in Kerala.