If you need a break from the hill stations of Himachal Pradesh that offer Himalayan views, then you're at the right place. From tea and coffee estates, strawberry picking, to gushing waterfalls, here are 6 marvellous hill stations in India that are not in the Himalayas. Yet, they are simply breathtaking. So read on to get all the deets.
1. Daringbadi In Odisha
Odisha's Daringbadi, gets its unique name from a British officer named Daring Saheb, who was in charge of this place during the British rule. Known as Odisha's own Kashmir, this hill station lies in the Kandhamal district. It's surrounded by stunning pine trees, nestled at an altitude of 3000 feet. In fact, if you want to experience snowfall in Odisha, just head to Daringbadi. This peaceful quiet place must make it to your wishlist, especially if the mountains are calling you.
Also Read: I Went On A Trip To The Underrated Odisha &The Golden Beaches &Temples Left Me Wonderstruck
2. Chikmagalur In Karnataka
Coffee lovers, there can't be a better place to visit than Chikmagalur situated in the majestic Mullayangiri ranges of Karnataka. With glistening coffee estates and the aroma of roasted coffee beans travelling in the air, Chikmagalur is a slice of heaven. This 'Coffee Land of Karnataka' is home to the Jhari waterfalls, Kudremukh National Park, Bhadra river and more. So, go on nature walks in the forests, stay in cosy homestays and gorge on homely food.
3. Pachmarhi In Madhya Pradesh
Pachmarhi is Madhya Pradesh's one and only hill station. This is a UNESCO Biosphere Reserve for its vibrant flora and abundant fauna. Nestled at a height of 1,000 meters in a valley, in the Hoshangabad district, it's also known as 'Satpura Ki Rani'. Adventure enthusiasts have a host of activities to choose from like zip-lining, moto parasailing, jeep safari and waterfall trekking. Some of the must-see spots here include the ancient Pandav Caves, Apsara Vihar waterfalls and Satpura National Park.
Also Read: 10 Lesser-Known Hill Stations In India To Plan Your Next Holiday
4. Mahabaleshwar In Maharashtra
Maharashtra's most-talked-about hill station might be Lonavala but our hearts scream Mahabaleshwar. This hill station in Maharashtra would make you forget the ones in Himachal Pradesh. Located in the Western Ghats in the Satara district of the state, Mahabaleshwar is famous for its ancient temples, majestic peaks, numerous rivers, gushing waterfalls and lush green forests. It houses the magnificent Pratapgad Fort and a smatter of strawberry farms. Drink fresh strawberry wine, shop at the Town Bazaar and enjoy a romantic time with your bae.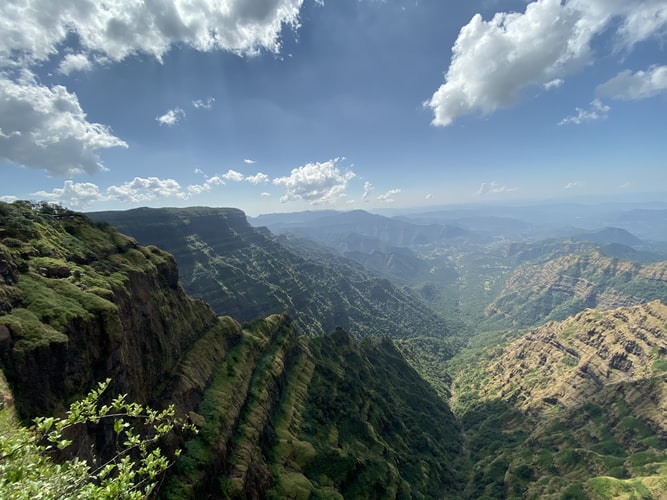 Also Read: Top 10 Hotels In Mahabaleshwar That Are Perfect For Your Weekend Stay
5. Munnar In Kerala
A honeymooners paradise, Kerala's Munnar is blessed with pristine lakes and tinkering waterfalls flowing down valleys. Munnar is surrounded by rolling hills and dotted with tea plantations. Take spice tours, visit the Lakkam Waterfalls, head to the Eravikulam National Park, the habitat of the endangered mountain goat Nilgiri tahr. This relaxing hill station is perfect for those seeking a peaceful workation or a quiet weekend gateway in the hills.
Also Read: 5 Insanely Beautiful Hill Stations In Kerala To Visit Instead Of The Mainstream Himachal
6. Lambasingi In Andhra Pradesh
"The Kashmir of South India", Lambasingi is a hidden gem of Andhra Pradesh. This hamlet town nestled 1000m above sea level attracts tourists in bigger numbers during the winter season. Lambasingi houses a large number of strawberry farms where tourists enjoy strawberry picking here. It boasts of chilly temperatures and quaint valleys. And it's the only place in Andhra Pradesh to witness snowfall.
View this post on Instagram
So, these are some of the best hill stations to visit apart from those offering Himalayan views. When it's safe to travel again, go on a scenic road trip and have the time of your life.