Under 140 characters
A farm-to-table experience, set courses only and a French outlook – Masque is the perfect addition to Mumbai's culinary journey.
The Ambiance
Deep inside the recesses of Lakshmi Mills, lies a nondescript looking building covered with beautiful foliage and an earthy vibe. Get transported into an entirely new world filled with muted grandeur, style and sophistication as soon as you enter Masque.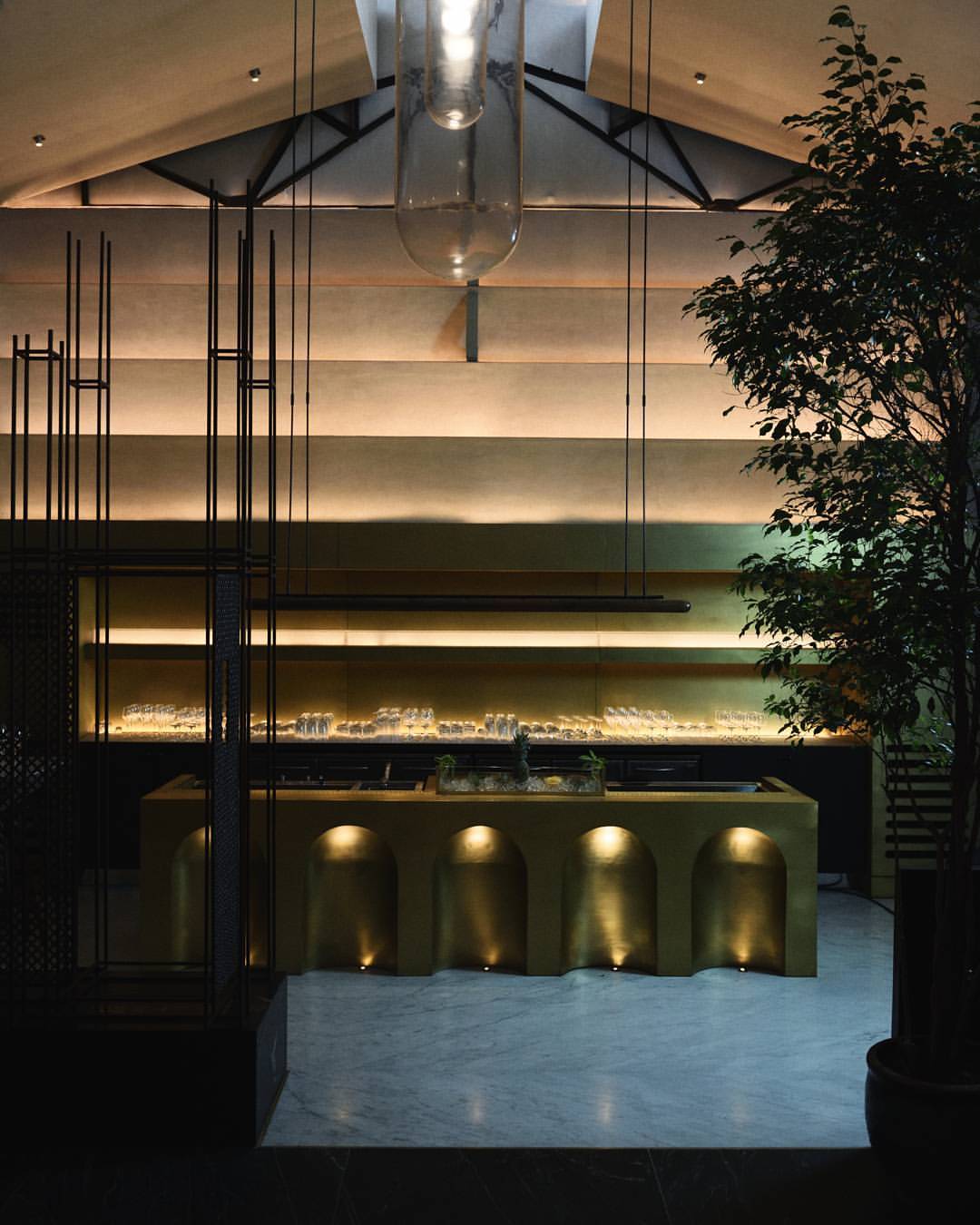 It is set up in textures of brown and has soft yellow lights in hand-blown large test tubes which hang discreetly from the ceiling. A gorgeous installation by Rathin Burman is probably your only clue that this meal is going to cost you anywhere between INR 3000 – INR 6000 per person.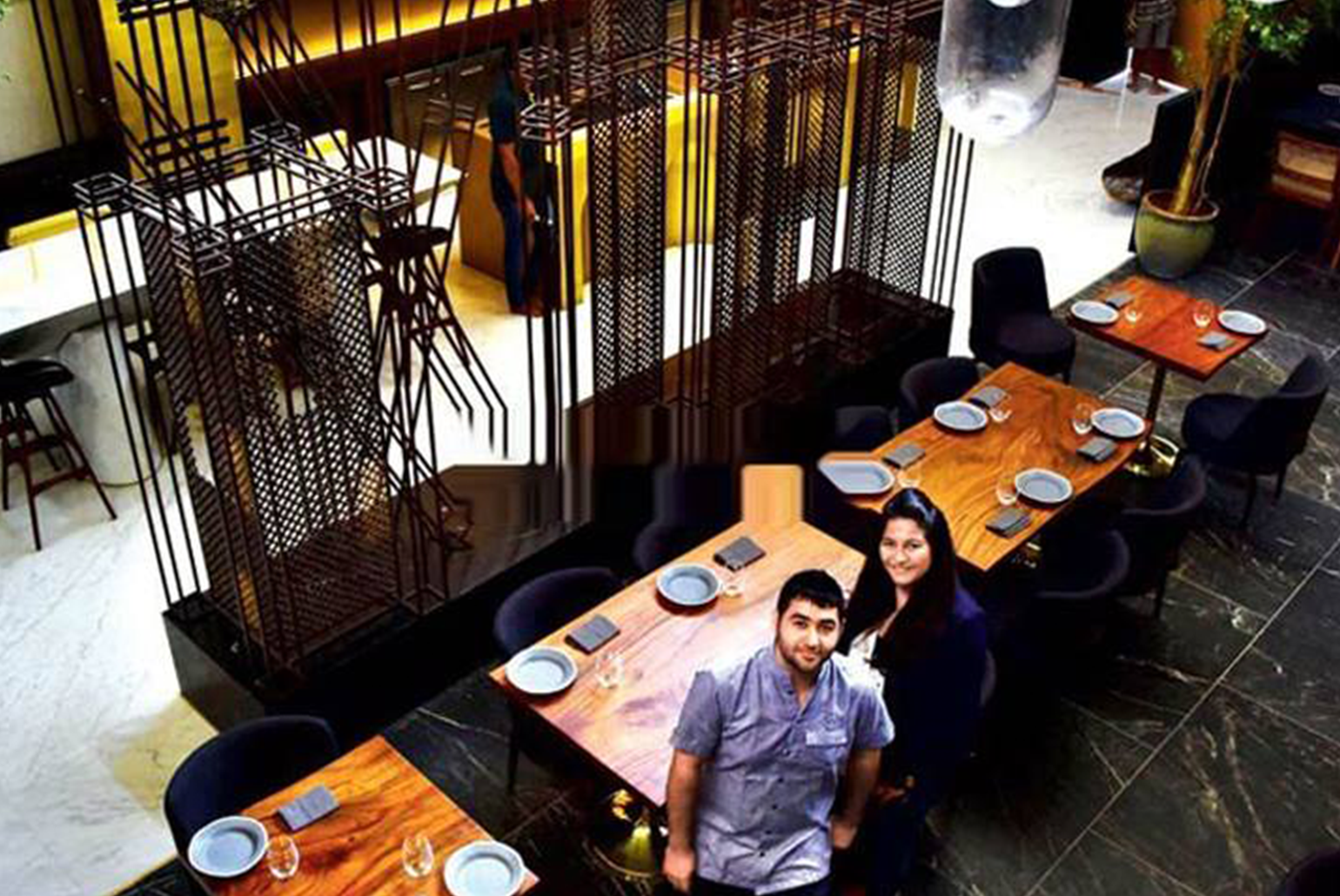 The Food
The real talking point at Masque is the meal you eat here. Providing you a set menu and the only choice you have is between a three, six and ten course meal. With all other decisions taken care of finally you can sit back and relax as the attentive servers cater to you.
Masque screams a farm-to-table experience furthermore promises only locally foraged ingredients. The experience here is far more relaxed than you can ever imagine. You may be surrounded by diners in shiny coiffures and muted elegance but the meal in itself is delightfully light. We could safely call it a sensory explosion.
All the ingredients at Masque are carefully selected to create an experience that's fresh and unique. The menu changes every fortnight using "botanical bistronomy" to craft their menu. Influenced from Mediterranean, modern European, South-East Asian and also Latin American cooking the preparation creates a complete experience for diners. Most ingredients are sourced from their origins like the olive oil from Rajasthan and Yak's cheese is brought from up North. Wood sorrel leaves and pink baby begonia flowers are grown at a farm in Pune are some unheard ingredients that are also used.
The Drinks
The bar is inspired by Ayurveda and is known for serving concoctions of ingredients that sound like they were sourced off a chateau in France. Think coconut smoke, rum with kale syrup, and Pondicherry chocolate infusion to name a few. Just like the food menu, expect delightful variations in your drinks with ingredients like rhododendron, red cabbage and roasted barley.
The chefs and the servers visit the table and explain to you the dishes with plenty of name-dropping. It can get a tad bit overwhelming for someone who would rather just like to enjoy a quiet conversation and a great meal.
Other Details:
Aditi Dugar of Sage and Saffron co-owns Masque with Aditya Dugar
Chef Prateek Sadhu who heads the kitchen has graduated from the Culinary Institute of America. He has worked with renowned names like The French Laundry in California, Chicago's Alinea, Le Bernardin in New York and the world-class Noma in Copenhagen
Address:
Masque, Laxmi Woollen Mills, Shakti Mills Lane, Mahalaxmi.
Call 24991010 for reservations. No walk-ins.
Cost:
Rs 3200 plus taxes per head for a six-course meal, Rs 650 plus taxes for a cocktail.
Consequently there's an old saying which goes, "there is no love more sincere than the love for food". Also Masque is the epitome of that sincerity therefore you much enjoy a dining experience like no other at this beautiful restaurant.
LIKE Curly Tales on Facebook | Instagram | Twitter
You can subscribe to our newsletters.