Olympian Neeraj Chopra, who brought gold for the country, has already impressed us with his javelin throwing skills. But do you know what the athlete savours as part of a healthy breakfast? Well, his classic breakfast can comprise fruits, pieces of bread, muesli, coconut water and also pancakes. Recently, he was enjoying a floating breakfast in the Maldives with all these goodnesses while soaking in the stunning view of the blue waters. He shared an Instagram story, captioning it as, "Healthy breakfast with a view."
Neeraj Chopra Is In The Maldives For Training; Enjoys Hearty Breakfast With A View
Neeraj Chopra is in the Maldives now for his training, where he also had his first scuba diving experience. In his gorgeous floating breakfast, he had watermelon, kiwi, pineapple, dragon fruit, muesli, oatmeal, bread toast, pancakes, coconut water and more. All the dishes and beverages incorporated in the meal were delish and highly nutritious.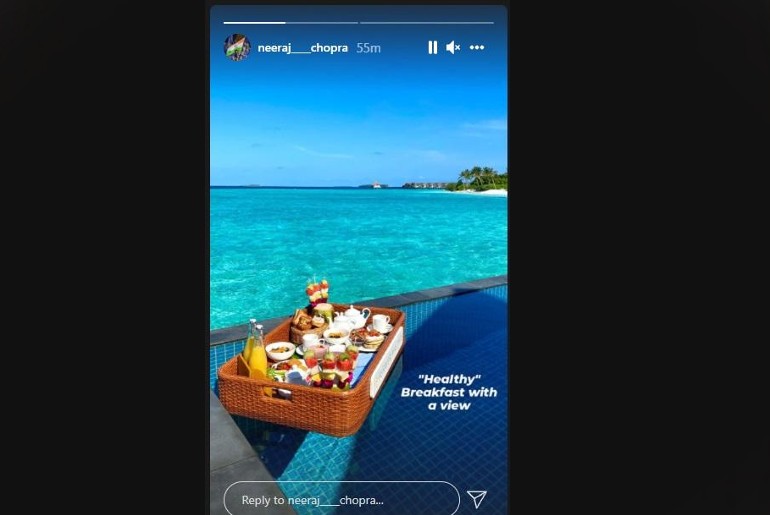 Sharing the video of his scuba diving, Neeraj wrote, "Aasman par, zameen pe, ya underwater, I'm always thinking of the javelin! PS: Training shuru ho gayi hai." The caption reveals his unflinching passion for the sport he excels in.
View this post on Instagram
Also Read: Mirabai Chanu Of Tokyo Olympics Is From This Scenic Northeastern Village & Here's Why You Should Visit It Too!
In another post, Neeraj shared some marvellous pictures from the island. Along with the pictures, he wrote, "The blue ocean, different shades of the sun, lots of relaxing and a first scuba diving experience. Had a fun short break in the #Maldives, thank you for your hospitality @furaveriresort @pickyourtrail."
View this post on Instagram
Als Read: Tokyo Olympics: Pani Puri Is The Best Street Food For Athletes Reveals Javelin Thrower Neeraj Chopra
Neeraj Follows A Healthy Diet But Is A Foodie By Heart
While Neeraj needs to stick to a healthy diet for keeping fit, he is a true foodie by heart. In an interview with Priyam Ghose in Kolkata, he said how he had stopped eating sugar but could not resist Kolkata mishti. In another interview, he had revealed that he loves pani puri and sweet churma. He had added that on a cheat day, he can relish homemade churma with ghee, chapati and sugar. On that note, Neeraj Chopra Took His Parents On Their First Flight Making Their Dreams Come True.