Who said women should give up on their dreams after having a baby? Here's a super mom from Delhi NCR who is breaking stereotypes. Silky Puri, a full time reporting corporate and a blogger, is not only living her passions but is also inculcating the same into her four-year-old daughter, Khwaish. Silky and her husband, Gagan are taking their little daughter all around the world, instead of saving up the money for her marriage. On every birthday, the traveller couple gift their daughter a mind-boggling trip. At the age of four, Khwaish has already travelled to six countries and also explored many fascinating destinations in India.
A Mother Who Wants Her Daughter To See What The World Has To Offer
Speaking to Curly Tales, Silky said, "My husband and I were childhood friends. We both are travel junkies and we used to travel in every two or three weeks. When I discovered that I was pregnant, my mother and my in-laws told me that things would change for me after childbirth. I was even told that I would have to first save up for the wedding of my daughter. But as a mother, I wanted to invest in her experiences. I wanted her to see what the world has to offer, to open her perspective about different kinds of food, people, culture and more. I wanted to give her the exposure."
Taking The Two-Month Old Baby On A Dubai Tour
After Khwaish was born, Silky was on maternity leave for three months. When her daughter was two months old, she decided to take her on an international trip to Dubai. Also, her husband Gagan did not get leave during that time. So, Silky took her mother along. Narrating about the Dubai trip, Silky said, "It was a kind of self-realisation for me. It is not true that you cannot travel with a baby. Also, international travel is easy with a child with facilities like arrangements for baby strollers."
Gifting Memorable Travel Experiences On Birthdays
Silky and Gagan took Khwaish to a 15-days trip to Kerala on her first birthday where she explored destinations like Munnar, Kerala, Trivandrum and more. They even stayed on the backwaters inside a houseboat. Silky said, " Khwaish is four now, and she remembers everything." Khwaish's second birthday gift was a 25-days Europe tour. At Europe, the tiny tot visited destinations like Netherlands, Paris, Switzerland, France, Italy and more.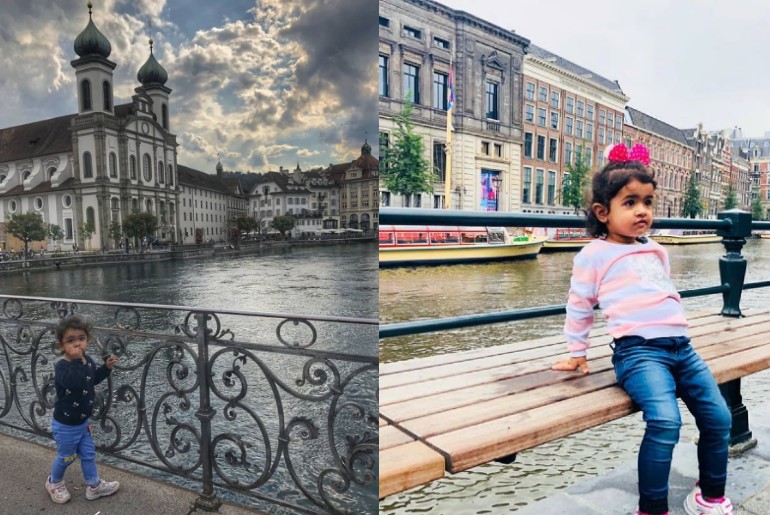 Elucidating the Europe trip, Silky stated, "We were staying at an Airbnb property which had a personalised kitchen. I was carrying my own grains so that I could cook for my child. However, during this trip, I was experimenting with the food and the climate. In Italy, Khwaish tried gelatos and pasta for the first time. In Amsterdam, she tried waffles and fries. She also tried cheese fondue in Switzerland. We took her to the highest point in Switzerland, the snow-capped Jungfrau and then we also hit Italy with her, which had a hotter climate."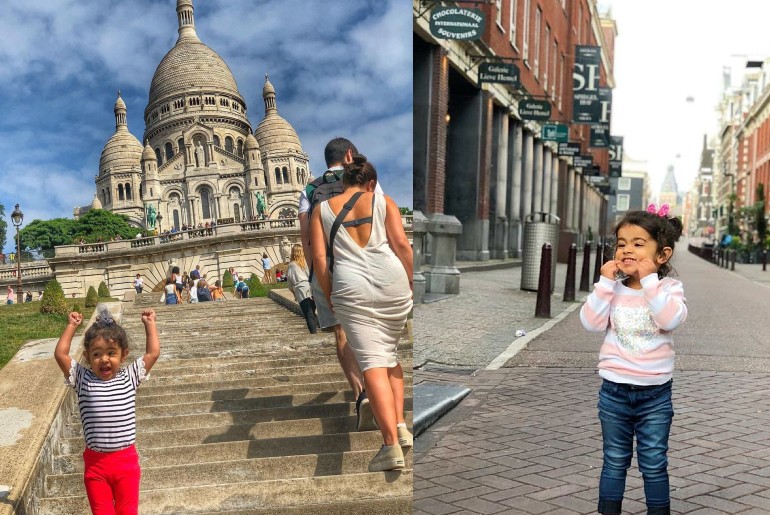 Khwaish had her third birthday at Kasauli, where she had spent five days with her parents. Her fourth birthday was amid the pandemic and was organised with restrictions, but it was a special one inside 'a castle'. Silky said, "Last September, she had her fourth birthday. Recently, she has taken a liking for the frozen character Elsa. She wanted to stay in a castle, so we took her to the fort ( Neemrana Fort) dressing her up like a frozen princess."
Also Read: I Travelled With My Daughter To Singapore & I Urge All Moms To Travel With Their Kids At Least Once
Staying Inside A Tent At Minus Temperatures; Going On A Desert Safari
Silky has also taken Khwaish to many breathtaking hill stations and palaces. Speaking about these trips, Silky said, " Before her first birthday, we went on a short trip to Manali. We also took her to hill stations like Himachal and Uttarakhand and stayed in a tent at minus temperatures. We had to keep her third birthday trip to Kasauli short due to her nursery admissions. So, we took her to a 20-days tour to Rajasthan when she was around three and a half years old. At Rajasthan, we explored all the forts and went on a desert safari too."
Travelling Has Made Her A Storyteller, Her Vocab Has Become Very Good: Silky
It's rightfully said that travelling is a great learning experience, which Silky aims to incorporate in her daughter. She said, "People often ask me whether she would remember these places when she grows up. But it is not about remembering the places, it is about giving her the experience. And after taking her on these journeys, I have seen a lot of change in her. Her vocabulary has become very good. Her first language is English. She has become a storyteller. She can beautifully narrate the stories of the places she visits. For example, we had stayed in a chalet. At this age, she already knows what a chalet is and also framed up an intriguing story around it. Travelling has given her that exposure. She has also developed great communication skills and is very confident about whatever she speaks. She also talks smartly with strangers. What's more, she has picked up foreign languages like Spanish too."
Also Read:  Hyderabad Couple Travelled 13,000 Kms To Roadschool Daughters In 90 Days
Silky is an influencer mom and shares her travel stories and parenting advises on her Instagram handle mommytravelstories. She also has a website of her own, Mommy Travel Stories, with the detailed stories of her journeys. Talking about motherhood, Silky added, "When women become mothers, they tend to leave their passions. But motherhood is not about giving up the passion, it is about passing on the passion to the child so that the child also adapts to it. It makes both the mother and the child happy. That is the only intention."