Every time we step inside a zoo or any national park, we have only one wish and that is to witness wild animals. India has so many stunning national parks and reserves that are home to thousands of flora and fauna. Out of everything, one animal that we long to see is a tiger. You need to be in amazing luck to witness a tiger roaming around in many places, but these places guarantee you to spot tigers in the forests. So, plan your holidays here and ride on a jeep safari, and have the experience of a lifetime.
1. Ranthambore National Park
Rajasthan's Ranthambore National Park is one of the most popular national parks in the country to spot tigers. The tiger population decreased to some extent here due to poaching, but you will still be able to witness these majestic animals. Ride on the Ranthambore National Park safari and enjoy a magnificent time. Also, explore the Ranthambore Fort, Rajbagh Jogi Mahal, and the temple.
Also read: 5 Unique Travel Experiences To Have In India If You Are An Animal Lover 
2. Tadoba National Park
Consider it an yes when you are travelling to 'Taboda National Park' to spot tigers. This national park is very much rich in flora and fauna and in fact, it is known as the Tiger Capital of India. This wildlife sanctuary is massive and considered one of India's biggest tiger reserves too. You can spot tigers here while exploring the forests on a jeep safari.
3. Bandhavgarh National Park
'Bandhavgarh National Park' is nestled in Madhya Pradesh and it is one of the most beautiful biodiverse parks. This place boasts a good population of tigers and the climate is perfect for the animals. A huge number of tourists visit here and ride on safari to sight tigers. If you are an animal lover and love to be in nature, you will love this place.
Also read: Try This Tiger-Style Black Sugar Boba With Milk And Cream Mousse At Dubai Mall
4. Pench National Park
Nestled in Madhya Pradesh, 'Pench National Park' is very popular for Bengal tigers. The chances of spotting a tiger here are very likely and travellers enjoy watching the tigers roaming around. Besides tigers, there are also more to this national park. You can spot wild boars, birds, jungle cats, chitals, and much more. The Pench river flowing here looks mesmerising.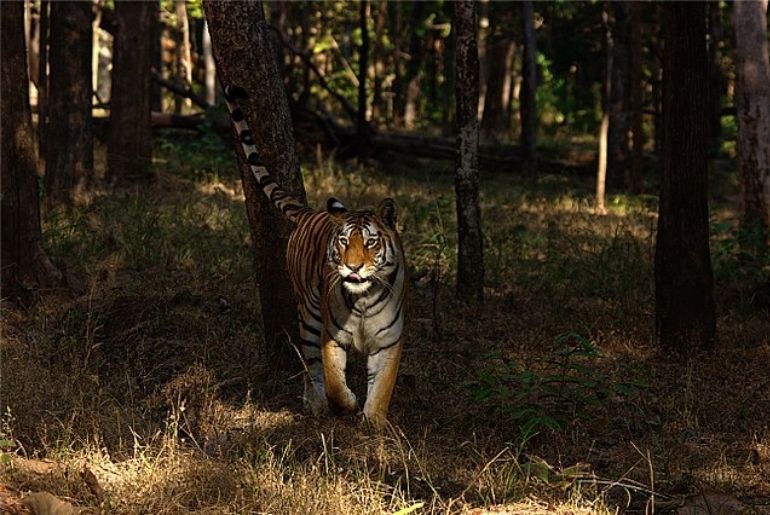 5. Nagarahole National Park
Nestled in the foothills of the Western Ghats, 'Nagarahole National Park' is a tiger reserve and it falls under the Project Tiger and the Project Elephant. Visit this reserve in Karnataka to spot Bengal tigers, leopards, and Asiatic elephants. This tiger reserve is recognised as one of the best in South India.