I have celebrated four of my seven birthdays in Mumbai at Mirchi & Mime. I am quite the explorer when it comes to food, but this place got me super hooked. I made it a point to take my friends from other cities to this restaurant. So what makes this place so unique? It is Mumbai's first restaurant with a fully deaf-mute staff serving the food. The hospitality and food are so outstanding that this place always feels like home. I get smitten by the bright smiles of the staff every time I go there. Therefore, I cannot contain my happiness with the news of the restaurant relaunching after the announcement of its closure. Here are all the things that I missed the most about Mirchi & Mime.
Also read: 12 Street Foods Of Mumbai We Are Missing Right Now!
View this post on Instagram


The Warm Smiles
Once you're assigned a table in the restaurant, the manager introduces the concept and guides you through the process of ordering the food. The menu is designed in a table format with the corresponding number to make it easier to communicate with the staff. So, if you want a dish from the Tawa section – you make a V with your fingers followed by the corresponding number of the item. The humble staff smilingly places the orders just making a bad day turn to got only in an instant. I do not know any place better than this that makes guests feel so loved. Here are 6 Mumbai Restaurants Home Delivering With All Safety Norms.
The Delightful Food And Drinks
Mirchi & Mime always kept me satiated with an impressive regional Indian menu. The Lobster Nihari, Crispy Bacon and Baby Spinach Salad and Dori Kebab are some of my favourites. Every dish promised a burst of flavours. Another dish that won me over was the Shakarkand Chaat that tasted like something you would get in Delhi's chaat shops. Even though the menu is Indian, it breaks clichés. With the pandemic, only I know what I have been craving for all this while. 
Also read: Locust Chocolate Or Locust Kebabs: These 5 Countries Eat Locusts As A Delicacy
View this post on Instagram
The Oh-So Tasteful Interiors
The restaurant is tastefully designed in lighter shared paired with wooden furniture, antique kitchenware, and cake stands with a dome on top have cookbooks and plants in it. On the other side, there are handwritten recipes from various cookbooks dating from the modern right up to pre-independence time. Let me tell you. I have also spent most of my anniversaries here as I cannot think of a place more romantic.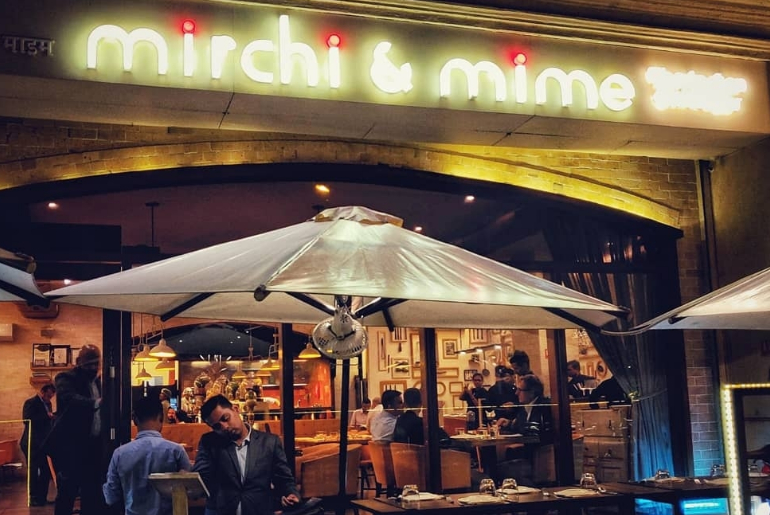 I am waiting to for the restaurant to open soon with Covid-ready norms in place, the finger-licking good taste of food and the warmth of the staff. Mirchi & Mime will always remain close to my heart.