Actor Radhika Apte engaged in a fun conversation with Curly Tales Chief Editor Kamiya Jani and Mashable India's Siddharth Aalambayan on an episode of Sunday Brunch X The Bombay Journey. The trio rode on the stylish Skoda Kushaq Monte Carlo through the streets of Bombay.
Radhika Apte, during the talk, shared details about her initial days of stay in Bombay, the first role she bagged before she headed to London and how she gorged on roshogolla and puchkas while shooting for Antaheen in Kolkata.
Radhika Apte Describes Her Lokhandwala Days As Nightmare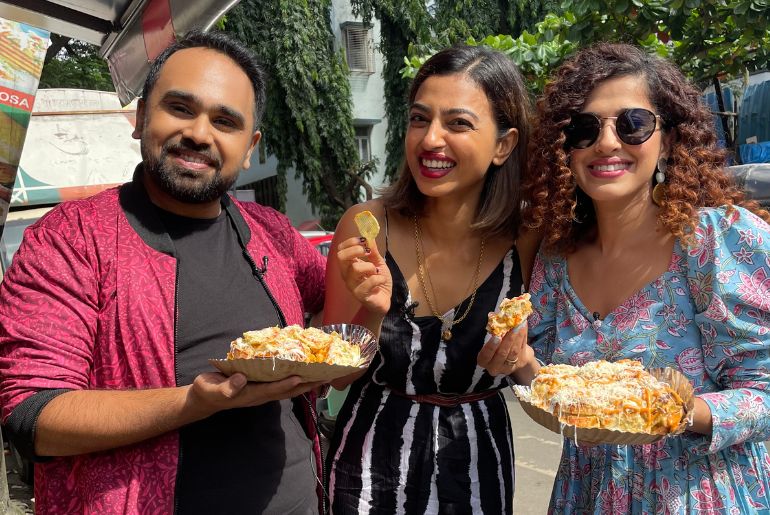 All actors who land in Bombay to pursue their dream of acting should look out for this particular interview with Radhika Apte. She talks of her time when she was practising for two plays and used to travel from Lokhandwala to Nariman Point. She said, "I used to stay in Lokhandwala, Shashtri Nagar. At that time I used to share a bed with another person because I didn't have the money. So, two girls used to share one room. Yeah, it was quite traumatic."
She says that it was not fun. "Toh woh maine chor diya jaldi jaldi. Actually, that time was very depressing because I didn't have many friends. Then, I didn't know how to start, what to do, how do you get parts, or how do you get roles. Didn't know anything."
Also Read: Viral Video: Mumbai Local Women Passengers Start Fighting Over A Seat
Radhika Speaks Of Her Time In Kolkata
View this post on Instagram
While shooting for the Bengali film Antaheen with Rahul Bose, Radhika Apte gorged on food like crazy. Radhika Apte spoke about how she ate roshogolla for breakfast. She even spoke about the puchka wala she visited. Eventually, Antaheen's director, Anirudh, asked her not to eat so much. Yes, that is how much she ate while shooting for the film in 2009.
Radhika Apte eventually spoke about her love for coffee and sweet treats too. Radhika also talked about tons of things she experienced during her time in Mumbai and London. Stay tuned to know more about Radhika Apte on the latest crossover of Sunday Brunch and The Bombay Journey.
Cover Image Courtesy: Instagram/CurlyTales