Is Bombay better or Delhi, is a discussion (read: argument) that the people of the two cities have been having for a while now. Let's put it to end, shall we? Delhi is better. For those who think Bombay deserves a contest, we can be fair. So we have decided to compare the most iconic locations of the two cities: India Gate and Gateway of India. We list down 10 ways in which Delhi beats Bombay's butt. Read them first, protest later, if you still want to.
1. Fact Check
To begin with, let's get the facts right. India Gate is a war memorial. It was built to honour our brave freedom fighters who died for us at the sword of ruthless intruders. Gateway of India was built to welcome these ruthless intruders and decorated for the King of England. Who desh prem?
2. Rashtrapati Bhavan's Nighttime Glory
Our nation's Parliament stands tall in the background. The road leading up to it is alight with the changing colours that bounce of its walls. The pink and blue and yellow and green Rashtrapati Bhavan glows in the dark. If you're lucky you can catch the grand ceremony of switching guards that takes place every evening. It makes a for a great view as people visit all night. Does anyone even dare go towards Gateway of India after 9PM?
3. Reachability At Any Time Of Day
India Gate is literally the center around which Delhi revolves. It's located in Connaught Place which is in central Delhi. Do we even need to explain how hard to reach Gateway of India is? It's not its fault that Bombay is a strip and Delhi a circle, but it's not our fault either.
4. Perfect Picnic Spot
Space is not a concept in Bombay. Here at India Gate, we enjoy plenty. The huge green patch between India Gate and Rashtrapati Bhavan is home to picnic people. You will find kids playing, men gossiping and moms feeding at any time of day all year round. You will never be asked to leave, it's open all night.
Also read: The Best Maharashtrian Places In Delhi Which Will Make You Forget Bombay Food
5. Enjoy A Long Walk
The long road leading up to Rashtrapati Bhavan from India Gate is a perfect winter walk. There are food vendors, playful kids, and all the chahal pahal all night on the way before it quiets down for a peaceful stretch. The ceremonial boulevard Rajpath covers all this to Vijay Chowk and National War Memorial. Let's not forget we wouldn't have the Republic Day Parade without this walking wonder.
6. Delhi's Best 'Lovely Chuski'
Seriously, Bombay has lost. It feels like this iconic chuski is as old as India Gate itself. Nothing in Bombay comes close to Lovely Chuski. Over the years, the government has cleaned up most of the thelas at India Gate for a cleaner Delhi, but no one dare touch the reason people come here. They're the perfect cure to late night huger pangs because they're open all night!
Also read: Want To Party Till 4AM In Delhi? Your Wish Has Been Granted By This Gorgeous Lounge
7. Pay Respect At Amar Jawan Jyoti
No wonder Bombay burns with jealousy. The eternal flame burns day and night, keeping the memory of martyrs alive in our hearts. Under the arc of India Gate lies quiet, raging, reminding us how important democracy and equality is. Um, what does Gateway of India signify again?
8. Kids Rides For Family Fun
Parents need not stress because hundreds of people have their eye on children here. They can get busy on the miniature car rides and even race with one another. All the cars are safely driven by the owners who rent them out for rides forging a fun family day out.
9. Cyclists' Tomorrowland
Mornings at India Gate are euphoric. Starting 5AM you will find enthused cyclists beginning their journeys from India Gate. Sundays are the hottest for cycling competitions and marathons. Tourists and locals enjoy the sights together, even if they're not participating. People here are willing to include newbies to their groups and help first timers too. You can rent bicycles from close by government hotspots!
Also read: Listen Up Delhi! Oktoberfest Is Here, Prepare Your Beer Bellies And Chug
10. National War Memorial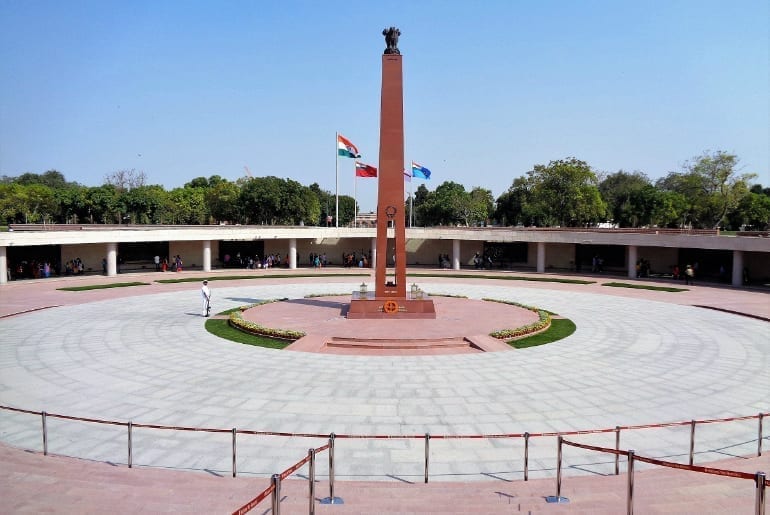 Here you have around 40 acres of land dedicated to history. It's built around the existing chhatri or canopy near India Gate. The names of armed forces personnel martyred during the armed conflicts are inscribed on the walls. Our brethren from 1947–48, 1961 (Goa), 1962 (China), 1965, 1971, 1987 (Siachen), 1987-88 (Sri Lanka), 1999 (Kargil) and other operations, will never be forgotten.
Dil se Dilli
Delhi – 1
Mumbai – 0
India Gate is way better. We know Bombay has one Marine Drive, but Delhi has a hundred monuments where police never ruins the fun. If you haven't already, head to India Gate now to pay respects, feast on the street food and walk to Rashtrapati Bhavan for the most wholesome day ever!