Rubina Dilaik & Abhinav Shukla are one couple who love living their lives amidst nature. The couple also treats their fans with their newfound ideas to go out and enjoy nature through their vlogs. And one of the vlogs that caught our attention was the couple trying out some outdoor cooking. And there's nothing better than cooking Maggi while taking in the fresh air of the mountains and enjoying nature. Read on to find out how the couple drove to a beautiful outdoor mountain spot to enjoy some Maggi!
Rubina Dilaik & Abhinav Shukla Drive To A Beautiful Mountain Spot And Enjoy Cooking Maggi Outdoors
Cooking outdoors is always therapeutic and Rubina Dilaik & Abhinav Shukla remind their fans of the same and give amazing couple goals from the mountains. The couple's outdoor cooking vlog on Rubina Dilaik's official YouTube channel shows the couple driving to an outskirt hilly area and setting up their stove for cooking. The video opens up with Rubina Dilaik enjoying the outdoor setting and showing the viewers their location. As the vlog progresses we see Rubina collecting firewood, Abhinav helping her set up the fire, and later both cooking Maggi and enjoying it amidst nature. Although it was quite a task to set everything up and cook outside, in the end, both Rubina Dilaik & Abhinav Shukla seem happy with their one-pot meal. Take a look:
Benefits Of Outdoor Cooking
If Rubina Dilaik & Abhinav Shukla going out to enjoy Maggi Outdoors isn't enough for you to try it yourself, then here are a few more benefits of outdoor cooking. Outdoor cooking is a perfect way to enjoy the weather and the outdoors. Apart from that, there are also numerous benefits to cooking outdoors. It helps in improving your mood, and
increasing vitamin D levels. Outdoor cooking also helps in reducing stress. Getting outdoors can also help you get more physically active which in turn will result in improved heart health, and increased lifespan. So take notes from Rubina Dilaik & Abhinav Shukla and try out a quick Maggi recipe the next time you are outdoors. However, always check the weather before you go out to cook to avoid any unpleasant weather conditions that could potentially spoil the outing.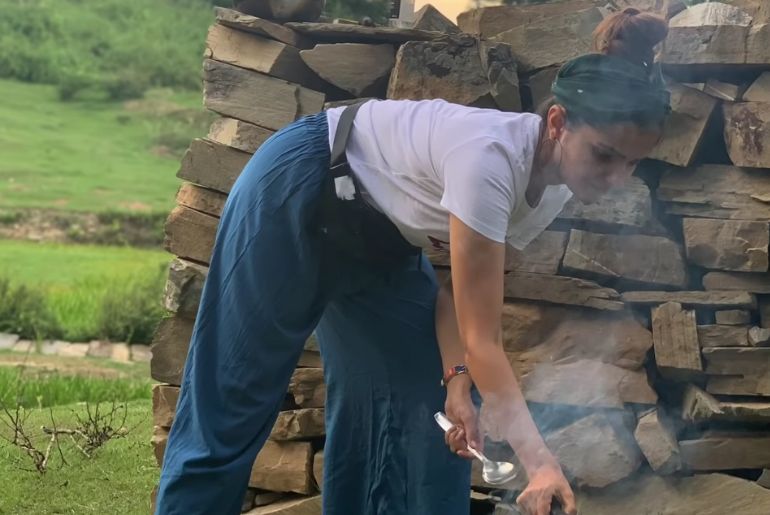 Also read: Rubina Dilaik Missed Indian Food For 25 Days; Shares Joy Of Eating Rotis