UAE boasts a huge list of attractions, but that's not all! There are more new attractions in the UAE you can expect in the coming years and we're sure it's only getting bigger and better. Sharjah is known for all things cultural and traditional, including the House Of Wisdome, the Khorfakkan amphitheatre and a whole lot of art galleries and museums. And soon there will be an addition to this list. The Sharjah Government Media Bureau announced the opening of an open floating theatre. Here's what we know so far!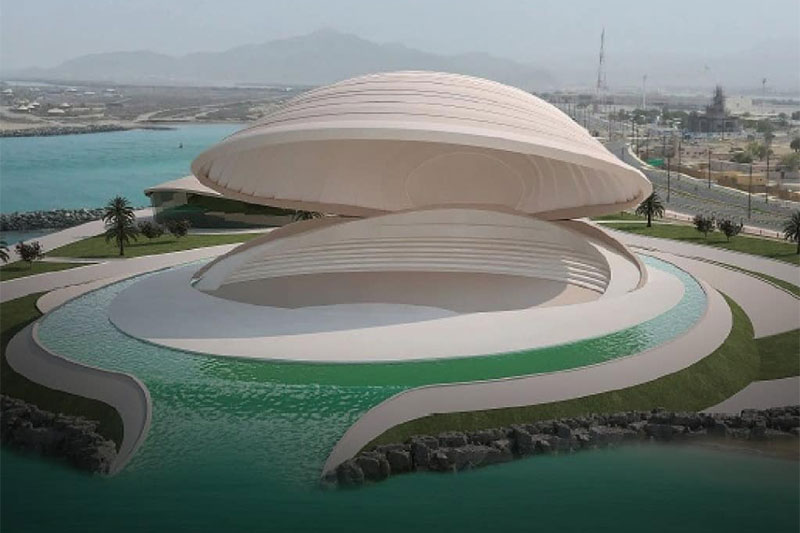 Also read: Dubai Gets A Money Heist Themed Cafe At Al Mamzar
Located on the corniche of the city of Kalba, Sharjah's brand new Floating theatre will be called the 'Kalba Floating Theatre'.     Recently, His Highness Sheikh Dr Sultan bin Muhammad Al Qasimi, Member of the Supreme Council, Ruler of Sharjah visited the project and also approved its opening.
The theatre has a distinct shape and looks like a seashell. The beautiful theatre is surrounded by water basins –  a design that was proposed by the Ruler of Sharjah himself. The Kalba Floating Theatre is linked to the corniche, providing uninhibited views of the Kalba Corniche and the Arabian Sea. The theatre will showcase various facilities to attract visitors throughout the year.
Well, we don't have an opening date or more details of the project as yet, but watch the space and we'll update you as and when we hear more! Meanwhile, there's one more new attraction you can see in Khor Fakkan, Sharjah.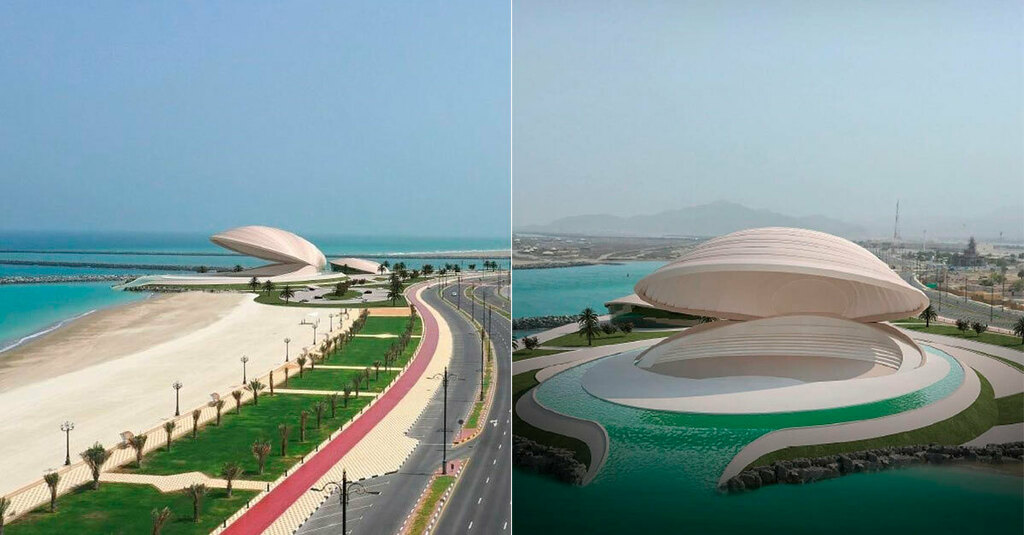 Also read: A 'Dine In The Dark' Evening Brunch Is Coming To Dubai's Mall Of Emirates
Khor Fakkan Set To Get A Stunning New Tourist Attraction Docked 580 Metres Above The Sea Level
Earlier this month, Khorfakkan opened a brand new tourist attraction. Located on the east coast of the UAE along the Gulf of Oman, this is perfect for a long drive with friends and family. The Sharjah Government Media Bureau recently posted a video showing final touches being added to Al Suhub Rest House project.
Also read: Dubai Gets A Money Heist Themed Cafe At Al Mamzar
The New Attraction Will Offer 360-Degree Views Of Khorfakkan
Docked 580 metres above the sea level, this new attraction is a perfect spot to soak in panoramic view of Khor Fakkan. A 5.63-kilometre road will take you up to the Al Suhub Rest House. The rest house will include water fountains, beaches, eateries and parking spaces.
On October 22, 2020, His Highness Dr Sheikh Sultan bin Muhammad Al Qasimi, Supreme Council Member and Ruler of Sharjah visited the location. Visitors can soak in panoramic views from two sports: one located at a height of 253 metres, the other at 480 metres.
Also read: Best Theme Cafes In The UAE That You MUST Visit With Your Gang
تأمل جمال مدينة #خورفكان من ارتفاع 580 متراً فوق سطح البحر عبر "#استراحة_السحب" .. ترقبوا الافتتاح بعيد الأضحى pic.twitter.com/IRyw0MtDww

— sharjahmedia (@sharjahmedia) July 8, 2021
Also read: A 'Dine In The Dark' Evening Brunch Is Coming To Dubai's Mall Of Emirates