This is the perfect time to visit Rishikesh and kiss goodbye to the summer heat. That's what actor Siddhanth Chaturvedi did recently and he has shared some pictures and videos from the location. In one of the reels shared by Siddhanth, he is seen taking a bike ride through the hilly roads of Uttarakhand. In the video, we also see him climbing rocks on the banks of the turquoise Ganga, playing the guitar by the mountains, taking a dip in the holy waters and dancing with the locals. The video reveals that Siddhanth is an experiential traveller who loves to get the best of his journey.
View this post on Instagram
Also Read: I Stayed By The Ganges At This Stunning Mountain Resort Just 5 Hours Away From Delhi
Siddhanth Enjoys Mountain Views From A Hilltop Bench
Imagine having a conversation with your bestie sitting atop a hill, while witnessing the mesmerising sunset. The experience is out of the world, for sure. It is deep and calming at the same time. Siddhanth too shared a photo sitting on a hilltop bench. Along with the picture, he wrote, "There's a bench on a hilltop somewhere, Waiting for our old age conversations."
View this post on Instagram
Also Read: 5 Mountain Resorts To Book By River Ganges To Soak In The Breeze And The View
Siddhanth Asks Fans To Visit This Gorgeous Cafe In Rishikesh
In one of the Instagram stories, Siddhanth has posted a snap from The Arches Cafe & Bakery in Rishikesh. He also wrote, "Rishikesh Jao to @thearchies_rishikesh Zaroor jaana! Mahol Hai". The Arches Cafe & Bakery is a highly chic cafe in Rishikesh that serves a wide array of delectable dishes made with locally sourced organic ingredients.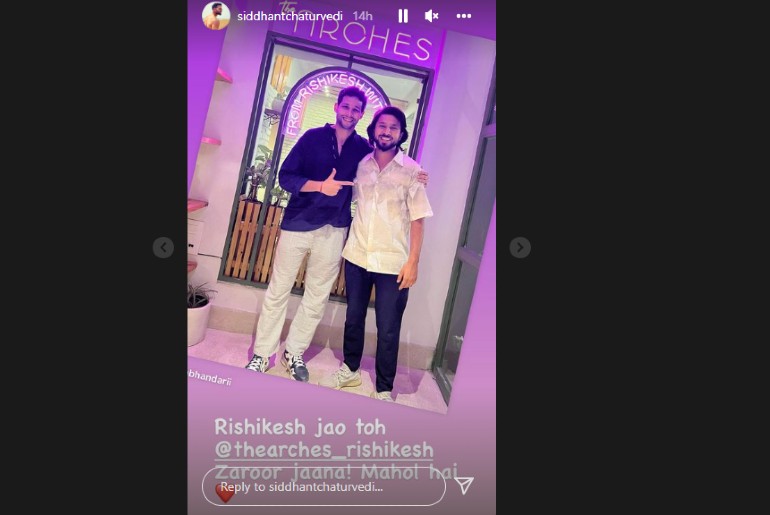 At this cafe, one can indulge in bruschettas, pasta, pizzas, burgers, sandwiches and more while enjoying the spectacular view of the mountains. On that note, here is a list of 5 Places To Visit On Your First Trip To Rishikesh.