Sonu Sood is the real-life hero that we all need in our lives. He has helped thousands of people to get home safely in the lockdown, and his noble work only seems to continue. Recently, the actor distributed smartphones to the students of a government school in Chandigarh. Sonu Sood along with his Chandigarh-based friend Karan Gilhotra, yet again helped students who were struggling to access online classes at Morni. The duo, with the help of Airtel and Indus tower, installed a mobile tower in the village to enable uninterrupted connectivity. Can we please declare Sonu Sood as the best living man on the planet already?
Also read: This Cafe In Delhi Lets You Dine With Corona Warriors Like Sonu Sood & Vikas Khanna
People Tagged Sonu Said To Help Children With Mobile Signals
The situation was highlighted after a video went viral on social media. It showed a child from Dapana village, Morni trying to catch mobile signals on a tree branch. To help children to complete their homework, people tagged Sonu Sood on Twitter which immediately caught their attention. Commenting on the Tweets, both Sonu and Karan said that they would do everything in their power to overcome such hurdles and help those in need. Sonu further added that it was his honour to help set up a mobile tower in a remote village to allow kids to access online classes. They no longer have to climb trees to catch mobile signals. Here are 11 Everyday People Who Stepped Up To Help Others During Pandemic.
Indus Tower & Airtel Helped Install The Towers
After learning about the situation, the duo spoke to Indus Towers and Airtel who helped them install the towers. They surveyed the village and identified a location for installation. Indus set up a pole in the village where active infrastructure has been installed. This will boost coverage in the area, and students can seamlessly access their online classes from the safety of their homes. Sonu Sood Arranges Charter Flight To Evacuate Indian Students Stranded In Kyrgyzstan.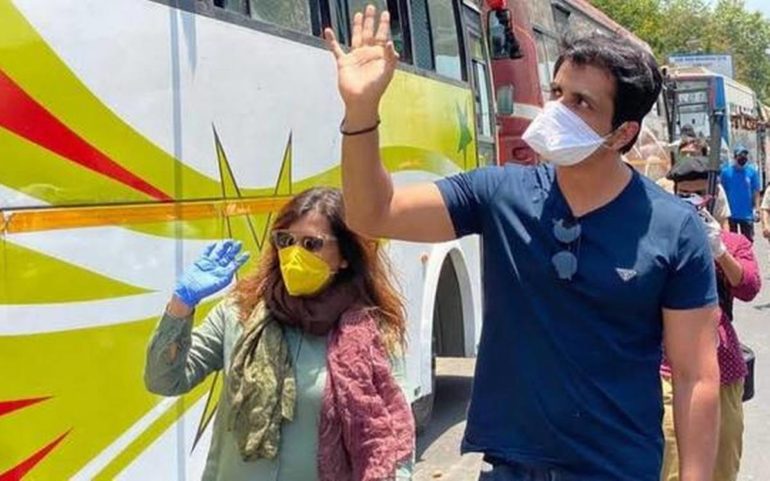 Gagan Kapoor, CEO-Punjab & Haryana, Indus Towers said, "During these challenging times, our last mile field team and technicians have been demonstrating our ethos of 'Putting India First' through their tireless efforts to ensure seamless connectivity. From now on, we will continue to create a robust and efficient telecom infrastructure."
That is a create initiative to help students isn't it?