The year 2020 might be a challenging one. We wake up to difficult times, disturbing news, rising coronavirus cases and an inherent yearning for a semblance of normalcy. But amid this chaos and challenges we've seen a rise in heroes who don't wear capes. Policemen, doctors, nurses, pilots, garbage collectors, delivery personnel and other essential workers wear masks, don PPE suits and go about their duty, safeguarding us and our loved ones. To pay tribute to our neighbourhood heroes, Delhi's Wood Box Cafe now gives you the opportunity to dine with India's corona warriors like Sonu Sood and Chef Vikas Khanna at their Satya Niketan branch. The cafe has placed cut-outs of these changemakers on alternate tables to honour them for their selfless services and also help customers maintain social distancing. So Delhiites, you can definitely dine with your superheroes, here's how. 
Dine With India's Corona Warriors At Delhi's Wood Box Cafe In Satya Niketan
Have a unique dining experience that fills your bellies and hearts at Delhi's Wood Box Cafe. This cafe's Satya Niketan branch now offers customers a chance to dine with India's bravest and most selfless human beings, who've touched millions of hearts amid this pandemic. Cut-outs of neighbourhood corona warriors including policemen, doctors and deliverymen are placed on alternate tables to honour these heroes and also make sure customers follow social distancing norms.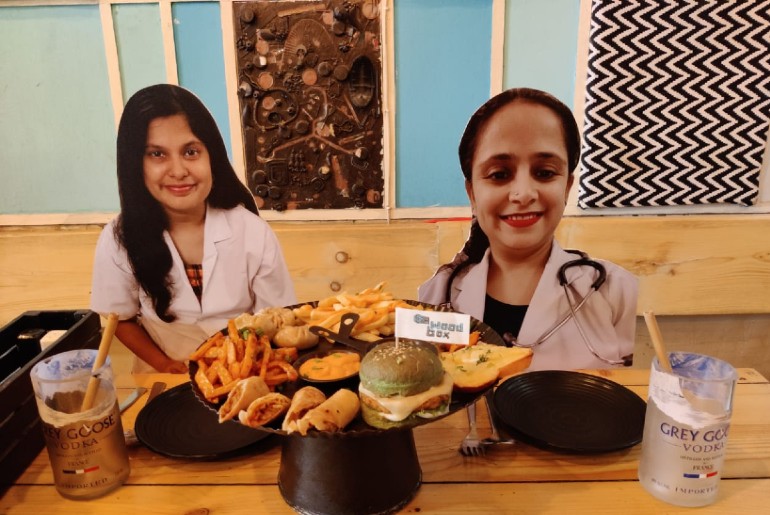 The cafe earlier asked its social media followers to suggest neighbourhood heroes who've made a difference amid this pandemic. It then incorporated their suggestions. And now, you can actually witness these exemplary corona warriors cosily seated on these tables. The changemakers include Delhi Constable Rajath Rathore, Air India Co-Pilot Rohit Suri, Dr Shilpa and delivery boys working tirelessly amid the pandemic.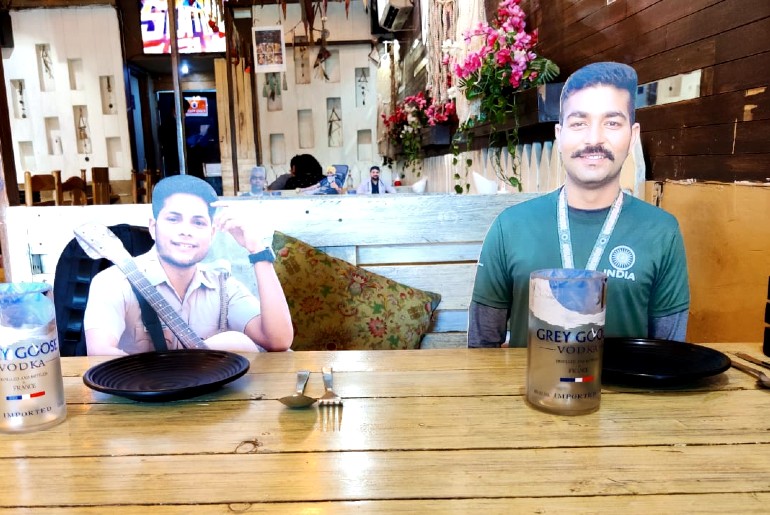 To add the perfect tadka, the list also includes Chef Vikas Khanna who fed millions of needy people through his food drives. Actor Sonu Sood. who helped repatriate thousands of migrants also graces the cafe with his presence. Which is a perfect way to honour these heroes.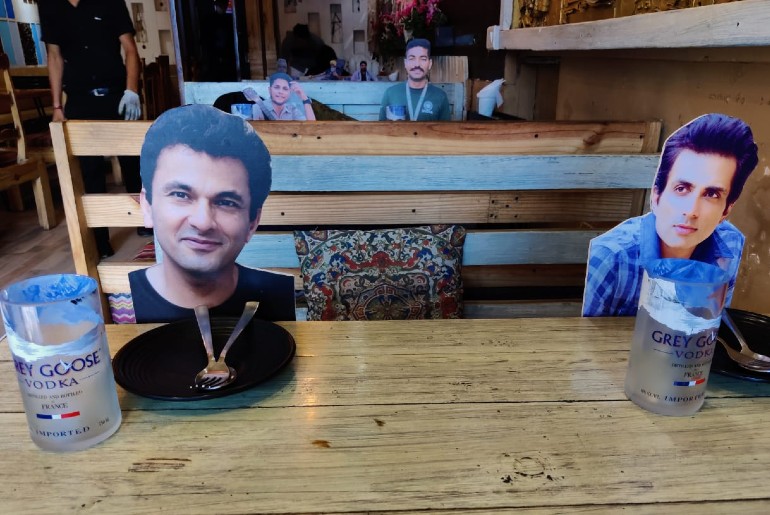 Also Read: Madurai Tea Seller Uses Part Of His Earnings To Help Feed Needy People Amid COVID-19
The Restaurant Uses These Human Cuts Outs To Block Tables For Social Distancing Reasons
The restaurant currently operates at 50% capacity following the social distancing norms. It has blocked alternate tables with cut-outs of its corona warriors. So while you gorge on their delicious platters and pasta, surround yourselves with these stalwarts who not only ace in their respective fields but also work selflessly to save lives. A simple gesture on behalf of the cafe to value and honour these corona warriors has indeed given us an opportunity to celebrate them in our own little way.
Also Read: Elderly Heroes Sacrifice Their Lives By Donating Their Ventilators To Younger COVID-19 Patients
Currently, these human cutouts of these superheroes are placed in Wood Box's Satya Niketan branch. However, the cafe shall soon open their branches in Indirapuram and Kalkaji. And they'd definitely need more suggestions of local superheroes to host on their tables at these branches. So you can be sure to dine with any more incredible human beings at their cafes.