Vikas Khanna, one of India's most popular chefs, has been making headlines lately for various good reasons. As part of his efforts to provide millions of meals to poor Indians who have suffered greatly under the coronavirus lockdown, Vikas Khanna had organised the world's largest food drive. He has been able to distribute around 25 million meals in a period of four months. Now he is planning to supply essential rations and meals to around 10 million street vendors and their families who are suffering due to the pandemic and floods of Bihar and Assam.
Vikas Khanna To Distribute 10 Million Meals Among Street Vendors
After the coronavirus pandemic gripped the world, Khanna has been distributing meals from his house in Manhattan. As per PTI reports, the 48-year-old chef has said, "We are securing ration and are planning about 10 million meals around the country for street vendors, who actually hold the true heritage of Indian food in their hands." He also wrote on Twitter, "There are a lot of challenges to support relief in flooded areas of Bihar & Assam the remote ones. But I pledge 2 million+ meals in the affected areas. We will do best to our ability."
Khanna is aiming to provide two million meals, clothes, food and essential supplies like mosquito repellents, candles and matches to people in the flood-affected areas. Till date, he has provided rations, meals and essentials supplies to old-age homes, widow ashrams, orphanages, leprosy homes, etc.  He also joined hands with the US Consulate to cater to the dabbawalas of Mumbai. A lot of these people had lost their jobs due to the lockdown imposed in the city because of the Covid-19 pandemic.
Also Read: Chef Vikas Khanna Names Dish Moga After Sonu Sood's Hometown
They would earn their daily living by serving mid-day meals to Mumbaikars. He has also assisted Varanasi's craftsmen and boatmen and other needy people in the country with the aid of The National Disaster Response Force. He teamed up with actor Sonu Sood to ensure that all migrant workers get a deliciously cooked meal prepared by him and named a dish 'Moga' after Sonu Sood's hometown.
Also Read: Vikas Khanna: I Was Fed By A Muslim Lady During The 1992 Riots; The Eid Feast Was An Ode To Her
Khanna To Dedicate His Milestone To Legendary Singer Lata Mangeshkar
Around 50 brands, public and private organisations have teamed up with Khanna for his 'Feed India' drive. Khanna has notified that he will dedicate the milestone of distributing 25 million meals to India's legendary singer, Lata Mangeshkar. He is preparing to disseminate 10 million meals and essential supplies for the street vendors that can last for a period of at least three months. Khanna has shortlisted 20 cities for the distribution drive.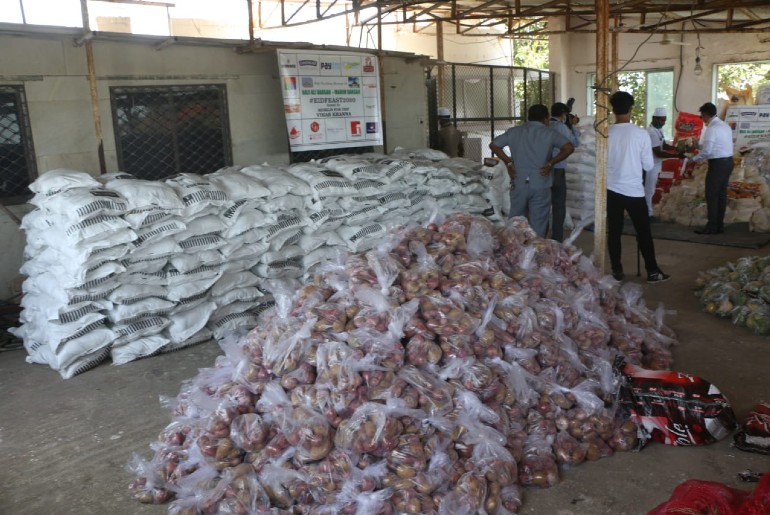 Also Read: Sonu Sood Arranges Charter Flight To Evacuate Indian Students Stranded In Kyrgyzstan
Referring to the drive, Khanna said, "Street vendors have been among the most important thread of society and provide food to millions of daily labourers. They have uplifted each other through the years. That is the power of street vendors. My next mission is to help these street vendors. It is important to stay positive in these difficult times but it is also good to help out right now.
This is the true moment where individual strength is displayed. We are all holding hands and we can actually make this work. It is time for the country to come together." Also, on the festival of Raksha Bandhan that took place on August 3, 2020, Khanna distributed 3 million sanitary napkins to women across the country. Here are 10 other superheroes who went the extra mile to help out millions of Indians amid the trying times: