Under 140 Characters
Have a long haul at the Dubai International Airport? Worry not! From private sleeping pods to cozy cabins and lavish hotel rooms, there a number of ways you can catch up on all the lost sleep.
What's It?
It's not for no reason that the Dubai International Airport is regarded as one of the best and the busiest. After all, the amenities are such! Dubai is a major transit hub and chances are travelers will have long hours of halt at the airport. And fortunately, DXB is decked with all the provisions to make you feel at home. So, whether you have an overnight halt or are transiting Dubai, the airport has a lot of options where you can catch up with all your lost sleep.
1. Snooze Inside A Cube
If you wish to skip luxurious hotel rooms, try the snooze cube. You definitely won't regret. The private cube has ample room for you to tuck in your hand luggage and a coat and is soundproof! Talk about sleeping like a baby! Plus, there's no dearth of amenities- wifi, tv, and a compact sleeping bed, you couldn't ask for more. There are over 13 cubes located at Concourse D, Terminal 1. 
Cost: AED 75 per hour for a single cube, AED 100 for a shared cube
2. Sleep Inside A Pod
Well, if DXB can provide you cubes, it can also make beds inside pods! Fancy, isn't it? The private pods are luxury at its best- disposable pillow covers, cozy blankets, tinted windows, and a wake-up alarm is what you will enjoy during your stay here. Plus, you are woken up with a hot or cold towel so you are up and about to carry on with your journey. The only glitch- rates depend on when you check in and check out. Try and avoid overnight, as its considered peak time.
Should you require more room, its best to book yourself in the air-conditioned Yawn Cabins. Sprawling four square meters, the cabin has a double bed, a full-length mirror, coat hanger, and reading lights. The cabins are located near gate A1, Concourse A, in Terminal 3.
Cost: AED 70 for one hour, Up to AED 503 for 12 hours | Yawn cabins: AED 253 for two hours, AED 1,039 for 12 hours with additional time at AED 73 per hour thereafter
3. Dubai International Hotel
If you prefer a traditional, relaxed treatment and have more time to spare, check into the Dubai International Hotel. The lavish hotel is decked with 530 rooms some of which also come with massage chairs to relieve your travel stress. The hotel is accessible from Concourse C in terminal 3 and also gives you access to the Timeless Spa and health clubs where you can de-stress and unwind.
Cost: AED 500 (12-hour), AED 650 (24-hour)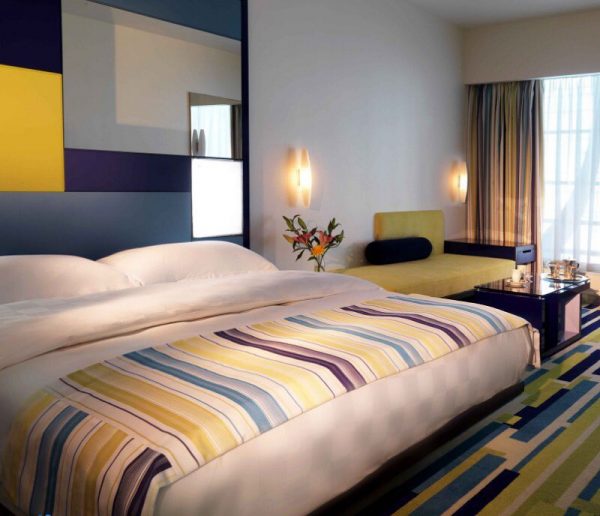 What Else?
In case you didn't know Dubai was regarded the busiest airport with 89 million passengers using the airport last year. And in addition, DXB is also getting a stunning new makeover and we simply can't wait for it!