Have you ever visited a revolving restaurant, where as you enjoy your meals, you can relish the changing city skyline? Well, at India's famous revolving restaurants you can get a birds-eye view of Delhi's Red Fort, Surat's bustling city and the snowcapped mountains of the Dhauladhar range. Sounds too good to be true right? So, here are 5 revolving restaurants in India that are definitely worth a spin.
1. Kandeel, Tex Palazzo Hotel In Surat
Known to be Asia's first revolving restaurant, Kandeel in Surat's Tex Palazzo Hotel is nestled 180 metres high. It takes up to 80 minutes to complete an entire spin. From the 16th floor of this hotel, savour panaromic views of Surat, while you indulge in exquisite dishes of Chinese, Continental and North Indian cuisines. The wide-reaching city views is perfectly complemented by the ever-evolving menu.
Also Read: IRCTC Is Offering Hotel Rooms In Top Indian Destinations For As Low As ₹600
2. Aasma Revolving Restaurant In Haryana
Situated 492 feet above the ground, Aasma Revolving Restaurant in Haryana is the best place in Haryana for a romantic date. Take your bae to a candlelight dinner at this revolving restaurant that sits on the 11th floor. Nestled just half an hour away from Chandigarh, breathe in the ever-changing views of the city while you enjoy a quaint evening of delicious North Indian and Mughlai delicacies.
Also Read:  Karan Johar's New Restaurant In South Bombay Is Mumbai's Most Good Looking Eatery
3. Parikrama In New Delhi
Ever wished you could tour New Delhi's iconic monuments all in one visit? Your wish has been fulfilled and how! Just head to the capital's unique restaurant Parikrama. Just as the name suggests, Parikrama ensures you relish Mughlai delicacies, while spotting iconic sites like Jama Masjid, Red Fort and Rashtrapati Bhavan, from 240 feet high. Have a leisure dinner as it takes 90 minutes duration to witness all of Delhi's historical landmarks in one go.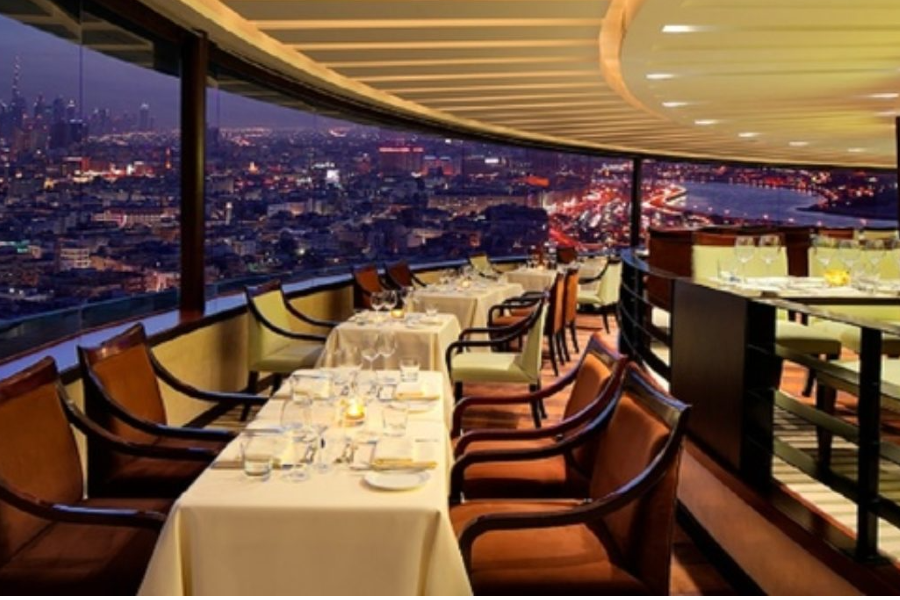 Also Read: Delhi-NCR Gets Its First Restaurant With Robots Instead Of Waiters In Noida
4. Cloud 7 In Palampur
Dine on 'Saathve Aasman', literally, as Cloud 7 in Palampur, Himachal Pradesh, promises you a dinner that takes you to seventh heaven. Nestled on the 7th floor of the hotel RS Sarovar Portico in the heart of Kangra Valley, this hotel promises breathtaking views of the Dhauladhar mountain range. Serving well-curated Himachali dishes and a tapioca pudding that would leave you drooling, Cloud 7 is a must-visit. Don't miss the sunset over the mountains at this revolving restaurant.
Also Read: You Can Now Go On 3 New Toy Train Rides In Himachal Pradesh
5. Om Revolving Restaurant In Jaipur
Last but not the least, a visit to India's Pink City is incomplete without heading to Om Revolving Restaurant. Perched in the Om Tower in Jaipur, this restaurant is nestled close to tourist spots and markets of the city. Enjoy a majestic view of the entire Pink City in just 60 minutes as you tuck into Laal Maas, Dal Batti Churma and other authentic Rajasthani dishes. The traditional yet royal decor and the revolving USP of the restaurant make it a sightseeing spot in itself.
Foodies who crave for experiential restaurants must definitely visit these 5 revolving restaurants in India. Hope you have a wonderful time here as both the view and the food would leave you asking for more.