Foodies, the next time you plan a trip to Agra to witness the magnificent Taj Mahal, don't forget to grab pizzas. Confused? Well, a street food stall in Agra is known to sell delicious Domino's style pizzas. And according to locals, this stall sells pizzas that are better than the American fast food chain.
Food Vlogger Shares Video Of Agra Stall Selling Domino's Pizzas
Food vlogger, Amar Sirohi recently took to his Instagram handle, @foodie_incarnate, to share a reel of a street food stall in Agra that sells Domino's style pizzas. In the reel, you can see a street food vendor kneading fresh dough to prepare the pizza. He goes on to add tomato sauce and cheese sauce to the dough. Next, he tops it with chopped onions, capsicum, corn and tomatoes.
View this post on Instagram
Then, the street vendor goes on to add paneer and crumbled cheese to it. Then, he places the pizza in the oven and removes it fresh out of the oven. The pizza definitely resembles one from Domino's as it's fluffy, cheesy and has oodles of toppings, generously added to it. He slices the pizza and places it in a cardboard box. In the background, Amar Sirohi says that locals find this pizza to taste even better than Domino's itself.
Also Read: You Have Seen Oppenheimer, Now See Pizzaheimer; Viral Weirdly Shaped Pizza Confuses Netizens
Netizens Have Mixed Reactions To It!
In no time, Netizens took to the comments section to share their opinions on Agra's Domino's style pizza. One person seemed interested to taste this street pizza in Agra. Others enquired where they can find this in Agra. Looks like everyone was curious to know the location, but the food blogger hasn't mentioned the location yet. But we speculate this video is from The Pizza Hub in Panchwati, Agra.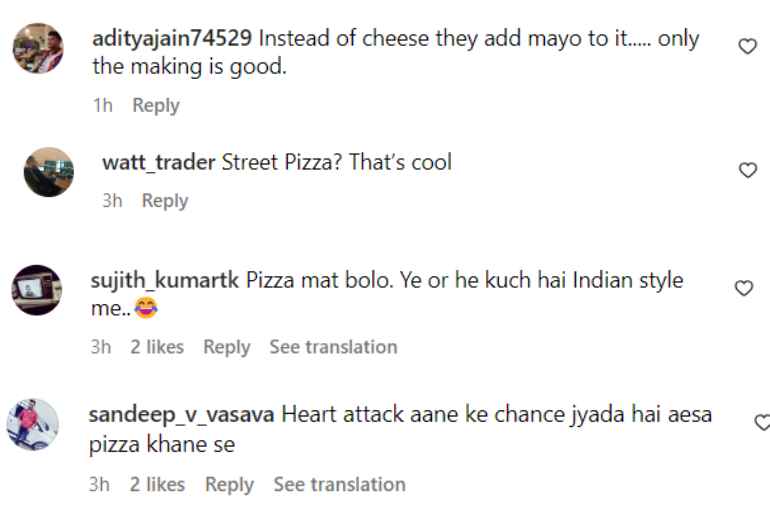 Also Read: 7 Types Of Italian Pizzas To Take You On A Culinary Journey Of The Country
But there were some Netizens who weren't impressed with this dish. One person commented that this place uses mayonnaise instead of cheese and claimed it only looks good, and doesn't taste that good. Another Netizen asked the food vlogger not to call this pizza. And said it looks way too Indianised.
Pizza lovers, would you give this Domino's style pizza in Agra a go?
Cover Image Courtesy: @foodie_incarnate/ Instagram