One couple, two bikes and a twenty-days journey through a long stretch of road comprising snow-clad mountains, rugged terrains and passes. That's the travel story of two passionate bikers from Vadodara, Khushbu and Naishadh. They had embarked on a trip from Vadodara to Ladakh on individual bikes in June 2019. Though the entire group had 12 members, Khushbu and Naishadh were the only couple. After completing the trip, they had a beautiful story to unfold. A story full of thrill, challenges and emotions. Here's Khushbu narrating the entire story made on the picturesque roadways. Read on.
A Couple Aspiring To Explore The World On Motorcycles
Ladakh. What feeling do you get when you hear this name? Well, for us it was a dream.
So, this is our story. We are a couple aspiring to explore the world on our motorcycles. I am Khushbu Pandya, mother of an 8-year-old boy and a Software Developer by profession and my husband is Dr. Naishadh Pandya, a Health Claims Manager in an MNC. In May 2019, we decided to take the Ladakh trip from our hometown Vadodara. We had planned a 20 days trip covering the whole circuit of Vadodara-Bikaner-Amritsar-Pathankot-Srinagar-Drass-Leh-Pangong Tso-Leh-Tanglangla-Rohtang-Manali-Delhi-Jaipur-Vadodara. But, we had to take the same route back from Leh because Leh-Manali Highway was closed due to heavy snowfall and it took 17 days for us to get back home. The return route was Leh-Qazigund(Srinagar)-Gurdaspur-Kishangarh-Vadodara.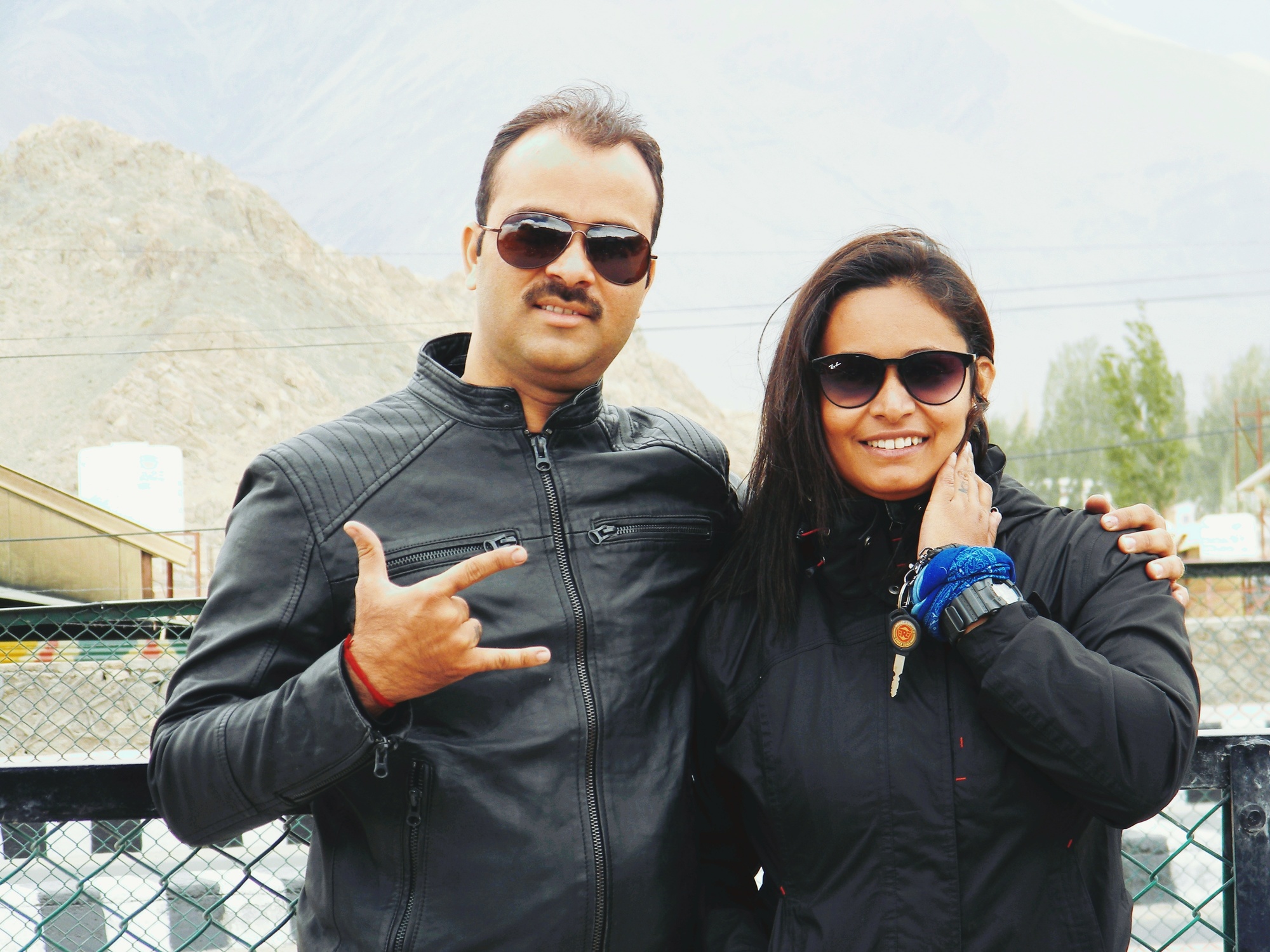 We started on May 31. It was the first-ever overnight ride for both of us. And we were scared but enjoyed thoroughly. We rode the whole night and June 2, at around 5 AM, we reached Bikaner. We were supposed to reach Bikaner on the night of June 1, but was late because there was a breakdown in my motorcycle just after crossing Palanpur.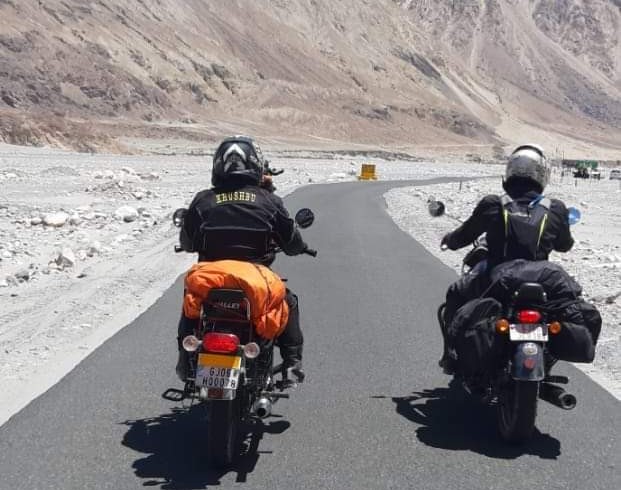 On June 2, by 8 AM we were again ready to start our ride to reach Amritsar. The temperature was around 50 degrees. We rode through Rajasthan and reached Amritsar by almost 2 AM.  The ride was so tough we could hardly ride 50 kms on one go. Due to heat and dehydration, we had to take breaks to cool down both our machines and our bodies. But reaching Amritsar was a relief and after that, we had a sound sleep.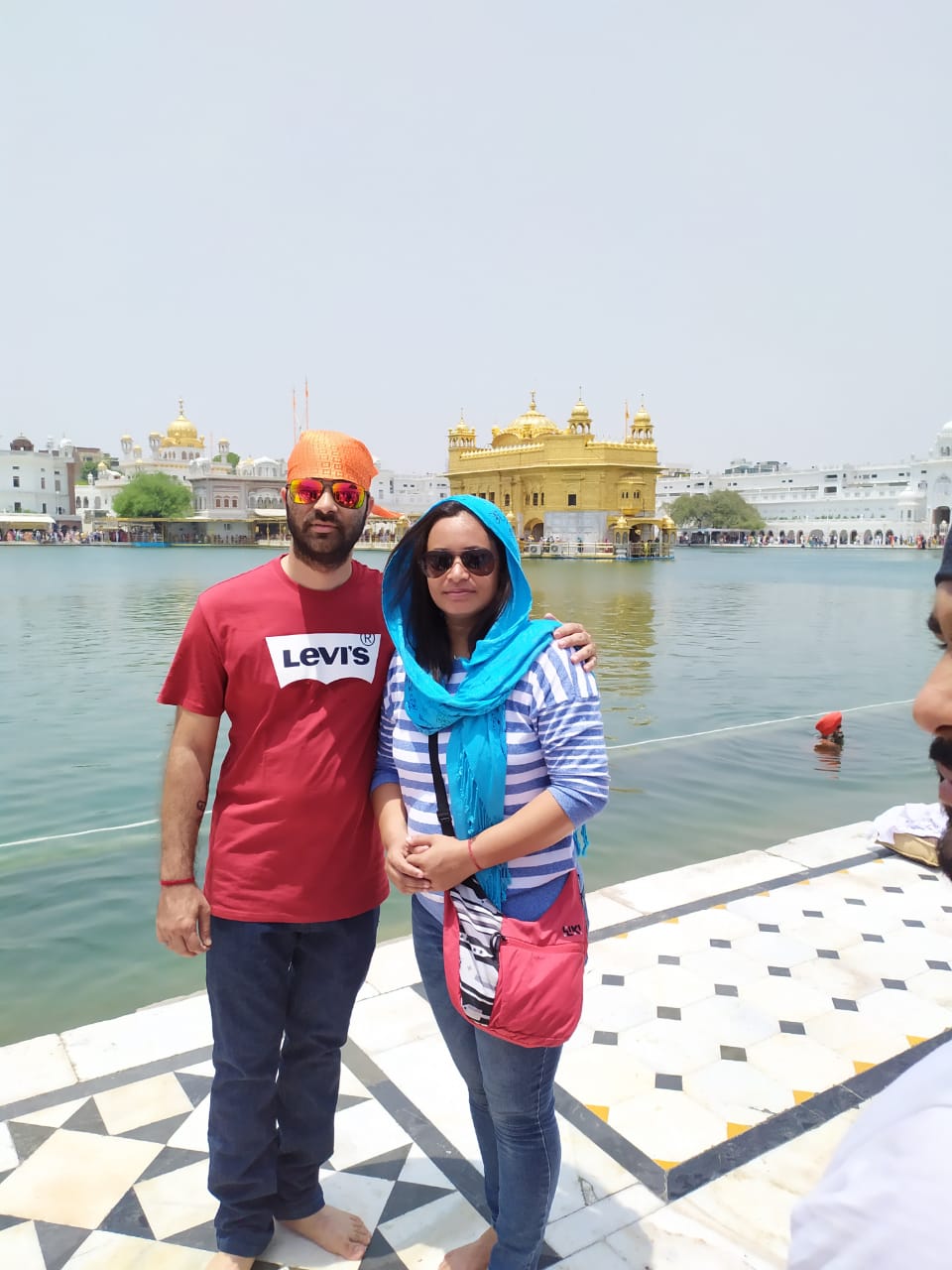 In the morning on June 3, by 8 AM we went to take blessings in the Golden Temple for our further ride. It was a feeling that can't be described in words. Blissful. Then we had breakfast and again we geared up for our ride. We reached Pathankot via Jammu and had to call off the ride due to hailstorm followed by heavy rainfall on June 3.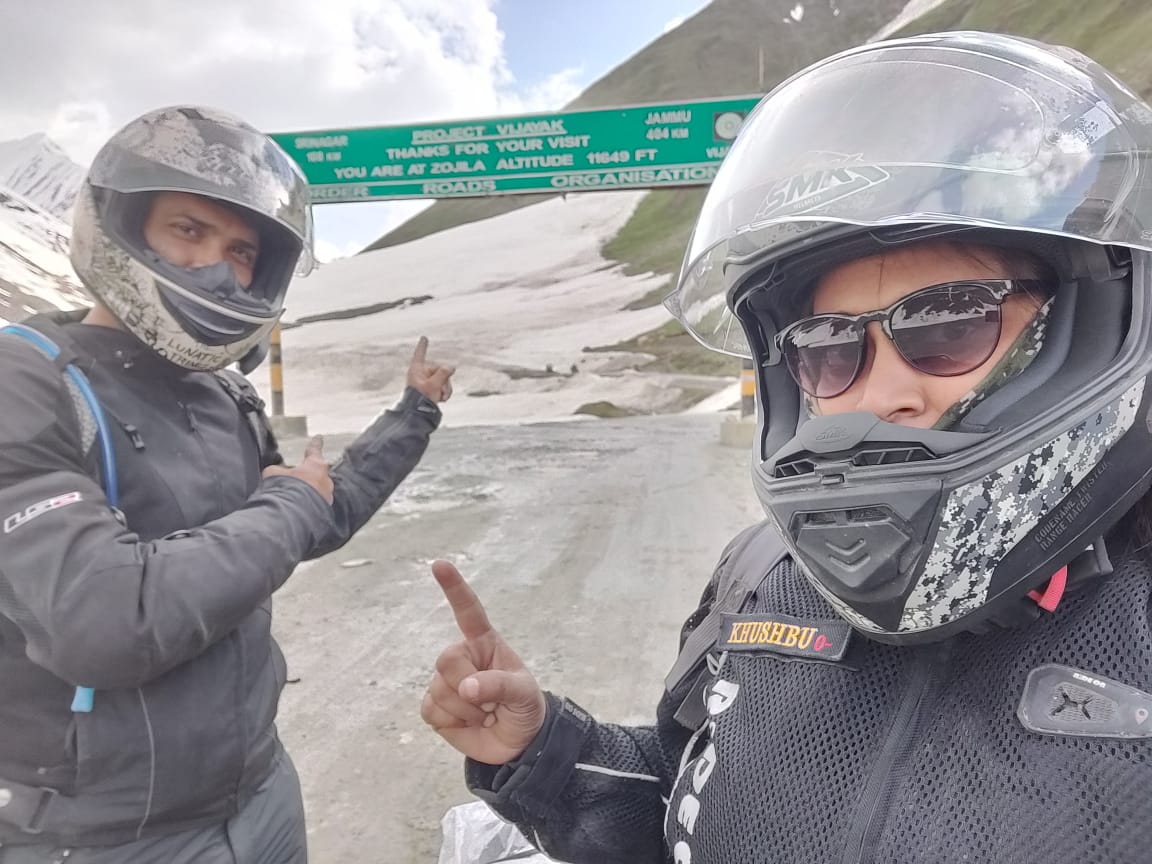 Crossing One Of The Longest Tunnels Of South Asia
On June 4 morning, again we set off to reach Srinagar. On the way, we crossed one of the longest tunnels of South Asia i.e Chenani-Nashri tunnel which bypasses Patnitop. We were excited as this tunnel was almost 10 kms long. We were having a good ride because the roads were smooth and scenic. After crossing the tunnel, it was already dark, and we were 100kms short of Srinagar when we encountered another tunnel but unlike the previous one, it was unilluminated, humid and congested. There are a lot of trucks and cars passing through the tunnel. There was a cloud of heavy smoke coming out of exhausts of vehicles which nearly suffocated me. I was about to get faint as I suffer from Claustrophobia but my husband was patient enough to handle this panic situation. The tunnel was almost 2.5 kms long and we felt alive when we came out of it. We crossed the tunnel and reached Banihal by the time it was pitch dark and it was raining heavily too. But the place didn't feel safe for the night, stay so we continued to ride and reached Qazigund which was 70 kms short of Srinagar. We took halt at a roadside restaurant to have some tea and snacks. We enquired about staying in Srinagar and the gentleman offered us Kashmiri Kahva and advised it would be risky if we reached Srinagar at that hour. It was almost 11 PM and the gentleman was kind enough to arrange a stay for us in the rooms he had above his restaurant.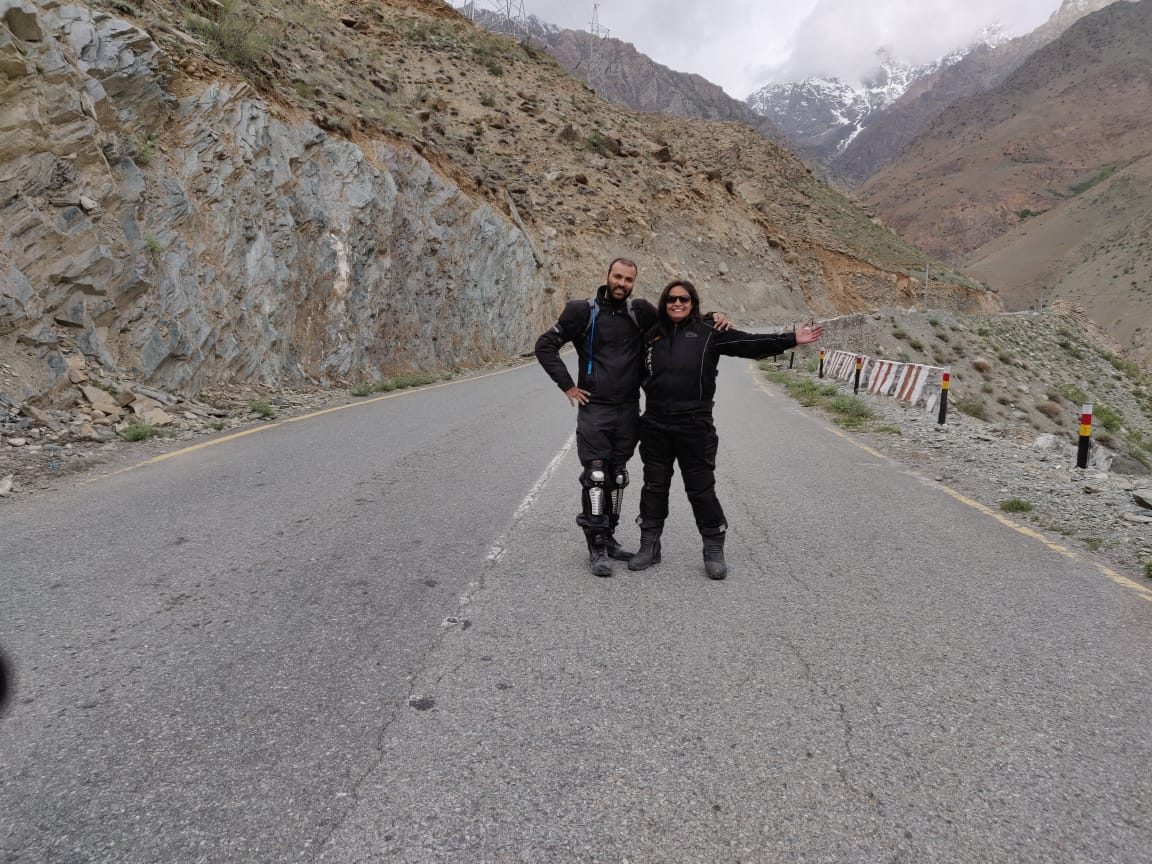 Also Read:  Married Indian Woman Bike Rides Solo In All Of Europe
A Small Detour That Led To A Fairytale Land
On June 5, we started fresh in the morning, refuelled our motorcycles in Srinagar and headed towards Kargil. It was a cold dreamy morning as we were riding through Kashmir. We realized why it is called Paradise. The snow-capped mountains, the tall trees along the roadside, the streams of water flowing, everything was so mesmerising. The most incredible things about riding in Kashmir was, we saw pollens floating in the air all the way. This made the ride magical. We went towards Sonamarg and then reached Gulmarg. This small detour took us to a fairytale land. Gulmarg in summer seemed to be straight out of a wonderland. But then we had to head back to Sonamarg.  We reached Zero point, Sonamarg and the place was so amazing. We halted a bit there, had tea and that signature Pahaado waali Maggie. Then we left for our next destination which was Drass. But, before that, we had to cross Zojilla pass. It is considered one of the most treacherous passes in the world. But God was graceful enough and we crossed it with ease.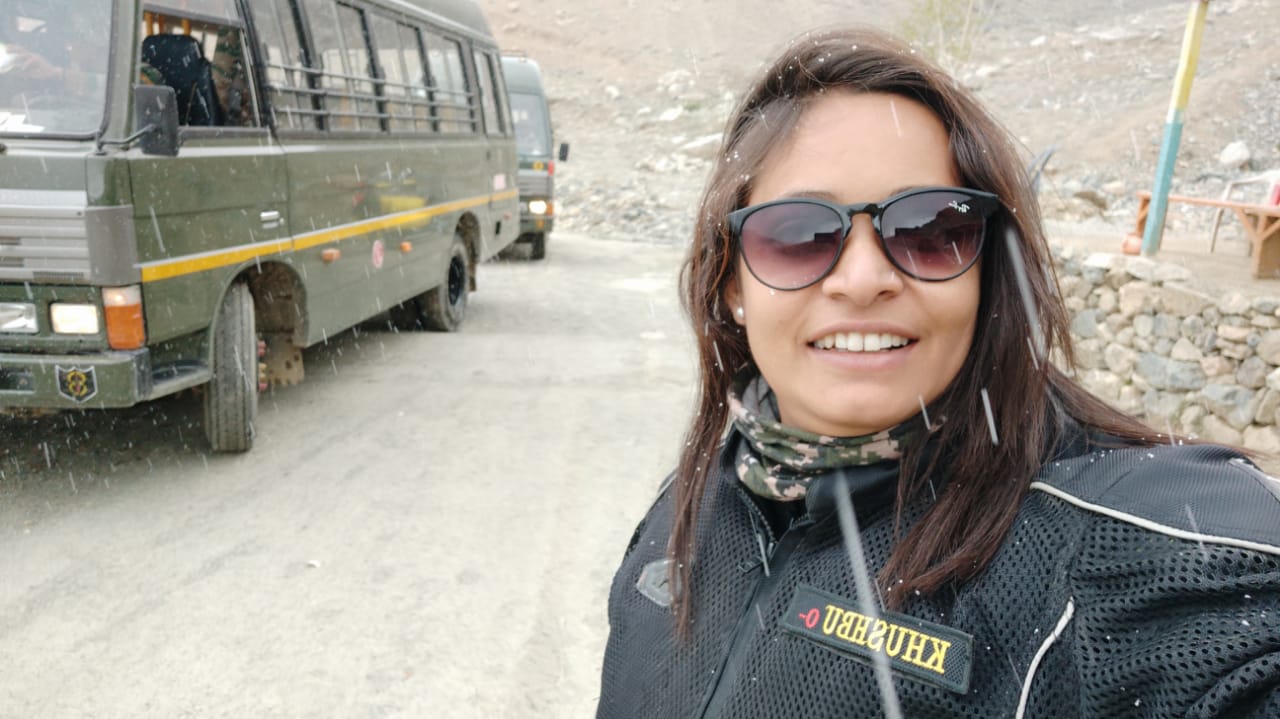 It was not raining, there was no traffic. Just a clean dry bumpy trail. We crossed Zojilla and was so casual about why it is called dangerous? In fact, it is such a scenic place to be. (We got the right answer while returning back). We reached Drass and decided to stay for the night. Drass is known as the second coldest place in the world and it was really freezing cold. We found a stay in the main market and the owner welcomed us with the soul-satisfying Kashmiri Kahva and we just sneaked into our blanket to save ourselves from the biting cold. It was really really cold.
Visiting The Kargil War Memorial
On the morning of June 6, we woke up to the sound of azaan coming from the mosque just behind our hotel. The feeling was simply like another world. We didn't dare to take the bath. The hot water provided by the service staff felt just warm. So, we just changed and geared up for the ride to head towards our next destination, Leh. We crossed Kargil, where we visited the Kargil War Memorial and paid tribute to martyrs and started to ride.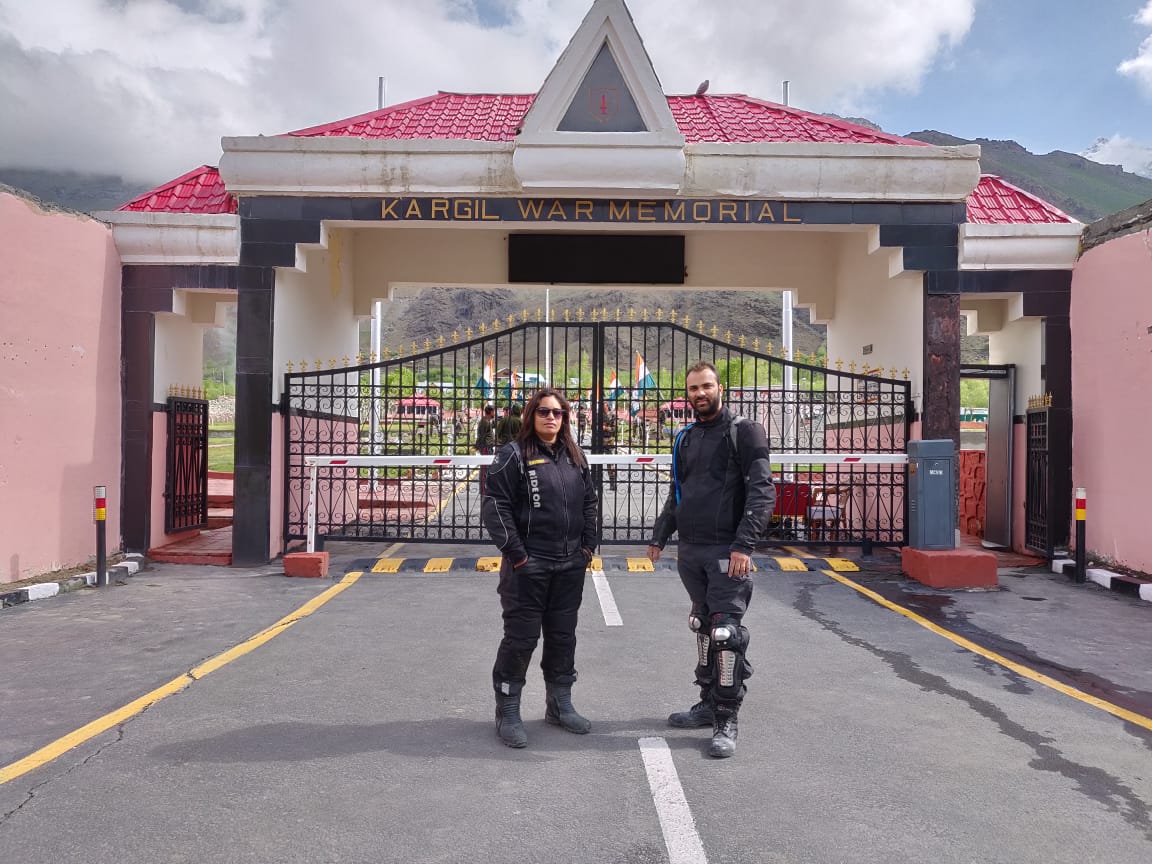 We had to touch NH-1 to reach Leh. But, again we had to take a detour as there was no GPS. But I always loved detours. It gives us the opportunity to witness the places which otherwise we would never go. So, we went towards Batalik sector and there we reached Hambuting La Pass where we experienced snowfall as well. We had tea and maggie at a roadside Dhaba and we set to ride again.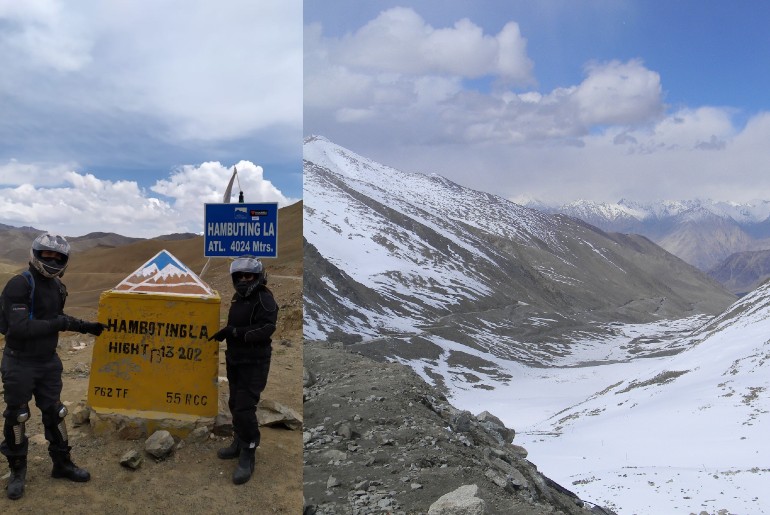 We were enjoying the ride to the core as there was no vehicles, no tarmac, no GPS, not even sign boards and we were surrounded by giant mountains. Yes, it was scary and there were mixed feelings of what could happen. We were brave enough. Finally, when we reached Khaltse, it was a feeling of great relief because we could see Leh on signboards. We reached Leh around 8 PM and WOAH! We were in LADAKH. But we were yet to visit our dream place. June 7 was an acclimatization day. We got our bikes serviced and explored the Leh city. We visited the Leh market, shopped local souvenirs. It was cold of course. In the day time, the weather was pleasant but at around 5 PM, the temperature began to drop quickly. So, we had to stay in our room.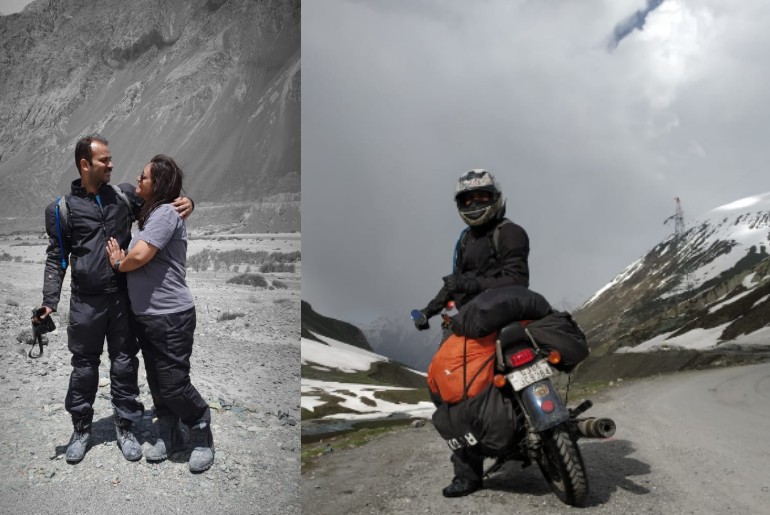 Conquering The Kardung La
June 8 was the D Day when we were finally about to live our dream. We set out on our bikes to conquer one of the highest motorable passes, Khardung La. We were very delighted as it would be an achievement for both of us. But here comes the problem. The oxygen level at Khardungla was 8% which could cause Acute Mountain Syndrome(AMS). We carried handy small oxygen cans for any emergency. We also carried the required medication. We rode on the bumpy mountain road and reached the Khardung La Viewpoint which is located at almost 18000 ft altitude.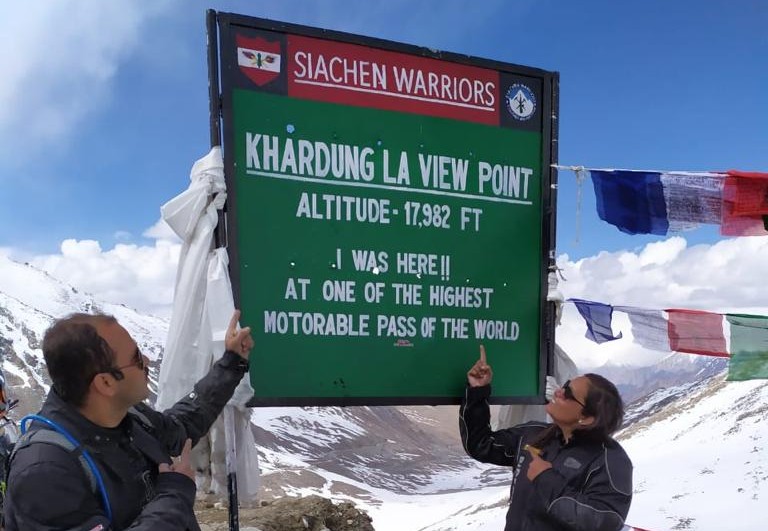 Also Read: Singapore To India On A Bike Covering 5 Countries, 5 Friends & 5,000 Km
One Of The Major Challenges: AMS
We clicked pictures and soaked up in view. Then we suddenly started feeling AMS hitting. So, we quickly geared up to leave the spot. Naishadh started riding while I was wearing my gloves. He went a bit ahead and I was left behind. I started riding down the slope and got stuck in traffic. Army trucks were climbing uphill and so the traffic was blocked for some time. I was on the left side waiting for the road to clear. Already, I was feeling dizzy due to AMS and now the smoke from the truck was making it scarier. Something inside me told me to move my bike to the right side which was on the valley to avoid smoke. My breath went shorter and shorter but I still moved my bike and went to the right side and waited behind another bike. I quickly removed my helmet to feel better but still, I felt suffocated. So, at least I was away from smoke but still going out of breath. After drinking some water, I started to get back to normal. By that time traffic also got cleared and we were moving again.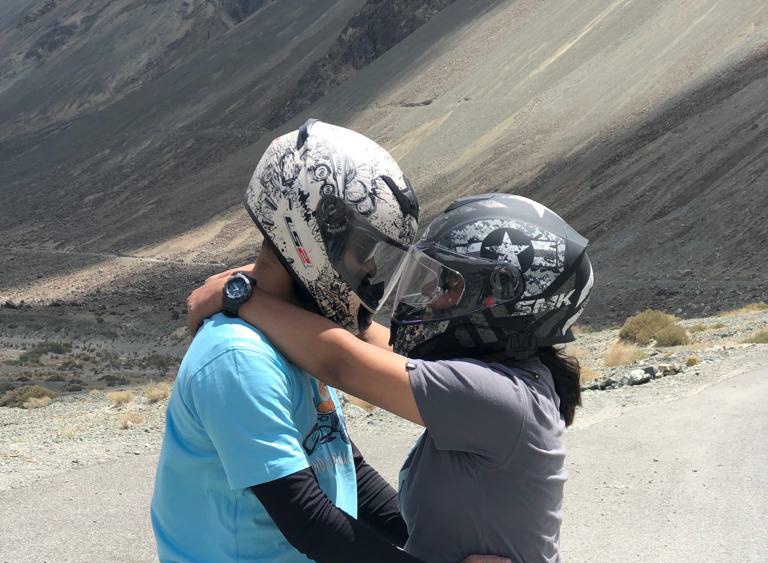 Naishadh was waiting just few meters away. I hugged him tight. He didn't understand what happened but we rode to a small Ladakhi dhaba and stopped there for lunch. Then I explained what happened and what scary experience I just had. Then after refreshments, we headed towards the popular Pangong Tso Lake. We reached Pangong Lake around 2 PM. We clicked pictures and found a cosy homestay to spend the night.
A Ride To Diskit In Nubra Valley
On June 9, after morning tea and breakfast, we geared up to reach Diskit in Nubra Valley. Smooth ride, scenic roads, straight patches of tarmac. It felt like we were riding in heaven. We reached Diskit that evening and stayed at a homestay. The Owner, his wife and his 2 sons were there to take care of us and they were so humble. We talked about their daily routine and their life in Diskit. The elder boy also entertained us by playing a few popular songs on guitar. Then after dinner, we rested well.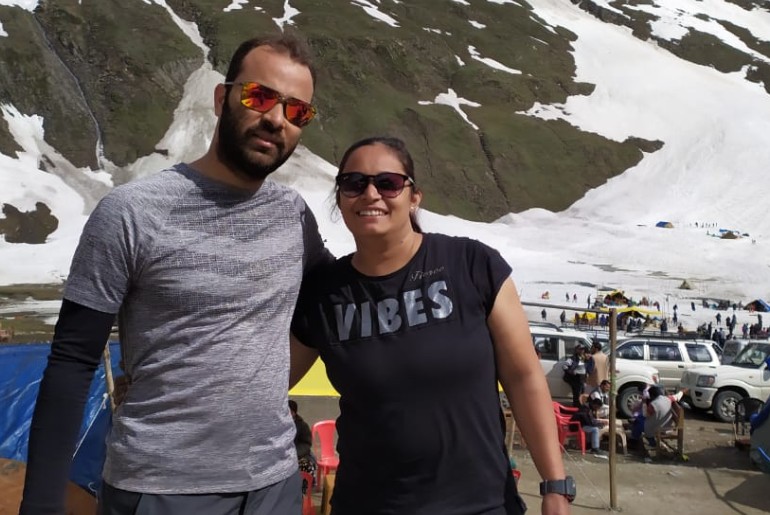 On June 10, we woke up a bit early as we wanted to visit Turtuk and Thang which is known to be the last village and after that Indian territory ends. Cruising through the barren dessert Hundar, we crossed giant mountains smooth roads and grey sand. It was cold, quiet and scary. We rode and passed by Turtuk and reached Thang. We saw the LOC and POK from a viewpoint. We also saw Pakistan army camps through binoculars. After that we returned back as we wanted to reach Diskit before it got dark. We came back safe and sound later that evening. After freshening up, i cooked khichri for dinner with the help of the host.
On 11th, we woke up and got ready Aunty prepared ginger tea and bread butter toast for us. We thanked them all for giving us the best experience of a homestay and we bid them farewell with a promise to come back someday again in future. With our hearts felt with contentment and gratitude, we headed back to Leh. We had a smooth ride until we reached near Chang La pass. The weather started to change and we could see dark clouds in the sky. It was too much cold and we had to cross a river. The water in that glacial river was bone-chilling, but we were prepared with waterproof riding boots. But the crossing had small rocks and it was challenging. We somehow crossed it and we had to climb uphill to reach Chang La pass.
The Amicable Gesture Of The Indian Army
The road was too bumpy and covered with ice slush which made it slippery too. It started raining and the weather got freezing cold. We crossed the pass and while we were rolling downhill we saw an army camp too and decided to take a break. The army men were very kind and humble. They welcomed us with hot water which was a luxury at that time and told us to have a seat near a fireplace. We comforted ourselves and talked with them about their schedule and about the soldier's life. The respect for them in our hearts increased to know how tough their life was in that terrain. After the challenging ride, we reached Leh the evening. We stayed in the same guesthouse and had rest.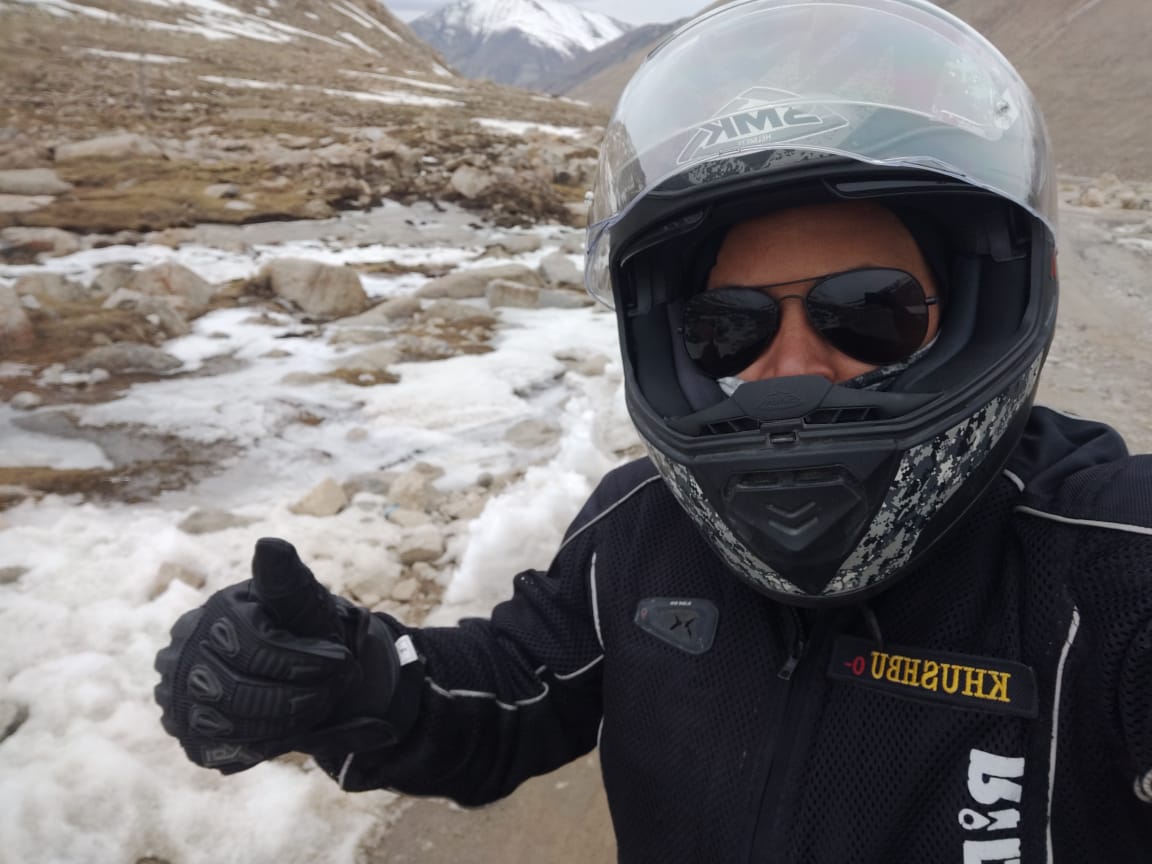 Getting Stuck In Leh Due To Heavy Snowfall
On 12th morning, we packed our bags, saddled up and started riding towards Tanglang La which led to Leh-Manali Highway. We travelled around 50kms and near Upshi the army men stopped us and informed that the highway was closed due to heavy snowfall and it might take about 4-5 days to reopen it. Now, we were stuck and confused about what to do. We returned to Leh and planned to go back by the same route by which we came. On reaching Leh we saw the news and to our disappointment, the Zojilla route was also blocked due to heavy snowfall. Now, we were stuck in Leh. We had to stay back until one of the routes got cleared. We stayed in Leh for almost 2 days. i.e 12th and 13th and on 14th morning we got the news that Zojilla route had been cleared for traffic. So, we quickly saddled up and started to ride. We rode and rode and rode and reached Zojilla around 6:30 PM and luckily they allowed us to enter. Because entry after 6:30 PM is not allowed in Zojilla pass. But, as it is said you never know what the next moment has to offer.
Reaching Back Qazigund
The Zojilla which we had crossed like a cakewalk earlier now had a muddy slippery road and a heavy traffic jam. The road was blocked since morning because of landslide due to heavy rainfall. We were making way through the traffic finding gaps between the cars and trucks. At a point, the road was so challenging, it had big puddles filled with mud and we had to ride through it. It was getting dark and the road was slippery, we anyways were making our way out and trying to move. It was around 10 PM when we finally were on the road where we could ride on a constant speed. We decided to reach the same place near Qazigund where we stayed while coming. But it was not easy. We had to cross Srinagar and Anantnaag which falls on the same route . The previous day we saw in news the there was an terrorist attack in Anantnaag and 5 CRPF jawans were killed in it. We were so frightened but we just had one option left to ride forward. We crossed Srinagar and lost the way and. A kind doctor family who were travelling by car guided to the right path. Thank god, we reached Qazigund again and it was a sense of great relief.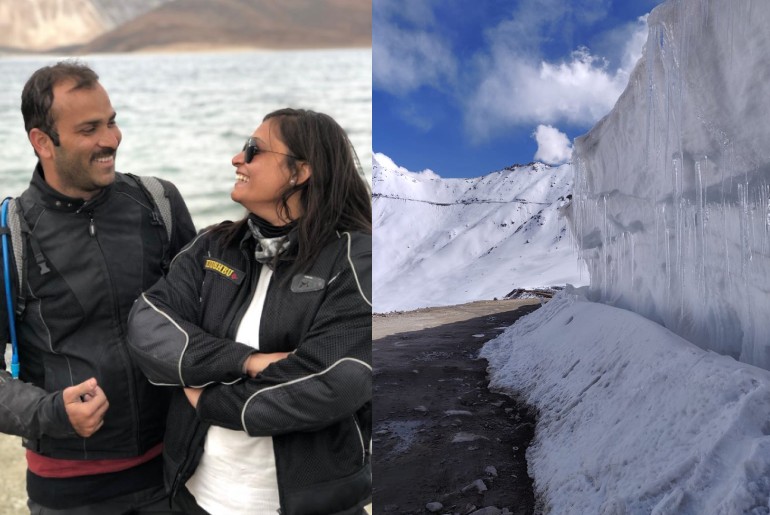 On 15th ,we headed back towards Gurdaspur where a friend was putting up. He had his farmhouse and we readily agreed to stay. He was a great host, arranged dinner and DJ. We danced till 4 AM and then went to sleep. On 16th we were ready to reach Jaipur and bid him wellbeing. We rode and decided to stay at Ambala, again, at a friend's relative's home. They were warm people and arranged a cosy stay for us. On 17th, we decided to reach Jaipur. We rode, stopped just for refuelling our bike tanks and reached Kishangarh to stay. The next day, we were again back on roads. It was the last leg to reach our home and by God's grace, we reached safely at night. Overall, we covered more than 7000 kms.
As told to Suchismita Pal