There's a shift in the travel scene of late. Travellers no longer wish to take up hotels or resorts as their temporary abodes. They rather choose to stay in unique accommodations when they travel. And a lot of travellers explore formats such as heritage homes, Havelis, and villas. So if you are planning to visit Maharashtra and do not wish to stay in boring beach resorts, we have just the right place for you! This little nook is a perfect way to take a breather away from the hassles of city life.  So explore novel travel experiences at this dreamy Glass Treehouse in Nashik!
Explore Glass House Nashik
Imagine staying in a glass treehouse for a weekend getaway! Sounds thrilling right? This super cool villa in Nashik, known as The Glass House, resembles a tree house and has a rooftop pool as your view. With its gorgeous French windows, the glass villa offers you a 24/7 view of the lush green wilderness. This little nook is a perfect way to take a breather away from the hassles of city life. And the best part is, you can bring along your pets as well. The glass treehouse has two huge bedrooms so you have enough space to let your pet move around freely. Along with that, you also have a well-equipped kitchen with a refrigerator, microwave, gas stove, and water purifier. Also, if you are planning a party, you can book the villa for that too. There's a huge shared lawn where you gather up your squad and make memories of a lifetime.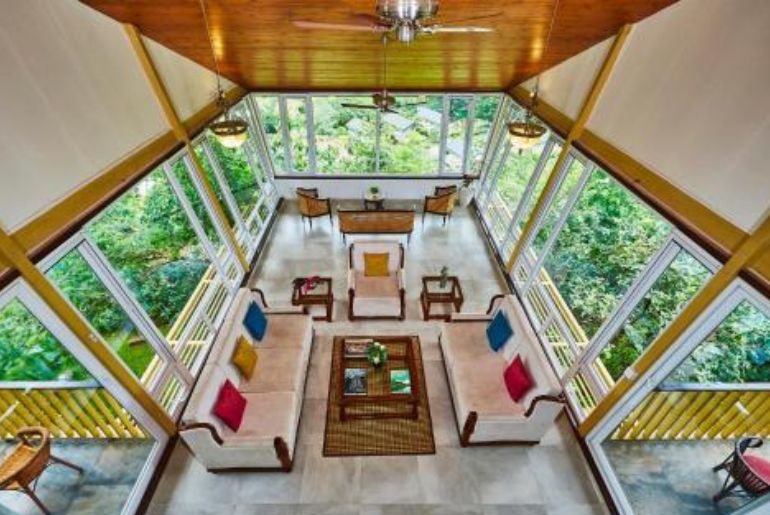 What Else To Do While In The Glass Treehouse?
There are numerous ways to spend your holidays while admiring the glass villa. The mornings allow you to wake up in leisure and enjoy a stunning pool view. Just sit back and sip on your favorite drink while you lose yourself to nature. But if you opt for an adventurous day, you can play indoor games like foosball, carrom, and table tennis. You can also go boating, kayaking, and golf cart riding depending on your mood. And if you are up for a little sightseeing, the Sula Vineyards allow you a fresh experience of wine tasting. You can also immerse yourself in the history of Harihar Fort and Trimbakeshwar Temple. But what's a getaway without proper resting right? So you can always choose to just laze the day away by the open-air pool and later enjoy a quiet bonfire at night!
Also read: Aramness In Gir National Park Is A Paradise In A Protected Teak Forest
View this post on Instagram