Popular science fiction has set the expectations high of what the future of transportation will look like. The future of cars is electric and for a good reason – it is both eco-friendly and cost-effective. But if you are wondering if you could go for long road trips in your electric vehicle, the answer is, yes. A Jaipur-based engineer has done it, and here's how.
A 1500 Km Road Trip From Jaipur To Longewala
As reported by The Better India, Aakash went on a road trip from Jaipur to Longewala, a town in Jaisalmer district with his wife Kaushal. They took off in the wee hours of Christmas morning and embarked on their nearly 1500 km round trip from Jaipur to Longewala, through Pushkar, Jodhpur and Jaisalmer. They completed their journey in four days.
Aakash Spent Only ₹700 To ₹800 To Charge His EV
But what is particularly remarkable is the cost of the trip. Akash had only to spend ₹700 to ₹800 charging his EV. A journey in a conventional IC-engine vehicle, would cost him approximately  ₹9,000 an hour. He not only had to pay so little to power his EV but completed the trip with barely any hiccups. Ooty Now Has Eco-Friendly Electric Bikes.
A 1500 Km Road Trip in Tata Nexon EV, For Just Rs 700: Jaipur Engineer Shares How He Saved Rs 8k+ On Fuel.

Hopefully we will have a sub Rs 10 lakh hatchback with 500+ km range by 2025. That will be a game changer. https://t.co/qGiBfND0kT

— Arihant (@haryannvi) January 24, 2021
Earthing Kits Crucial For EV Owners
So if you are heading out in your EV, you need to ensure that you can charge your vehicle at any given point. Aakash made an extension cable and attached it to an electrometer to measure the electricity consumed. He also carried an earthing kit as a lot of the hotels did not have proper earthing. Earthing kits are crucial for EV owners to protect against unwarranted spikes of electricity and safely charge their EVs.
Also read: Indian Railways To Become Fully Electric By 2024 As Per Railway Minister
Aakash Charged His Vehicle Overnight
The engineer also made a pit-stop at every 200-odd km to charge the EV. They had called the hotels and desert camps in advance to ensure that electricity was available. They charged their car overnight for 10-11 hours. Pune Becomes India's First City To Provide Electric Bikes On Rentals.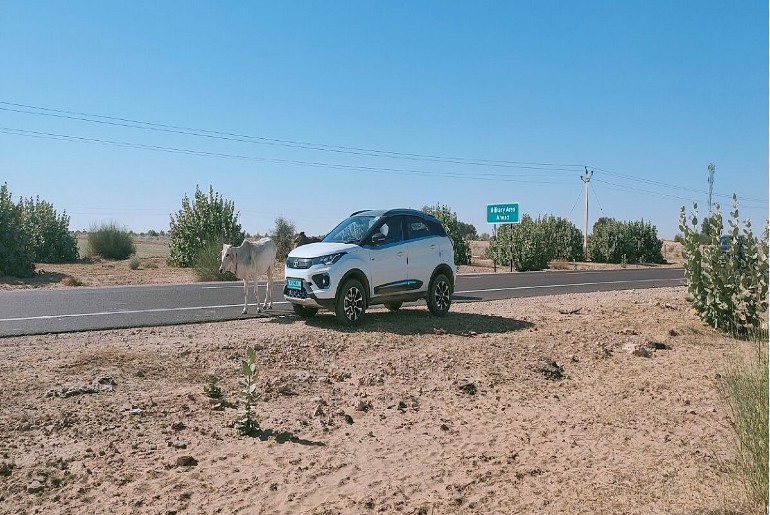 Towing Helps Charge EV Vehicles
If you are stranded on the highway with no charge in the worst-case scenario, you can call up the nearest workshop to tow your car. Towing the EV helps charge the vehicle because of a feature called regenerative charging or tow charging. All you need to do is carry your towing rope in your car boot, and you can hail a vehicle ready to tow your car. 
The battery usage of an electric vehicle really depends on speed and acceleration. When you accelerate hard, you burn a lot of battery energy. Besides, sudden breaking also eats up battery.