How would you like to live in an isolated hill station, away from the hustle-bustle of the city? And when we say isolated, it's so remote that you can't even find it on Google Maps. Are you up for the challenge?  Head to Banlekhi a hidden village in Uttarakhand nestled near the famed spiritual hub of Mukteshwar. This village untraceable on Google Maps is best explored on foot. It's far different from the overcrowded and overbooked hillstations in India and offers less touristy things to do. Here's why we think you should definitely plan a trip to Banlekhi.
Banlekhi In Uttarakhand Is Untraceable On Google Maps
Perched amidst the iconic Nainital hill, 40 km from Kathgodam, Banlekhi is a tiny village away from the noisy crowds. This offbeat village is surrounded by rocky mountains, majestic meadows and flowing waterfalls. It offers you the chance to learn about the grassroots culture of the people of Uttarakhand. They are sweet and more than happy to welcome you into their homes. You can take a walking tour, interact with the locals and immerse yourself in a new culture.
Also Read: Delhi Couple Quit City Life To Build Eco-Friendly Homestay In Uttarakhand That'll Last 100 Years
Stay In The Charming Banlekhi Resort Overlooking Kumaon Hills
While Banlekhi is a remote destination, there are wonderful resorts for you. Book a stay at the charming Banlekhi Resort, which offers stunning views of the Kumaon hills. The owners have consciously not built a motorable road till the resort, to ensure the natural setting stays undisturbed. So you'd have to trek all the way here. But it's worth the hard work and sweat. This remote resort, situated in the remote Banlekhi village would give you all the time in the world to be up close with nature. Go birdwatching, indulge in organic farming and interact with locals, thanks to the resort's open-door policy.
Also Read: Covid Warriors Trek To Remote Uttarakhand Villages To Provide Masks & Medicines
Visit The Bhalu Gaad Falls & Witness Nanda Devi Peak
Now, the golden question arises, what more can you do at one of India's most hidden villages? Well, you can visit Bhaalu Gaad falls, nestled 12 km from Banlekhi. This gushing waterfall is known for its crystal blue clear waters. A lovely picnic spot and bird-watching arena for nature lovers. Visit the second-highest peak in India, the Nanda Devi Peak and witness the glorious sunrise. Mukteshwar is one of the best places to catch a glimpse of the imposing peak.
Also Read: 5 Places In Uttarakhand That Will Make You Fall In Love With The Snow 
Go Paragliding At Bhimtal & Later Feast On Kumaoni Dishes
Adventure enthusiasts can go paragliding to Bhimtal. This is one of the underrated paragliding hubs in India. You can have a safe and memorable experience as you go paragliding up the majestic mountains and peaks. After a tiring yet exhilarating experience, feast on traditional Kumaoni dishes like the flavoursome sisunak saag and kappa made from spinach.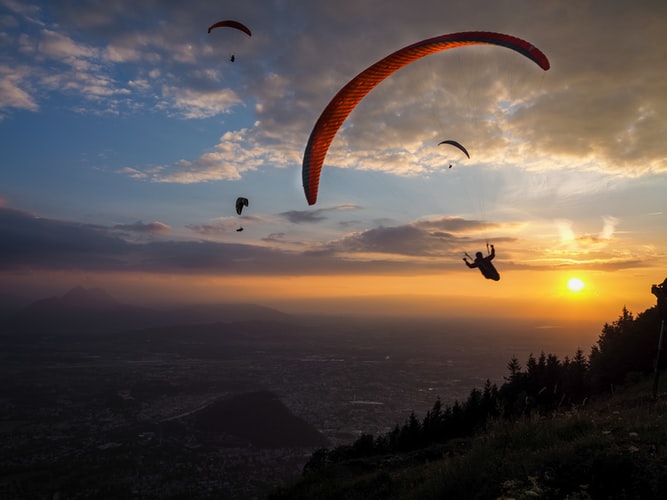 Well, a trip to one of India's most remote villages, Banlekhi in Uttarakhand must certainly be on your wishlist. Imagine the thrill of staying in a village so remote, that it can't be traced on Google Maps. Now, that's what we call taking isolation and social distancing on another level.