Who doesn't like a budget travel experience with loads and loads of memories to take home? Train journeys are one of the best ways to make these memories. While on a long-distance train journey, we can talk to our peers, gaze outside the window to catch the amazing views and munch on-the-go snacks while listening to the different journey sounds. We bring to you some of the magnificent trains that can take you to some incredible places from Delhi within around 5 hours:
1. Rishikesh: New Delhi-Dehradun Shatabdi
Delhi to Rishikesh takes around four and a half hours journey by train. This journey is best for a weekend getaway for Delhiites. The joyful train journey through the plateau, along with the views of the mountains will excite you to the core.
The New Delhi-Dehradun Shatabdi (02055) leaves from New Delhi station and reaches Haridwar in 4 hours 13 minutes. Another superfast train, Nanda Devi Express Superfast(02401) can take one from Hazrat Nizamuddin in Delhi to Haridwar in nearly 4 hours 8 minutes. Also, this spa resort in Rishikesh offers a marvellous infinity pool overlooking the Ganga.
2. Landour: New Delhi-Dehradun Janshatabdi
Landour is a small town in hills near Mussoorie. It is an unexplored destination to spend your weekend peacefully away from the hustle-bustle of the city. You can go some kilometres up from Landour to Dhanaulti as well. The train journey is studded with mesmerizing landscapes that will be a feast to your eyes. The weather here is also very pleasant, even if you visit in the rainy season. To reach Landour, you can first reach Dehradun from Delhi via New Delhi-Dehradun Janshatabdi which covers a distance of 5 hours 50 minutes. Dehradun to Landour takes nearly an hour via the Mussoorie Road.
 3. Barog: Sachkhand Special Train
Delhi to Barog would take around 6 hours. There are no direct trains to Barog from Delhi but the picturesque Barog, locked by hills, is worth a visit. Barog railway station is a visitors paradise in itself. The beauty of this station built during the British era will bring out the Instagrammer in you.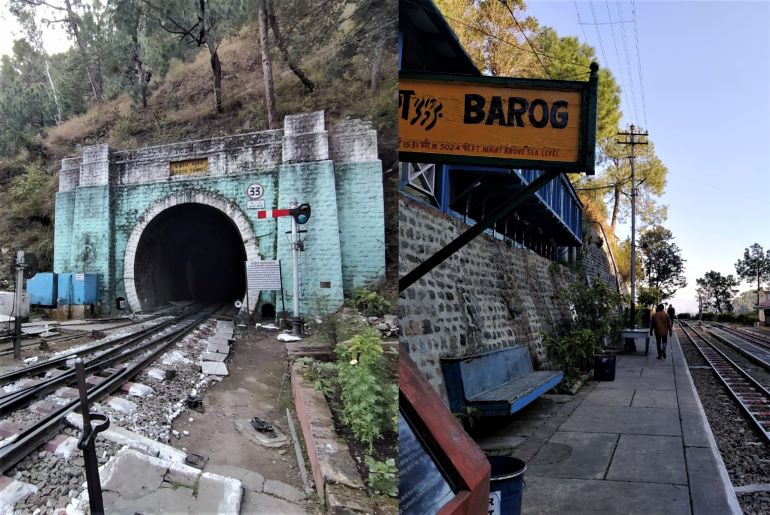 To reach Barog, you first need to take a train to Rajpura from Delhi and then hire a car. The historic Barog Tunnel is the longest tunnel in the Northern-Shimla railways. One can also collect a ticket from the station master and take a ride through the magical tunnel on the express trains that run through the station.
Also Read: 5 Most Instagrammable Wildlife Reserves & National Parks You Can Visit From Delhi
4. Delhi To Jaipur
The pink city Jaipur is a quick 4 to 5 hour journey from Delhi. There are many trains that transit throughout the day to Jaipur and the journey is quite smooth without any discomfort. Reaching Jaipur by train means that you'll see some of the striking plains along with some gorgeous views of the Alwar mountain range. After reaching Jaipur,  you can have a city tour of the majestic historic architectures of the city.
5. Delhi To Agra
The magnificence of Agra doesn't need much introduction as it is home to one of the seven wonders of the world, the Taj Mahal. Like Jaipur, Agra too has multiple trains from Delhi and the journey takes around 2 to 3 hours. Apart from the Taj Mahal, other noteworthy tourist attractions in Agra include Agra Fort, Tomb of Akbar, Itmad-ud-Daula, Chini ka Roza, Moti Masjid and more.
Also Read: Agra's Taj Mahal Is World's Most Googled Monument
So pack your bags, book your train and flee away to one of these dreamlike destinations. Meanwhile, here are 7 Indian trains to experience luxury on wheels: