On the occasion of the country's 50th National Day, the UAE produced a fresh new AED50 banknote. It was to honour former UAE President Sheikh Zayed bin Sultan Al Nahyan. The newly issued note will be available soon in Central Banks and ATM machines around the country. Sheikh Mansour Bin Zayed Al Nahyan, Deputy Prime Minister, said the launch of the third issue of the 50 dirhams coincides with the UAE's golden jubilee celebrations. It began on December 2, 1971.
The New Banknote Is The UAE's First Polymer Banknote
This material is more durable and sustainable than standard banknotes. It lasts two to three times as long as its cotton counterparts are totally recyclable. It helps decrease the environmental imprint.
Uae issues new AED 50 note to mark Golden jubilee 🇦🇪🇦🇪#uae #AED50 #banknotes #uaeuptodate pic.twitter.com/GlTEYNXtF3

— UAEUPTODATE (@uaeuptodate) December 7, 2021
The distinctive design of the banknote is in various shades of violet. It has "fluorescent marks" in blue in the centre in the form of the state's visual media identity. Also, it has a mixture of drawings and inscriptions executed with advanced intaglio printing techniques. These are among the issue's aesthetic characteristics.
The Central Bank has chosen to preserve its long-standing strategy in this issue. For that, they have included large Braille symbols to assist blind and visually impaired individuals in determining the banknote's worth.
Also Read:This Country May Go Bankrupt In 2022 Due To Coronavirus Crisis
The Old '50 Dirham' Note (May 20, 1973 Dec 7, 2021)
On one side, an Arabian oryx (the UAE's national animal) was shown. And on the other, a print of the Al Jahili Fort.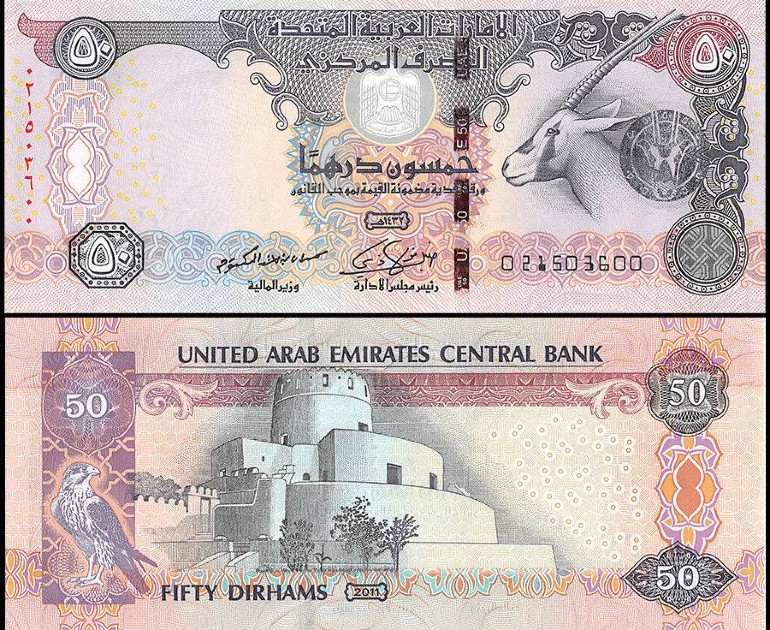 The New '50 Dirham' Note (Dec 7, 2021 Present)
The new currency portrays Sheikh Zayed, the country's founding father. And also the other founding rulers. The note also includes important national and historical sites in addition to famous personalities. The commemorative photo of the founding fathers after signing the "Union Document" is one of the prints.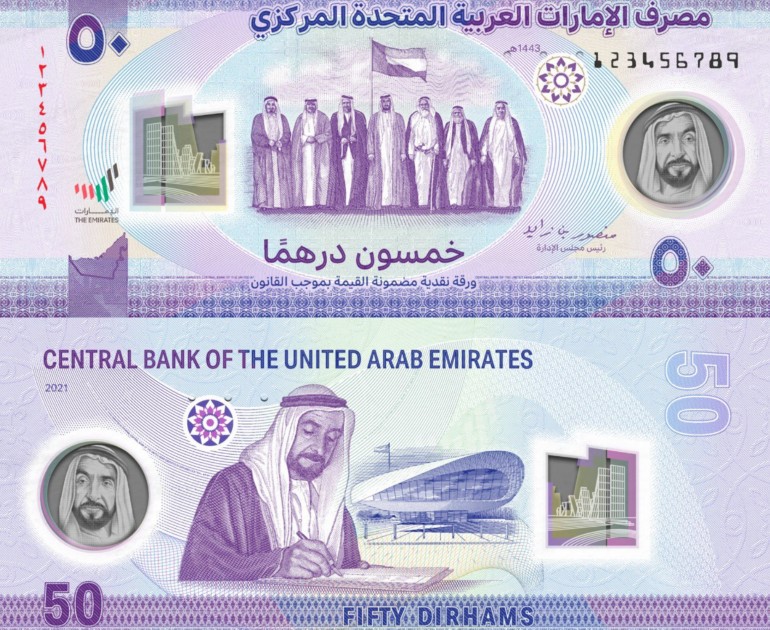 The Inaugural Ceremony Was Attended By UAE Leaders And Crown Princes
His Highness Sheikh Mohammed bin Rashid Al Maktoum, Ruler of Dubai, and His Highness Sheikh Mohamed bin Zayed Al Nahyan, Crown Prince of Abu Dhabi and Deputy Supreme Commander of the UAE Armed Forces, were present at the inaugration.