Onion pakoras and chai is a match made in heaven. Especially during the monsoon season, sipping a cup of masala chai and biting into garam garam onion pakoras is an emotion in itself. Recently, there's an Instagram-friendly "Blooming Onion" or "Onion Blossom" that's taking over the Internet. And it's a beautiful-looking pakora. Read on to know more about this new dish on the block.
Street Food Vendor Serves Onion Blossom In Vadodara
Food vlogger Raj Patel (@the__bearded__foodie) shared a reel of a street vendor serving Onion Blossom in Vadodara, Gujarat. In the video, the street vendors at Bombay Special Food Yard, are seen putting a complete large onion under the flower-cutting machine. The machine beautifully slices the onion which looks like a blooming flower with petals unfurled. Next, the street vendor dips the entire blooming onion in an orange-coloured batter and adds spices to it.
View this post on Instagram
After it's dunked in the orange batter, it's covered in crumbs for that extra crunchiness. Then, the Vadodara street vendor goes on to deep fry the blooming onion. And then removes it from the hot oil and drains out the excess oil. Then goes on to cut the inedible centre and places a cup for sauce. The Onion Blossom is topped with chaat masala and other chatpata spices. And there's mayonnaise poured into the cup as a good accompaniment for the fried snack.
Also Read: Video Of Street Vendor Making Idli Vada Goes Viral. Desi Food Lovers Do Not Like This Fusion
Netizens Impressed By The Hygiene Maintained
Interestingly, unlike many street food videos, this one was lauded by Netizens. Why? Because the street food vendors wore gloves, kept their tables clean and prepared Onion Blossoms hygienically. There were some Instagrammers who were happy that the dish was made with minimal ingredients and it was just onion pakora in a new avatar. The heart and soul of the snack remained the same.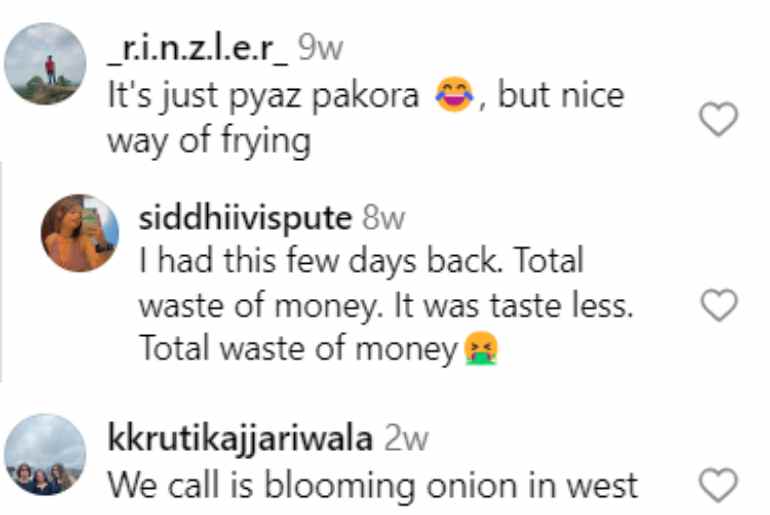 Another commented that this could be the only food prepared by a street food vendor that they'd eat. But one Netizen admitted to having this dish few days back, and found it to be tasteless. Now we can't vouch that everything that looks good, tastes good too.
Onion Blossom Recipe
Meanwhile, here's an Onion Blossom AKA Blooming Onion recipe for you from the Small Town Woman blog.
Ingredients
2

 eggs

2 cups of

 flour

1 cup of

 milk

1 tablespoon of

 paprika

1 tablespoon

of cumin

1 teaspoon

of dried oregano

1 teaspoon

of thyme

1 teaspoon

of salt

1 teaspoon

ground cayenne pepper

1/2 teaspoon of

 ground black pepper

1/2 teaspoon of

 garlic powder

3

medium-sized onions
Vegetable oil for frying
Method 
First, whisk the egg and milk in a wide bowl. Then, mix the spices like garlic powder, black pepper, thyme, cumin, paprika, dried oregano and salt with flour in a wide bowl. Then, use a sharp knife and cut the flat spot on the non-root end of the onion. Next, place the onion flat size downwards. Make one-quarter turns and cut a clean slice downwards. Next, place the entire onion in the flour mixture. Make sure it coats evenly in the crevices and then dunk it into the egg mixture and again in the flour mixture using your hands. Then, deep fry the onions and place them on a tissue to remove excess oil. Your Onion Blossom is ready!
Also Read: Tahira Kashyap Goes On A Street Food Trail In Her Hometown, Chandigarh
Meanwhile, have you tried Onion Blossom yet?