Under 140 Characters
If you love dosas but are bored with the regular, masala dosas, Veg World has a lot you can explore. From spicy Schezwan fillings to pav bhaji and palak, this place takes dosas to a whole new level.  
What's It?
Fancy a crisp, buttery dosa for breakfast? Veg World at Bur Dubai is no frills but the place is clean, friendly on the pocket and is known for its umpteen varieties of dosas– you name it, they have it!
Seated near the Dolphin Hotel in Meena Bazaar, Veg World has been a favourite among dosa lovers, for years now. And why not, the dosas served here are not just finger-licking delicious, but are quite filling as well. Veg Nation takes the humble South Indian breakfast option to a whole new level. How you ask?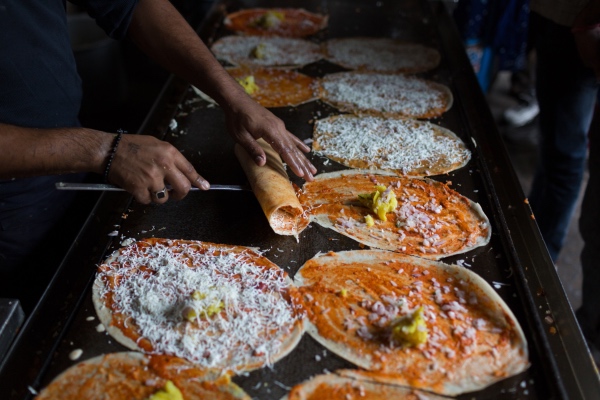 From the classic, home-made sada dosa to pav bhaji dosa, palak dosa, Schezwan spring dosa, and paneer dosa, the list is simply endless. But what makes the place special from the rest is the preparation style and the stuffings that go into the dosa. The dosas here are crispy and stuffed with lip-smacking fillings. If you like a dose of cheese in your food and also enjoy spice, try the Schezwan spring dosa. Oozing with cheese and a delectable tangy filling, this one's sure to leave you craving for more.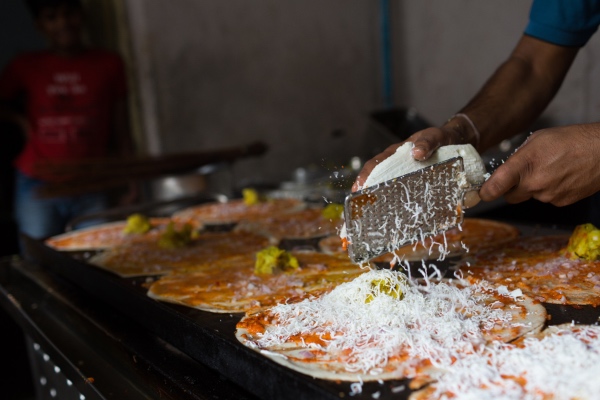 If you wish to try something more authentic, opt for Ghee roast, masala dosa, or the Paper sada dosa. You can also try their Uttappams, garnished with tomato, mixed vegetables and loads of cheese. Interesting much? Other South Indian breakfast options include fried idli and menu vada.
What Else?
Oh, and if you're craving something North Indian, the menu also has a range of breakfast specialities including misal pav, puri bhaji, parathas, thepla and much more. They also have an exclusive lunch menu serving Indian and Chinese delicacies from 12:00 pm onwards. 
Lastly, finish your meal with a Veg World's signature cocktails, or pick from a range of old-fashioned ice creams and sweets.
Deets
Location: Near Dolphin Hotel, Street 44b, Meena Bazaar
Timings: 9 am – 12 midnight
Cost: AED 60 for two
Contact: 04 3517070, 0555463179