We have heard of way too many getaways to Alibaugh, Lonavala, Matheran and Mahabaleshwar. They have become too cliche and crowded, to be honest! Here is a perfect weekend destination for all you Mumbaikars who are sick of cliche destinations, Igatpuri! This place is not too far from Mumbai and is just a 3-hour drive away, which makes it perfect for a quick getaway. Igatpuri is just 120kms from Mumbai and is a peaceful place for a refreshing weekend.
How To Get There?
If you are taking a train, you will reach within an hour a two. For Igatpuri there are direct trains from CST and Dadar and Kalyan. Here are few trains that will take you there, Nandigram Express, Panchvati Express, Vidarbha Express Devagiri Express and Tapovan Express. You can easily get a ticket from your local ticket counter for Igatpuri. For people living in different states, the closest airport to Igatpuri is Mumbai Airport. From there, you can easily hire a car to get you to Igatpuri or get on a train.
Also Read: Long Weekend Getaway From Mumbai To Sikkim- Gangtok
In Igatpuri you will find some beautiful tall waterfalls, mesmerizing valleys, and mountains covered with lush greenery! Igatpuri is a famous pitstop for trekkers that head up to the highest peak Kalsubai and Harihareshwar. This place is like a breath of fresh air and will most definitely leave you mesmerized.
Best Time To Visit Igatpuri
Igatpuri is one of those places that has great weather all year around. The summer months get a tad bit hot but come June, it rains tremendously here. But the best time to visit here is during the winter season. The air is deliciously crisp and the lush green landscape just complements it. So, we suggest you head here between the months of October and March.
Place To Visit In Igatpuri
1. River Rafting On The Vaitarna River
Now you don't have to wait for Goa or beaches for water sports, this camping site near Igatpuri is all that adventure junkies need. River rafting in Vaitarna river will surely be the most adventures thing here and they have a dedicated team that takes care of everything, right from arranging batches, giving directions and planning camps near the Vaitarna.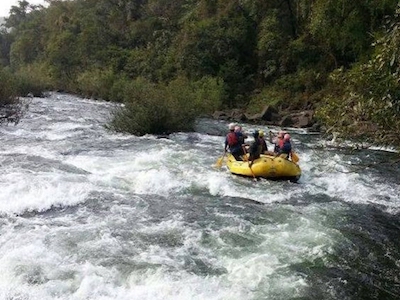 Cost-Rafting cost for weekend = 1400/-
Rafting cost for weekdays = 1200/-
2. Finding Inner Peace In Dhamma Giri 
Dhamma Giri located on Dhamma Hills, it is one spot you must visit! It is about 40 km from Igatpuri and is one of the most peaceful places. The architecture of Dhammagiri is majestic covered in golden and white, and is also known as 'Pagoda'. Dhamma Giri is a famous place where people meditate and it is also a dedicated teaching and meditation centre called 'Vipassana Academy'.
3. Watching The Magnificient Vihigaon Falls

Vihigoan waterfalls are just a 25-30 minute drive away from Igatpuri and the Vaitarna Lake bridge will connect you to Vihigoan. You will have to walk down a little rocky path to reach the tall waterfall. Here, you can get absolutely drenched, click some photos and have a great time with friends and family.  The best time to visit this waterfall is during monsoon!
4. Camel Valley 
This valley is located in a few kilometres from Bhatsa River and is the has the most beautiful view. It is also one of the most visited spots in Igaturi during Monsoons. The valley is covered with tall trees and dense forest. This valley is really beautiful and here one can experience beautiful sunsets!
5. Vallonne Vineyard
Not many have heard of this vineyard but Vallonne Vineyards are a must-visit when you are in Igatpuri. You can go wine tasting here, stay at their exotic villa and know more about their French-style wines. Sula and Soma Vineyards are the only ones we know, but this is one amazing place to be in Igatpuri.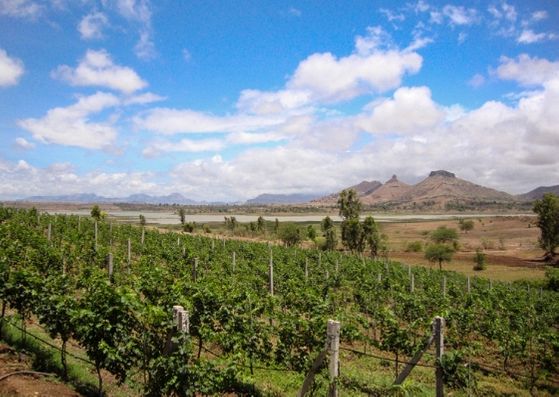 6. Climb Up On Maharashtra's Highest Peak, Mt Kalsubai
Igatpuri is also famous for some beautiful trekking spots like Kalsubai Point which is known to be the most difficult trek to the highest mountain in Maharashtra. Part of the Sahyadri Range, this peak is not one for amateurs. So, we highly suggest that you get in a lot of practice before attempting to scale Mt. Kalsubai. If you feel like you still can't do it, then despair not because you can climb the stairs to the peak.
I would not think twice before ditching the weekend spots that have been done to death and come here. Igatpuri has some of the best villas with pool and a breath-taking view of the mountains! I personally liked the O Two Villas or how some like to call it O2 in Igatpuri. They are set amidst the best destination in Igatpuri and provide luxury at its best. And it's not even that costly, only ₹13,00o per night for a group of people. So what are you waiting for? Plan your weekend to Igatpuri!