We all know long weekends are rare, so if you find, one can make full use of it. I suggest you ditch the cliche vacation getaways near Mumbai and travel North. This will take more than just a long weekend, collect all your month's leaves and head to North-East.
Here is an itinerary that will guide you for your trip from Mumbai to Sikkim-Gangtok. North-East is beautiful and at least once in your life, you should come here. It is one of the most refreshing places to be for your vacation. The culture of Sikkim, authentic food and beautiful landscapes are just the best thing!! Travellers from Mumbai to Sikkim- Gangtok get ready for the best that India has to offer!
Also Read: Sikkim Gets A Splendid New Airport With Stunning Views To Witness From Top
How To Reach Sikkim?
If you want to take a flight and please take this as my very personal suggestion, book your flight 2 months in advance. You can get some best deals on flights if you plan your trip from Mumbai to Sikkim- Gangtok.
There aren't direct flights to Sikkim so another option is to take a flight to Bagdogra and then rent a cab that will take you to Sikkim in about 4-5 hours. If you are a sucker for beautiful landscapes, I suggest you take this route and enjoy the raw beauty of Sikkim.


These rates are for weekdays, it gets a little expensive around weekends. And if you are planning your trip well in advance, then the rates are even cheaper.
Road Trip To Sikkim-Gangtok 
You must have some good amount of dedication to take a road trip and you should have at least 2 drivers in your group if you are planning a long and tiring trip from Mumbai to Sikkim. It will take more than two days to reach Sikkim by road. Make sure you take pit stops and enough rest so that you can start early and fresh!
Trains to Sikkim 
The closest station from Mumbai to reach Sikkim is Darjeeling and multiple trains will take you there. You can also opt to take a train till Siliguri. And further local transportation, cabs can take you to Sikkim.
22519 Lokmanyatilak Terminus Kamakhya Express
05611 Lokmanyatilak Terminus Kamakhya Special
Guwahati Express
Karmabhoomi Express
Also Read: Travel In The Glass-Enclosed Jan Shatabdi From Goa To Mumbai On The Konkan Belt
Budget For Sikkim Trip
I will be brutally honest, Sikkim trip will not be cheap. The hotels here can be a little expensive, but the maximum money will be used in Travel from one tourist point to another. The food here is not too expensive. It is most definitely less than what we get in Mumbai.
So the trip to Sikkim – Gangtok per head along with stay should be around 20-25 thousand including the hotel and your travel.
Also Read: 6 Ways To Make Every Trip A Budget Trip
Top 5 Places to Visit in Sikkim

1. Lachen 
If you are taking a cab from Sikkim/Gangtok it will take you good 3-4 hours and I suggest you start early on for this trip. The early morning sight of Sikkim and Gangtok you should not miss! Have a heavy breakfast and start an adventure to Lachen. And I call this an adventure because you will kind some narrow roads that are not very well made, there are also some rocky ends to these roads and you might experience rain on your way. But all of this will lead you to the most beautiful place in Sikkim. On your way don't forget to take stops, taste the authentic Sikkim food, take some beautiful photos alongside the best that Sikkim has to offer! You will find some pretty waterfalls between lush greenery! Lachen town is at an altitude of 1,500 feet and it is covered by snow on all sides! What a soulful picture of Sikkim.
2. Tsomgo Lake
This holy lake of Tsomgo is situated at an altitude of 12, 400 feet and will most definitely leave you mesmerised! The lake is made of melted snow from mountains. As it is popularly believed that the best snow can only be experienced in Shimla, I think Sikkim is just as good and will leave you speechless.
You will find small find beautiful little houses on either side of the lake and they are so pretty! After Lachen, this is the second most visited tourist spot! The journey to Lachen itself is just breathtaking. You will experience the true spirit of the North East.
Also Read: 5 Places In India To Beat The Heat This Summer
3. Ravangla 
Ravangla is famously known as the Buddha Park o South Sikkim. The massive statue of Buddha makes this place s beautiful. Ravangla is home to many monasteries and here you learn their culture and the gods they follow. The town is situated at the elevation of 8000 feet and you come here to just adore the Sikkim culture. The majestic Buddha statue is 130 feet high and is worshipped by the people of Sikkim. It took years to get this statue made and will remain the most beautiful structure in Ravangla.
4. Gangtok 
I am sure you have heard Gangtok is the best place in Sikkim, yes you have heard right! The city is surrounded by Monastries and the view from the top of Tashi View Point is just amazing. Gangtok is situated at an elevation of 1,650 meters. The place provides a view of the entire city from the top. The city is recognised for its Tibetan Buddhist centre and people from all over the world come to see Gangtok and experience bliss. Here, you can do a lot of sightseeing from the cable train and some watersports like rafting.
Also Read: Spend A Week In The Himalayas With IRCTC & 8217's Magical Kanchenjunga Tour
5. Pelling
Pelling is located at the height of 7000 feet and is known as the crown of the city. The unending view of mountains, the beautiful sunsets and lush greenery is all that matter when you are in Sikkim. The whole state is just mesmerising and will not fail to make you feel rejuvenated. I think Sikkim is the least celebrate tourist vacation and must be given due credit for its beauty.
Best Time To Visit Sikkim
The best time to visit Sikkim and Gangtok is between June to November and it is a lot crowded during that time. You will find the train getting full by May itself and flights start getting costly around the same time. So plan your trip strategically to avoid heavy pricing! Also, if you want to avoid the crowded time, then you must go between January and December. The weather here is pleasant and you will not find the humidity you experience back in Mumbai. The air is cleaner and the lakes here are a pleasure to your eyes.
Budget-Friendly Places To Stay In Sikkim 
1. V Resorts Bliss Village Sikkim 
This little place is a reasonably cheap place to stay in Sikkim which also provides a good view from the balcony. It won't be a luxury stay but it is comfortable enough and will be in your budget for sure! The place costs ₹ 3987 per night for two adults. It can be one of your stay options!
Address: V Resorts Bliss Village Sikkim, Biksthang, District West Sikkim, Mangalbarey, Sikkim 737121
Contact: 077978 67888
2. Zero To One Stay
This is one of the most budget-friendly places and can be a stay option for people who are looking for a cheap stay and not very luxurious places. Zero To One Stay provides rooms with all the basic amenities and per room for one person can cost between ₹ 400-900 for one night the deluxe room costs around ₹ 1,230.88. I think this is the cheapest place I have ever seen.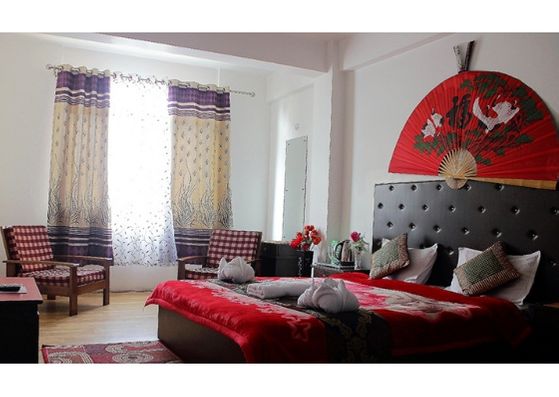 Address: Jawaharlal Nehru Road, MP Dara, Chandmari, Gangtok, Sikkim 737103
Phone: 097754 91238
3. Sikkim Retreat 
Sikkim Retreat is located a little far from the famous tourist spots. It is a good stay option for couples as well as a group of friends. They have a lot of options for rooms, their room starts from ₹2, 500 per night and can go high up for a deluxe room or a superior room.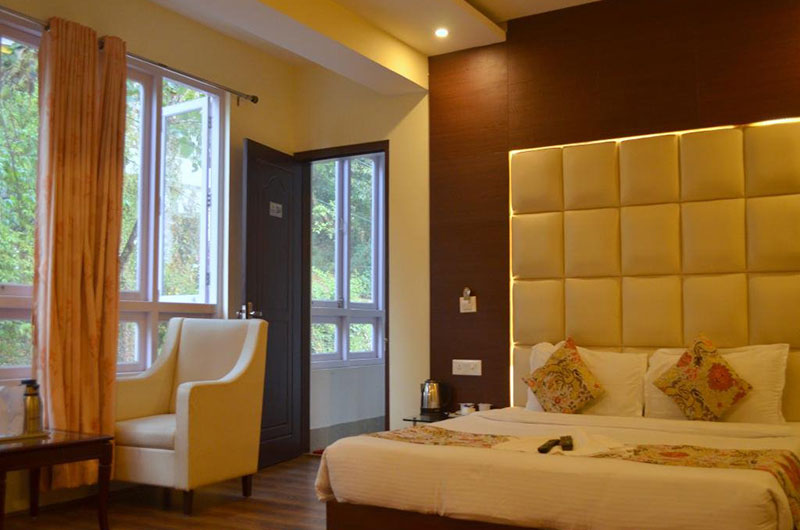 Address: Sikkim Retreat, Palzor Stadium Rd, Sungava, Gangtok, Sikkim 737101
Phone: 03592 203 874
Also Read: I Found A Cheaper Version Of Goa Called Tarkarli!
Travel Essentials for Sikkim Trip
Sikkim is located at a height and it will be mildly cold. Not the kind of cold where you will need multiple layers, but you will need a light sweater, woollen clothes, muffler, socks and a jacket. If you are going between July and October, carry a raincoat as it gets messy
The second most important thing is your camera, if you own a DSLR don't leave it behind. You have to capture the beauty that Sikkim is.
Rest are the basic things that you have to carry on a trip like toiletries, carry extra clothes, medicines, keep cash handy and always keep a bag handy with things that you would usually need like wallet and scarfs.
I think I got you all covered for this Mumbai to Sikkim Gangtok Trip!