Endowed with breathtaking natural beauty, historical monuments that hold aeons of rich culture and heritage in its pillars, India holds incredibility in every nook and cranny. Forget 7 Wonders of the World, India is home to over 100 Wonders. The intricately built temples using age-old techniques, gushing waterfalls, snow-capped peaks, majestic historic monuments, are testimony to this. So,  here are 7 Wonders of India, from our perspective that must be on your 2022 bucket list. While we just attempt to scratch the surface of India's abundant man-made and natural wonders, read on to know how India is truly a kaleidoscope of wonder.
1. The Statue Of Unity In Gujarat
The tallest statue in the world, "The Statue of Unity" against the backdrop of the stunning Vindhyachal and Satpura hills in Kevadia, must be on your 2022 bucket list. Dedicated to the architect of independent India, Sardar Vallabhbhai Patel, this magnanimous statue measures 182 metres in height. With more tourists visiting the Statue of Unity than the Statue of Liberty, you'd never run out of reasons to visit this wonder. Stay in sprawling rooms at the location and go on a jungle safari, witnessing hundreds of animal and bird species.
Also Read: Home To Statue Of Unity, Kevadia To Become India's First Electric-Vehicle Only City
2. Chitrakote Waterfalls In Chhattisgarh
Popularly known as "The Niagara Falls of India", Chhattisgarh's Chitrakote Waterfalls is around 100 feet in height and 1000 feet in width. Nestled to the west of Jagdalpur in Bastar it's one of the widest waterfalls in India. Thanks to its unique horseshoe shape, it's often compared to Niagara Falls. It originates from Kalahandi in Odisha where the amount of water that falls per second is a whopping 20 lakh litres. Chitrakote Waterfalls has a massive pressure of falling water that's believed to be the weight of 500 elephants.
Also Read: Top 15 International Travel Experiences In India
3. Double Decker Living Root Bridges In Meghalaya
"The Wettest Place on Earth", Cherrapunjee in Meghalaya is blessed with 11 functional root bridges. But the most awe-inspiring one of them all is the Double Decker Living Root Bridges. Made by Khasi and Jaintia tribes by hand by wrapping thick roots of rubber fig trees together to form a bridge, these structures have the capability to hold over 50 people at a time. It takes over 15 years for a new root bridge to get strong enough to bear the weight of people crossing it.
Also Read: My 8-Day Trip To Meghalaya With My Husband In ₹40,000 Including Flight Tickets
4. Valley Of Flowers In Uttarakhand
"Wonder" in my humble opinion, is perhaps a monument or a thing of natural beauty that's so mesmerising that you'd be lost for words. If you were to visit the Valley of Flowers National Park in Uttarakhand, you'd be left speechless too. This World Heritage Site located in the Chamoli district of the state is a magnificent valley filled with hundreds of colourful, vibrant alpine flowers and fauna. This nature's bouquet bestowed with exotic, rare Himalayan flora goes through dense forests. To reach here, you'd have to cross bridges, waterfalls and even glaciers.
Also Read: I Took A Dream Trek To The Valley Of Flowers In Uttarakhand & Here's Everything About The Route!
5. Hampi In Karnataka
The UNESCO World Heritage Site of Hampi in Karnataka guarantees a once-in-a-lifetime experience. Housing the historical ruins of the exuberant Vijayanagara Kingdom like the Queen's Bath, Elephant Stable, 7th-century Virupaksha Temple and more, Hampi showcases art, architecture and history at its best. Explore the stone-carved majestic chariot, the revived Hampi Bazaar, chill at the Hippie Island and glide through the waters in a handmade boat.
Also Read: I Travelled To Hampi For 4 Days In ₹7,000 Including Bus Tickets, Stay & Meals
6. India's First Glass Skywalk In Sikkim
India's first glass skywalk is nestled at a height of 7200 feet above in Pelling, Sikkim. Nestled opposite the 137 feet statue of Chenrezig, believed to be the earthly incarnation of Lord Buddha. The glass skywalk was built to give tourists a panaromic view of the lush vegetation, leading up to the Chenrezig statue. Not for the weak-hearted, the skywalk offers stunning views of the majestic Himalayas. Be there during sunset and you'd find yourself in midst of a postcard-perfect picture.
Also Read: I Visited Sikkim During The Pandemic & Here's Everything That Is Open For Tourism
7. Mysore Palace In Karnataka
Mysore Palace in Karnataka, witnessing over 6 million tourists annually, ranked second to Taj Mahal as the most visited tourist site in India. The architecture boasts of a harmonious blend of Hindu, Rajput, Muslim and Gothic styles which exuberates reality. It's the former palace of the royal family of Mysore and continues to be their official residence till dare. Also known as Amba Vilas Palace, it houses the royal throne made of gold, priceless paintings by renowned artists like Raja Ravi Varma, intricately carved wooden doors, a breathtaking courtyard, ancient temples and more.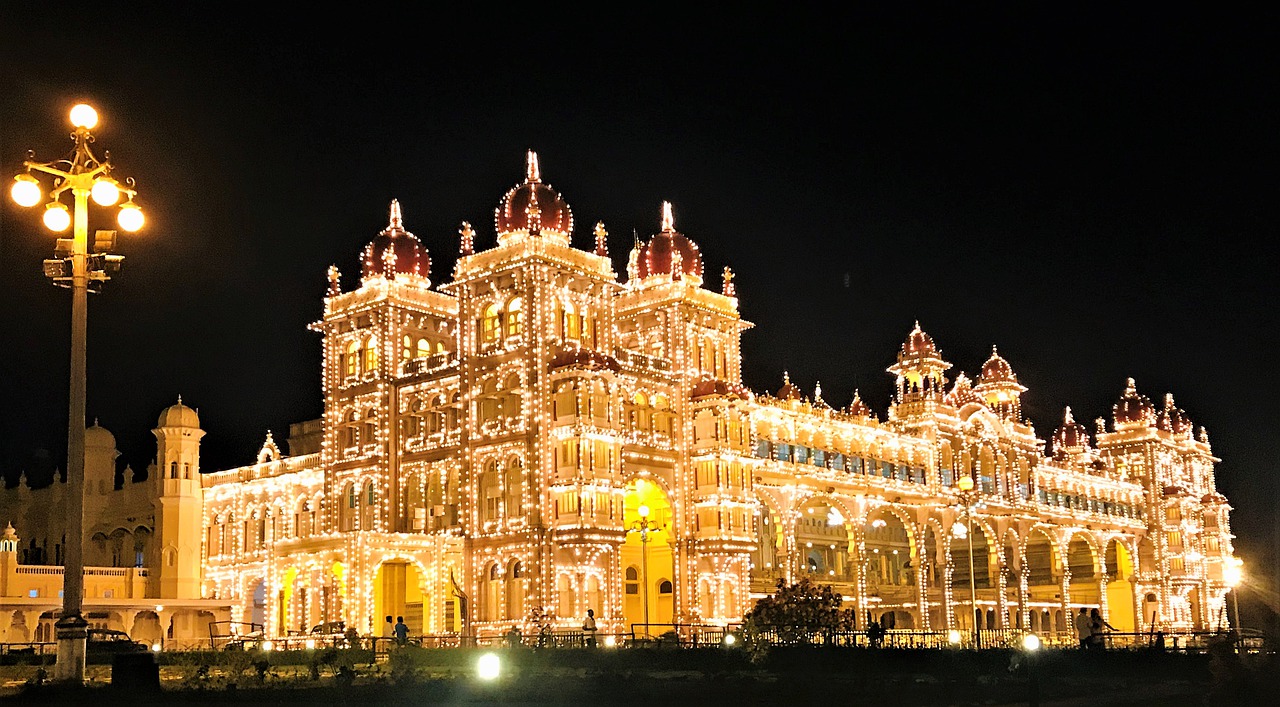 So, travel enthusiasts, these are 7 Wonders of India by Curly Tales that you must certainly plan a trip to in 2022. While we haven't forgotten the eternal symbol of love, the Taj Mahal, these are other wonders that must make it to your list.  Welcome the year with a quick trip, a holiday at a 'wonder' and memories that leave you speechless.