How many of you have just set out in the middle of the night with your friends to eat something on the streets of Mumbai? Well, most of you must have, after all, midnight cravings have to be satiated. Well, one of the rising stars of Bollywood, Alaya F, had a fun conversation with our Editor-in-Chief, Kamiya Jani, on our show, Tere Gully Mein. The two enjoyed some lip-smacking food in the lanes of Lokhandwala, and here is a sneak peek.
Alaya F Loves Visiting This Place To Satiate Her Midnight Cravings
In a fun segment, Kamiya asked Alaya F some questions to test her knowledge about Mumbai and the Lokhandwala neighbourhood. She asked Alaya F about the one place she would visit for a midnight snack. Alaya replied that she used to go to the popular Amar Juice Centre in Vile Parle to eat Cheese Pav Bhaji. 
 Cheese Pav Bhaji was her standard dish at this place every time she had a midnight craving. The other place that she loves visiting is Bachelorr's in Mumbai's Chowpatty Sea Face. She visits this place whenever she is on a drive and wants to grab something late at night.
Also Read: Neena Gupta Was A Cook At Mumbai's Prithvi Cafe; She Cooked Delicious Baingan Ka Bhartha | Curly Tales
School Canteen Food Has Been The Best
Like any other kid in school, Alaya loved her school canteen food over her tiffin. She used to bring tiffin to school but eventually gave it up in favour of some delicious canteen food. She also visited some places outside her school for a quick grab.
Alaya F. and Kamiya Jani had a super fun time chatting, playing fun games, and gorging on some Lokhandwala food. She spoke about her welcome in the industry, her food preferences, and shared many stories from her childhood. To know more, all you have to do is watch the Curly Tales Tere Gully Mein episode featuring the beautiful Alaya F.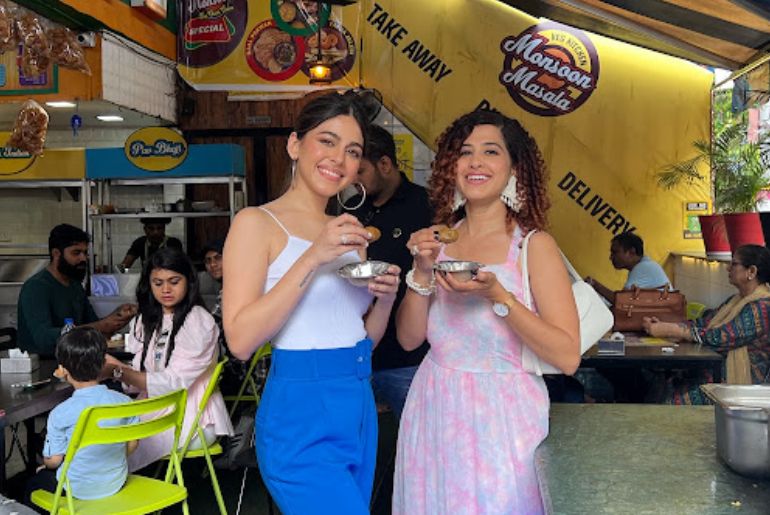 Also Read: Sanjay Mishra Visits His Favourite Dhaba In Mumbai's Lokhandwala With Kamiya Jani; Here's What Happened | Curly Tales
Which is your favourite spot for a midnight snack?
Cover Image Courtesy: Media Library