Alibaug is one of the places in Maharashtra that receives huge tourist footfall. Thal Beach is one of the places in Alibaug famous for its pretty views, the properties and the landscapes. Alibaug's recent property that grabbed our attention is this beautiful villa named, Thalassea. People tend to extend their stay whenever they are in this part of the town. The property is spacious and looks exquisite. Take a look —
This Property In Alibaug Is Ideal For Weekend Getaways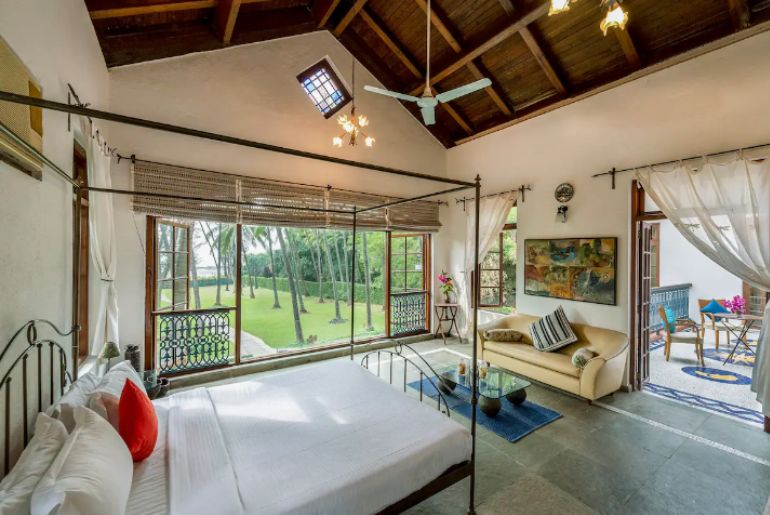 The Thalassea is one of those properties in Alibaugh that stands out for its space, the greenery, the nicely done interiors and, of course, all the amenities. It is also one of the properties near Thal beach, making it appropriate for people who wish to spend their weekends relaxing by the sea. The property boasts of greeting its visitors with the most soothing sunsets and the brightest of starry nights, and the beach-facing balcony is just a cherry on the top.
Also Read: How To Spend A Weekend In Alibaug? Here's A Guide
Private Villa For Intimate Celebrations, Beach Parties & More
If you're travelling to Alibaug for a small gathering, or need to have one soon, then apart from Mumbai and Pune, Alibaug is your place. Thalassea is also Insgrammable, with an ambience that looks luxurious. You can have a lavish beach party, and memories which will last a lifetime. Especially for pre-wedding get-togethers or small intimate after-parties, this property is going to be apt.
For bookings, head to the property's link on Airbnb here.
The entire villa will be available to you in ₹19,816/night. The villa has three huge bedrooms, which have the most amazing views. Additionally, this property can cater to guests as many as six guests. The bath, the private beach access and the private back garden are just perfect when it comes to spending a worthy & glorious time on this property amid the greens and spectacular seascapes.
Cover Image Courtesy: Airbnb/Official Website