Desi Khaana. Desi Cocktails. Desi Music. Welcome to Bhola & Blonde! Bangalore's all new Indian-themed resto-bar. Nestled in the buzzing, thriving Indiranagar, on the 12th main road, Bhola & Blonde serves a dose of familiar Indian cuisine with a special sprinkle of contemporary. The opulent resto-bar plays host to some of the best bands in town, serenading guests with soulful Bollywood numbers, as they tuck into their kebabs and chaats while sipping refreshing cocktails. Here's why Bhola & Blonde should be your new weekend adda.
Peacock Themed-Photobooth & Live Bollywood Music To Get The Party Going
Walk into Bhola & Blonde and let the opulent interiors instantly take your breath away. Following a recurring theme of peacocks, the resto-bar has walls lined with peacock motif mirrors. Life-like peacocks placed across the space, attract guests of all ages to capture an Insta-worthy moment. The ambience is accentuated by a dramatic bar lit in gold lights.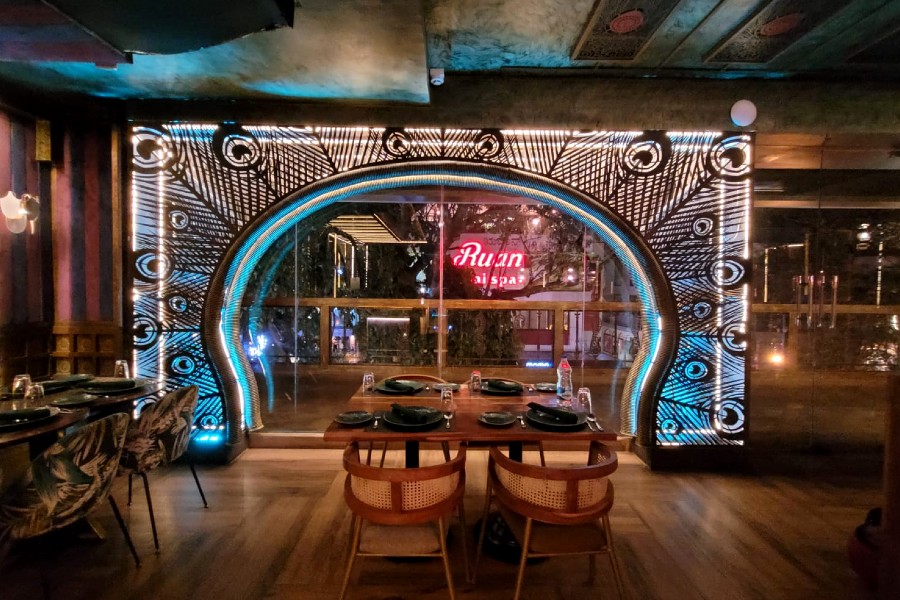 Also Read: Vidyarthi Bhavan Dosa To Filter Coffee, 10 Things Only A Bangalorean Can Relate!
A photo booth with a cane throne, adorned with peacocks on both sides, promises picture-perfect moments for guests. Scintillating blue-green lights, plush royal blue sofas and floral lamps add to the beauty of the Indian heritage-inspired decor.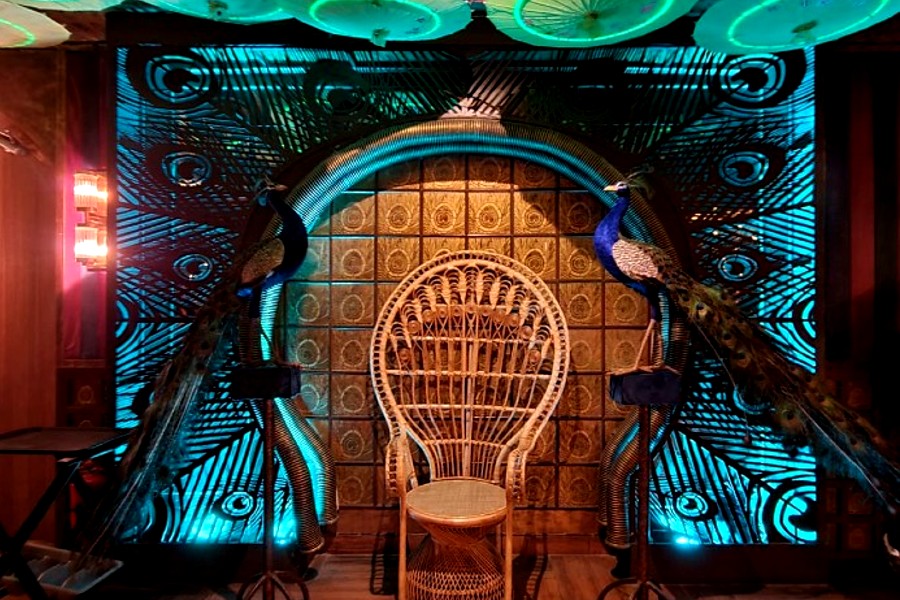 The new resto-bar in town is a haven for Bollywood lovers. Hosting popular bands and artists of Bangalore, you'd be taken on a musical journey of sufi music and evergreen Bollywood classics. Listen to foot-tapping numbers as you sip your cocktails, tuck into your bar-bites and groove through the evening. A perfect blend of food, drinks and entertainment with a Desi tadka is what's in store for you here. Recommend your favourite numbers to the artists and let a medley of songs serenade you, making your family dinner or a romantic date, a super special one.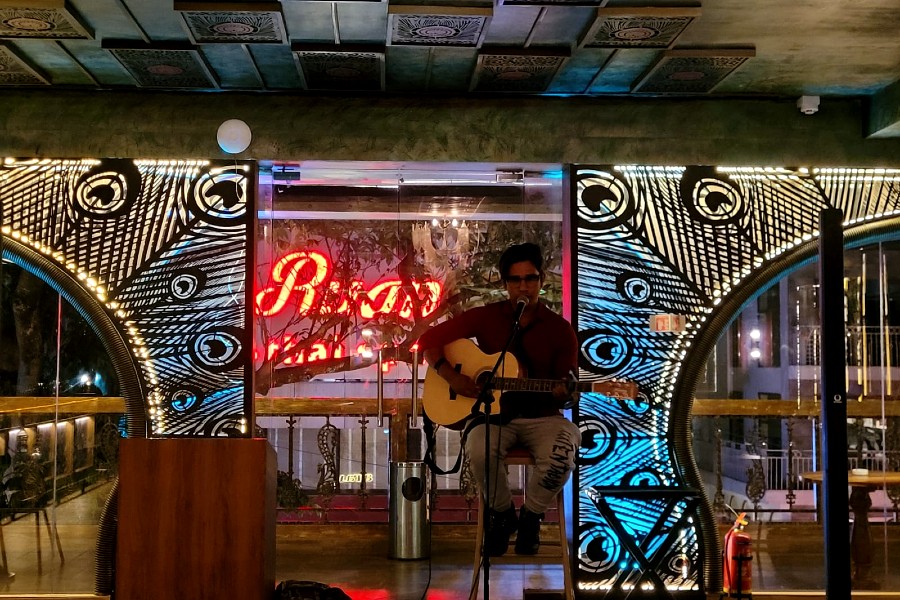 Also Read: Rabdi Malai Lassi & Banarasi Tamatar Chaat At This Bangalore Eatery Will Win Your Heart
Sip Desi Cocktails Infused With Falooda & Rosewater
Desi cocktails are a highlight of the Indian-themed resto-bar. Take a break from the usual sangrias and cosmos, and experiment cocktails specially curated keeping in mind the flavours of India. Embark on Bhola & Blonde's Great India Tour with Banaras Ki Swaad. This is a vodka-based cocktail with fresh pineapple and gulkand flavours. The dessert-drink Amrapali will pique your interest, as it's prepared with aromatic rosewater, falooda, pomegranate and vodka. Served in a dramatic tall glass around dry-ice, smoke enveloping the table, this drink is pure theatre, for cinema lovers.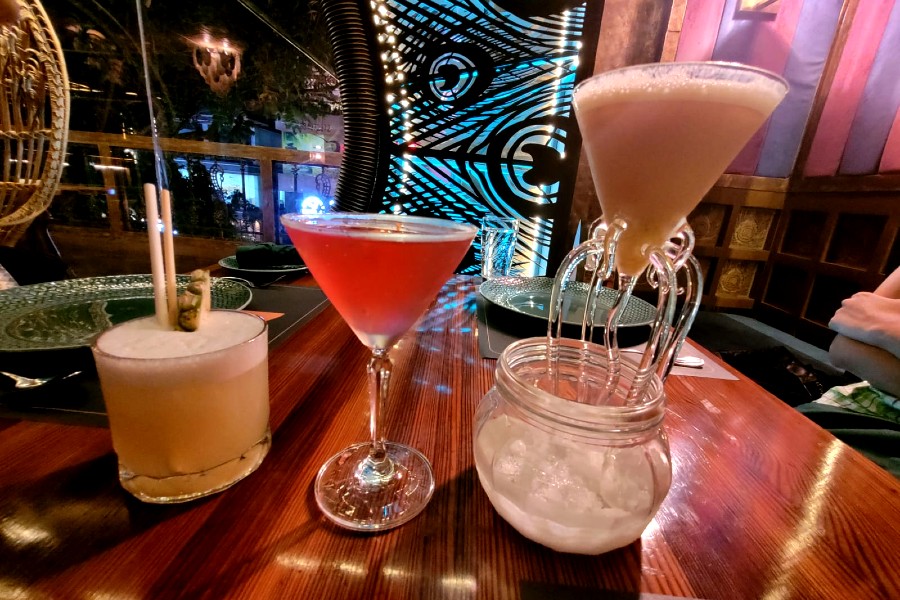 Also Read: Sanchez In Bangalore Will Transport You To The Lanes Of Mexico City With Its Delicious Menu
If you enjoy strong cocktails do order Mohiniyattam curated with a white rum base, passion fruit and tender coconut water.  A party without alcohol can still be a party, thanks to refreshing fruity mocktails like Pomegranate Mojito and Melon Basil Cooler. Fresh fruit, aromatic herbs and fizzy soda make every drink a happening one, even if you're a teetotaler.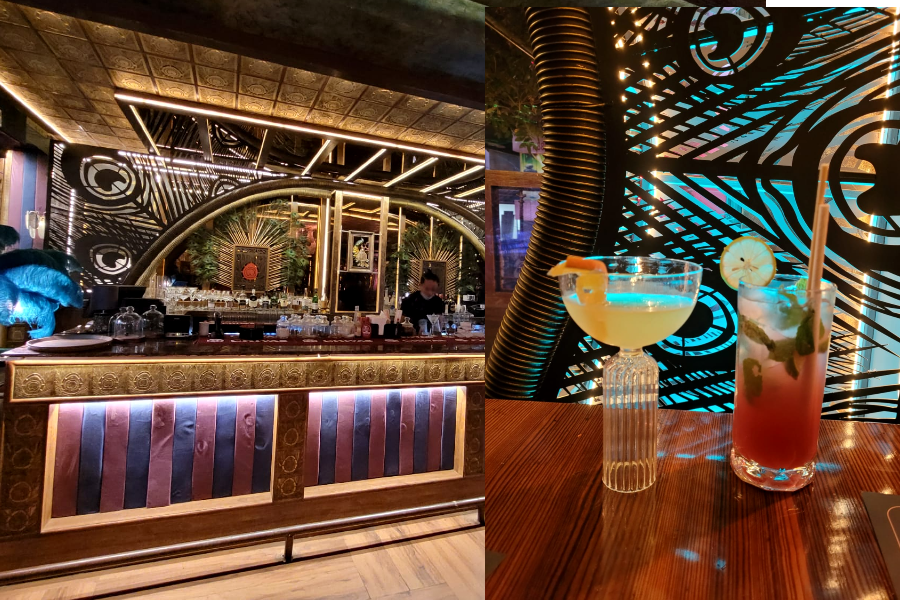 Also Read: Chocolate Parathas & Paneer Bhurji Parathas Await You At Bangalore's BaraThas
Tandoor Bar-Bites, Modern Indian Chaat & More
Go on a gastronomical journey across North India touching upon Modern Indian and Lucknowi cuisines. Bhola & Blonde's modern meets desi theme flows through the ambience, cocktails and the food as well. Start your culinary trip with the crispy Kale Papdi Chaat. The crunchy kale, lightly spiced dahi, comforting sev, gives the common papri chaat an unusual, yet winning twist.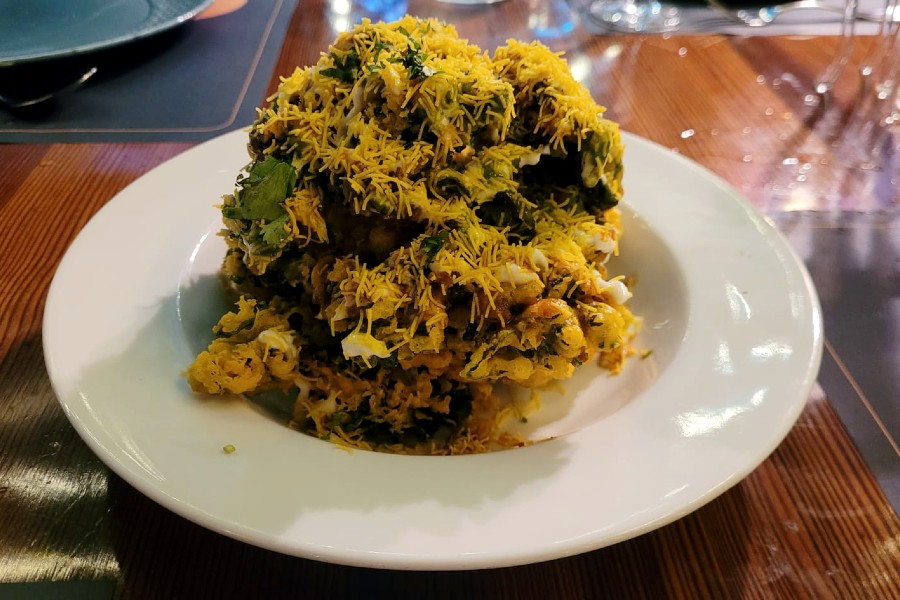 Carnivores must bite into the Lucknowi Chicken Tikka, slow-cooked on the tandoor. Lasooni Jhinga with its outwardly smoky aroma, the melt-in-the-mouth taste is a sure winner for seafood lovers. Pair these bar-bites with desi cocktails and you'd want to keep both the conversations and drinks flowing.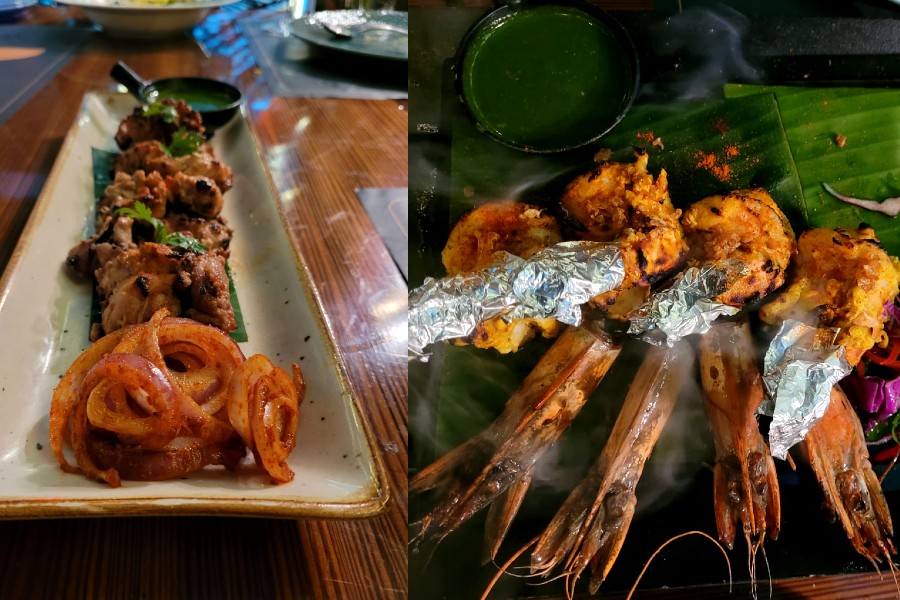 Also Read: 6 Best Sandwich Places In Bangalore To Sink Your Teeth Into Crunchy Goodness
Celebration Of Robust Indian Flavours
For mains, a vegetarian bestseller here is the Vegetable Kolhapuri. A harmony of North and West Indian flavours, the crunchy vegetables and tomato-based gravy is spicy, tangy and inviting. Scoop the gravy with multigrain rotis and Bhola's Kulcha. The hearty Desi meal is a perfect main course for those yearning for a full-bodied dish, celebrating Indian flavours at its best.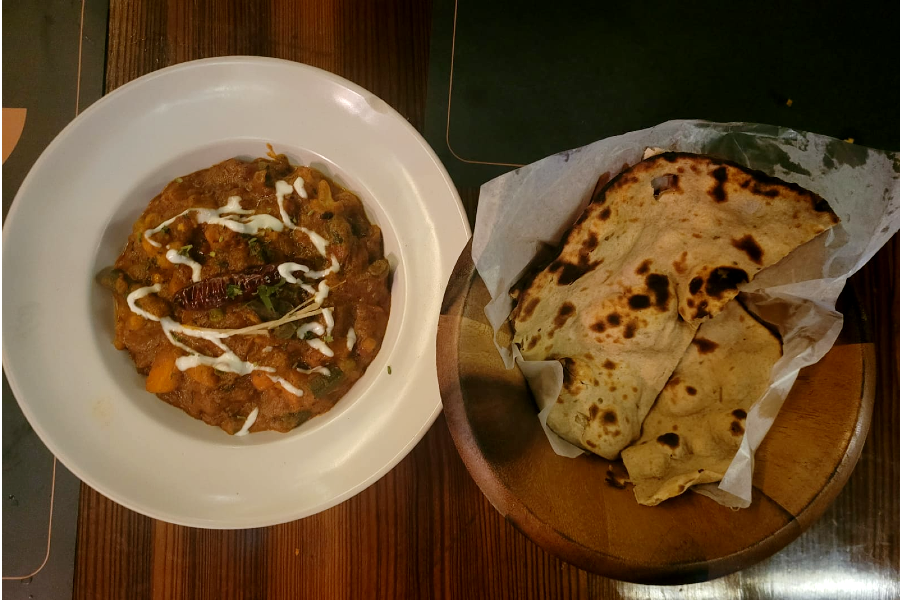 Bhola & Blonde thrives on North Indian, Lucknowi flavours, so, how can you leave without feasting on Awadhi Biryani? Choose from vegetarian, chicken or lamb varieties. The Awadhi biryani is served in a handi with a bowl of raita. The aroma of Lucknowi flavours will engulf your table, and the succulent meat, fried onions and flavoursome rice shall create an explosion in your mouth. Leaving you asking for more. A hearty bowl of biryani is all that you'd need to ensure you have a cracking evening.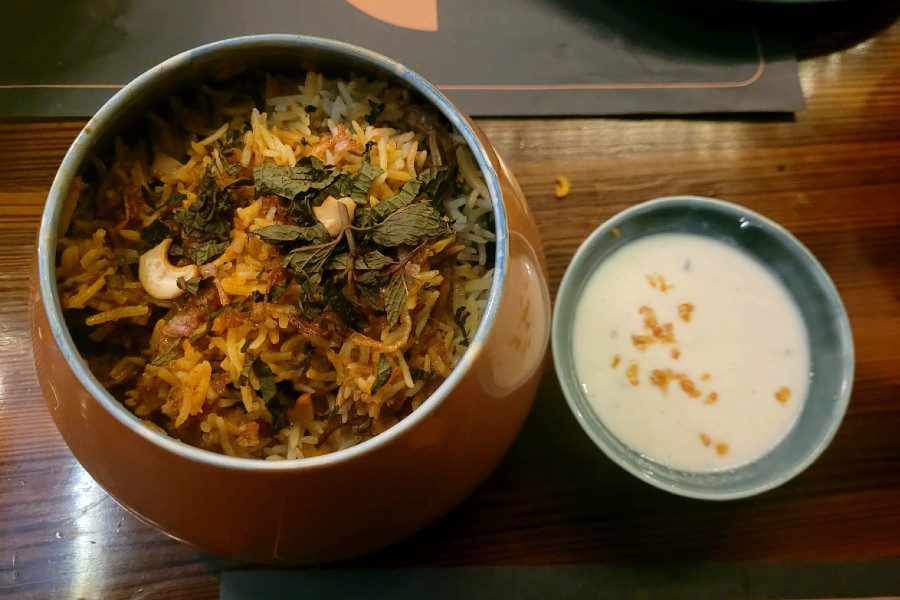 Also Read: 6 Most Romantic Restaurants In Bangalore For The Perfect Date Night
Son Papri & Mishti Doi Cheesecake: Show Stealing Dessert
Interestingly, the highlight of the culinary outing at Bhola & Blonde is the Son Papri & Mishti Doi Cheesecake. A total show-stealer, this dessert is a surprising blend of two favourite mithais, from different regions of India, brought together in a modern twist. The dessert has a biscuity base. A mildly sweet-sour Mishti Doi cheesecake is the body, sprinkled atop with sweet Son Papri shavings. It's a decadent dessert with just the right amount of sweetness and touches the heart of every Desi mithai lover. A perfect end to the Desi evening, we must say.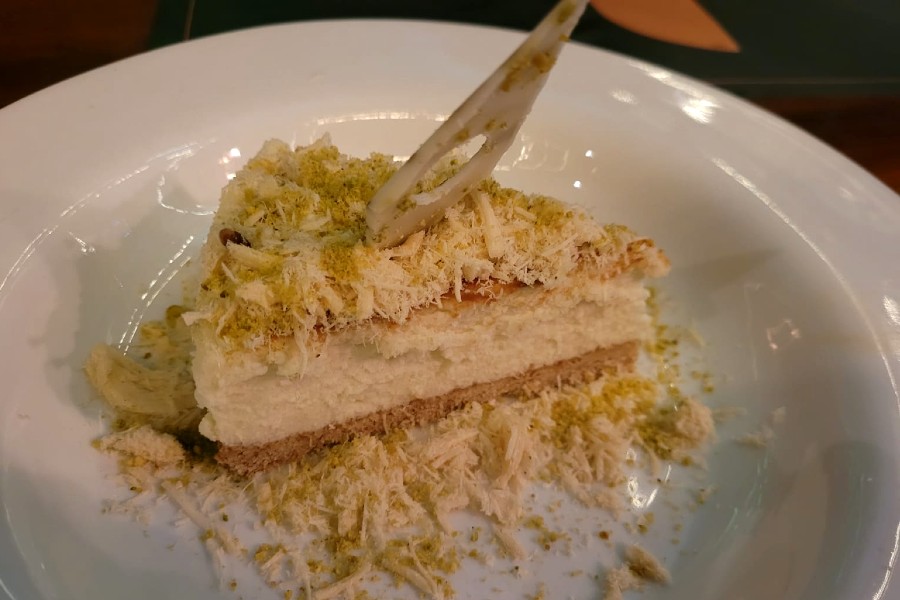 Bhola & Blonde, just as the name suggests,  is a wonderful celebration of everything Desi. The plush Indian-themed resto-bar with its live music, peacock-photo booth, Desi cocktails and modern Indian cuisine is just the evening, you'd wish for.
Address: 968, 2nd Floor, 12th Main Road, HAL 2nd Stage, Indiranagar, Bangalore
Timings: 12 pm to 1 am
Cost: ₹1,500 for two people
Contact: +919513440101, +919879276558