A good paratha is one that cradles a super tasty filling in a crispy thin outer layer. A great paratha is one that has the perfect dough to filling ratio, and a mind-blowing paratha is one that doesn't leave your fingers oily, and your belly, heavy. At BaraThas, nestled in the heart of Bangalore's Jayanagar 4th Block, you can savour mind-blowing parathas, prepared fresh in front of your eyes in Dilli style. From Chocolate to Pizza parathas, BaraThas is your one-stop destination for all things parathas.
BaraThas Brings Delhi's Paranthe Wali Gali To Bangalore
Helmed by former Chief Officer in the Navy, Arihant Jain, his brother, Naman Jain and his wife, Nisha Jain, BaraThas is launched to offer Bangaloreans the joy of biting into an authentic Delhi-style paratha. The charming street-food style eatery attempts to recreate a slice of Old Delhi's famous Paranthe Wali Gali in the heart of Jayanagar. This is not a sit-down fancy diner. There are steel tables laid out in the front. So you can munch on eatables while watching the hustle-bustle of the city go by. Just like you'd do at a street food joint.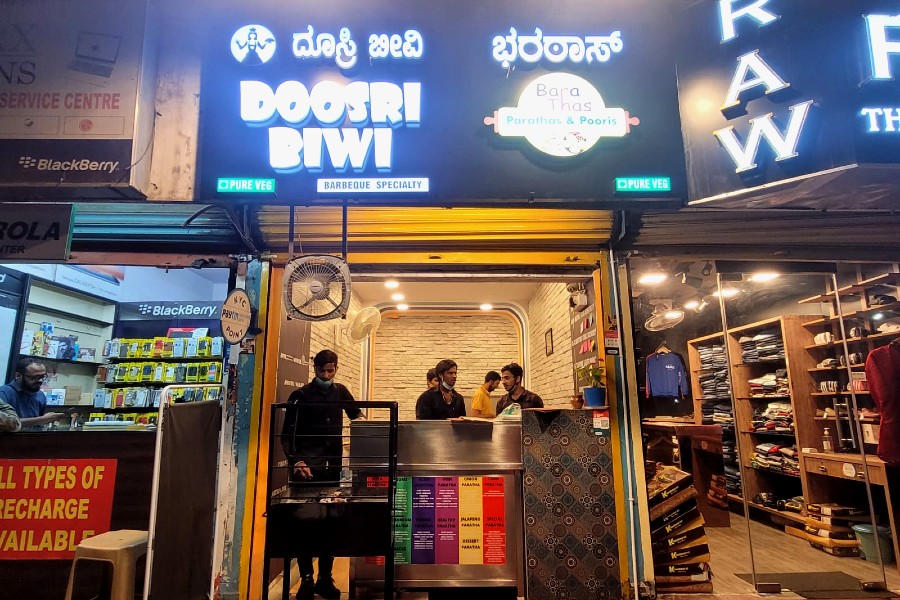 Also Read: 6 Best Highway Restaurants Near Bangalore To Make A Food-Stop On Your Next Road Trip
Kick Start Your Meal With Barbeque Appetisers Prepared Open-Air
Kick start your sojourn into the world of parathas, with delicious appetisers like Afghani Chaap and Malai Paneer. The chaap and paneer skewers are grilled in an open-air barbeque right in front of your eyes. The intoxicating smoky smell will leave you salivating. BaraThas has a collaboration with Doosri Biwi, owned by Sapan Goel. So, the Delhi-style appetisers are served by Doosri Biwi, a lovely start to your meal. The Malai Paneer is super delicious. Barbequed paneer cubes are topped with sliced onions, fresh masala and a layer of cream and mayonnaise. It's served with raw onions and mint chutney. \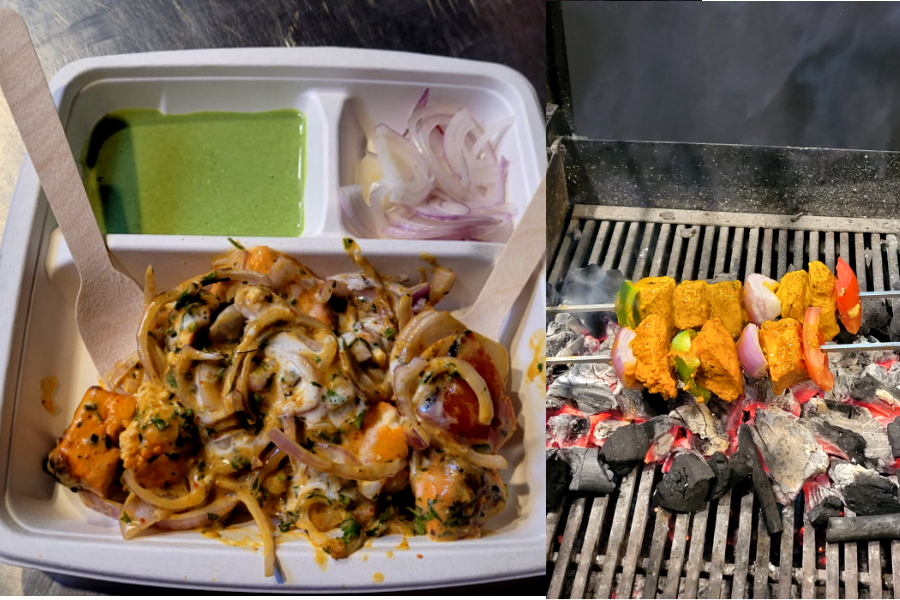 Also Read: Sanchez In Bangalore Will Transport You To The Lanes Of Mexico City With Its Delicious Menu
Go Gaga Over Delhi-Style Parathas Made In Desi Ghee
Roasted in pure desi ghee with a rolling and folding technique that's been mastered for years, the parathas are rightly, the highlight of this eatery. Special house-made masalas and paneer are procured from Delhi and Bikaner to prepare the fillings. In a bid to elevate your paratha-eating experience, BaraThas offers Soya Bhurji, Besan Onion, Sattu, Corn Tandoori, Achari Paneer flavours and more. Paneer Bhurji Paratha is the bestseller.  It's served with garlic chutney, pudina chutney, pickle and curd. The flavoursome paneer filling is evenly spread across the paratha, that's thinly rolled and perfectly crispy. Priced at around ₹70 for a paratha, it's also pocket friendly.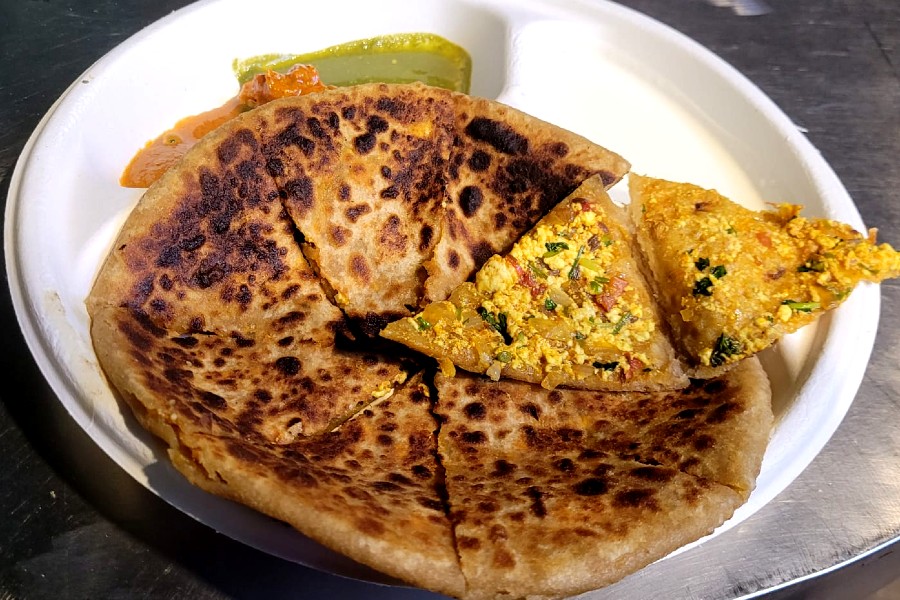 Also Read: This Bangalore Eatery Serves Dilli-Style Chhole Bhature That Will Transport You To The Gullies Of Paharganj
Pizza Paratha & Chocolate Paratha That Grabs Eyeballs
Their unusual flavours like Maggi Paratha, Pizza Paratha and Chocolate Paratha, will leave you hesitant to experiment. Are these just great to grab attention on social media? Or do they actually taste good? That's exactly what I thought when I ordered the Pizza and Chocolate Paratha. Let me tell you they were surprisingly good. The Pizza Paratha stuffed with stringy mozzarella cheese, jalapenos, veggies and pizza spices gave me the best of both worlds-pizza and paratha. It felt like having a lighter version of pizza, sans the bread.
View this post on Instagram
Also Read: Dine In This Rustic Farm Near Bangalore & Relish Food Cooked By Village Housewives
When it comes to the Chocolate Paratha, I'd suggest you end your meal with this. It's a perfect dessert paratha. Filled with chocolate chips, topped with a generous layer of chocolate sauce, it's a sinfully decadent paratha for chocoholics. It genuinely took me by surprise, as I'd vouch that it isn't gimmicky. The chocolate chip stuffing melts in the paratha, while the chocolate sauce enhances the taste.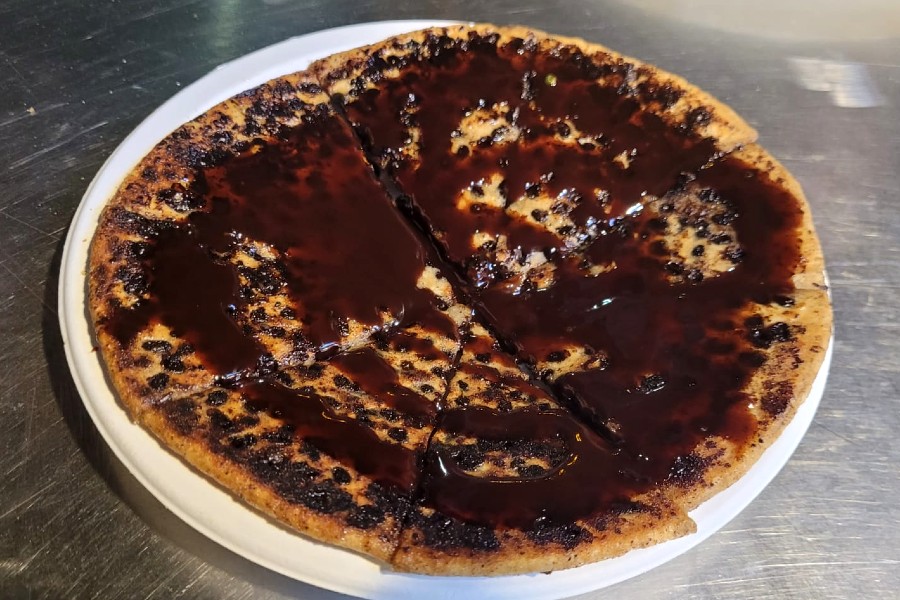 Also Read: Asia's First Dart Bar In Bangalore Promises Fun-Filled Experience With Darts, Booze & Delicious Food
Grab & Go Lunch Meals To Try
Apart from chaaps, paneer starters, an assortment of parathas, you can also savour their simple poori meals like Matar Poori Sabji, Club Kachori Sabji and Dal Poori Sabji name a few. The light green Matar Pooris are made of ground peas and it's served with a potato Bengali style gravy, that doesn't have any onion or garlic. You can savour this quick meal if you're on the go or especially if you miss home food.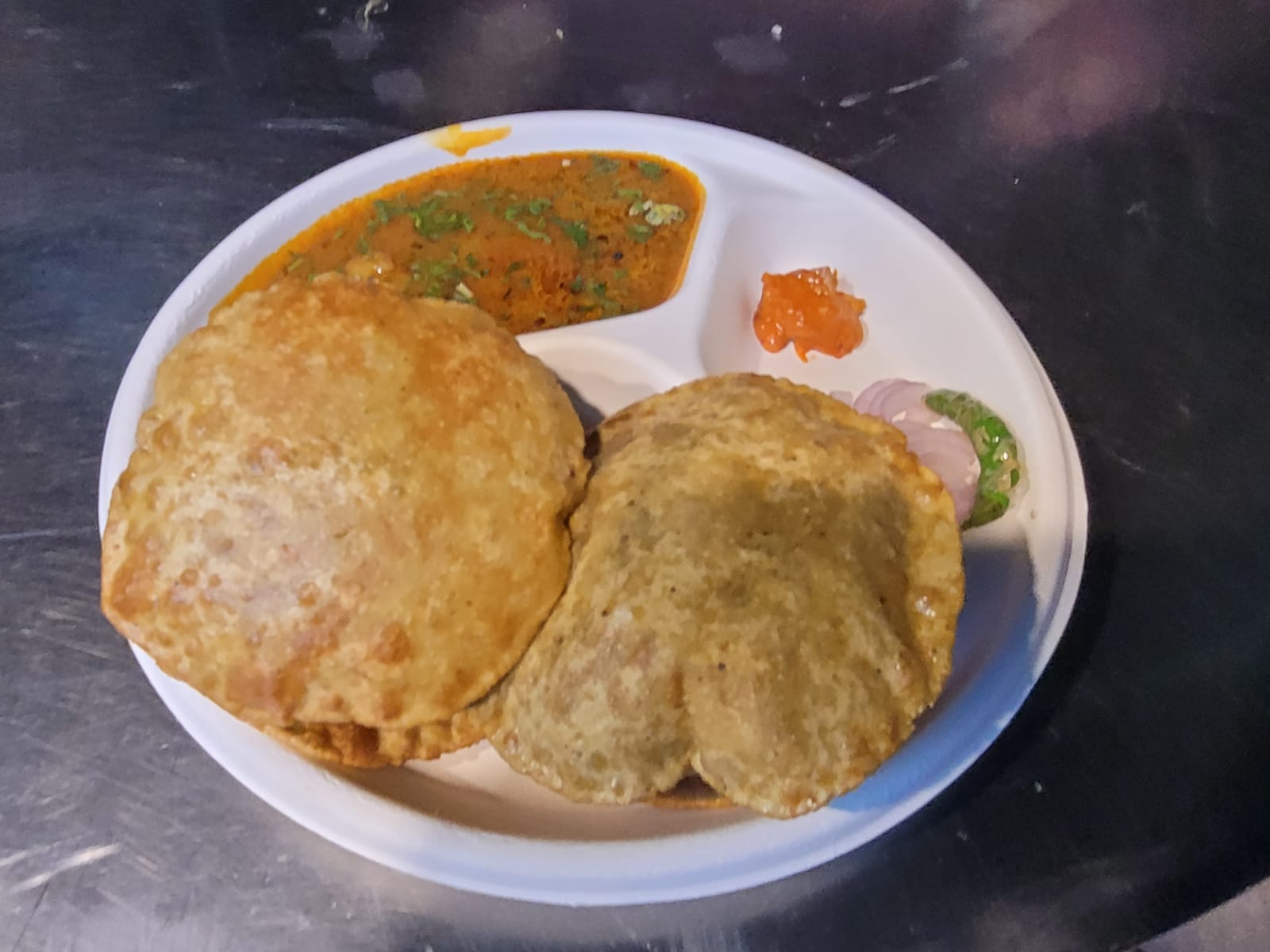 Also Read: A Chocolate Hotel Is Coming Up In Bangalore With Chocolate Cafe, Chocolate Buffet & More!
At Doosri Biwi-BaraThas, experience a taste of Delhi-style parathas and appetisers that are pocket-friendly and super delicious. While the open-air barbeque invites you with its intoxicating smell, the open kitchen assures you top-notch hygiene and the quality maintained while preparing your meals. We found this to be one of the best paratha places in Bangalore. It's up to you to tell us if you do too.
Address: 126, 7th Main Road, Opposite Traffic Police Station, 4th Block, Jayanagar, Bangalore
Timings: 10 am to 10:30 pm
Cost: ₹200 for two people approx
Contact: +918879405304, +919731003151