Another weekend in Bangalore and wondering where to hang out? Malls- done and dusted, movies-nah, explore restaurants-how many times? Well, why not visit Asia's first dart bar in Bangalore. Head out with your gang to K-OS (pronounced chaos) The GameBar. Throw darts with your friends as you gorge on delicious food, sip intoxicating booze and have a gala time. Read on to know more about this happening hangout spot.
Play Fun Dart Games With Your Gang At K-OS The GameBar In Bangalore
Nestled right in the heart of Koramangala, near Forum Mall, K-OS The GameBar boasts a cool, laid back ambience. The 3000 sq feet game bar features 10 dart lanes, a spacious bar, cosy seating space and a smoking lounge. The dart lanes are equipped with high tables, so you can snack as you play. K-OS The GameBar offers social darts in four types of games-basic, cricket, ninja and Snakes and Ladders. These games can ideally be played in a group of two to eight. It's free for the first round and then you'd have to shell out ₹200 per person on an hourly basis.
Also Read: This Tea Shop In Bangalore Serves Insta-Worthy Red, Yellow, Blue & Purple Tea Made From Fresh Flowers
View this post on Instagram
Also Read: Enjoy Horlicks Ice Cream At This 60-Year-Old Legendary Eatery Near Bangalore
Boozy Games Like Beeropoly & Drunk Jenga Promise A Memorable Weekend
Put your game face on as you're pit against your friends. Don't worry about not having prior dart experience, there are beginner, moderate and expert levels. So you can choose to stand at a distance that's comfortable for you while trying your best to hit the bull's eye. Apart from darts, K-OS The GameBar also offers other fun games like Beeropoly, a boozy version of Monopoly, Drink Tower Jenga and Uno Flip.
Also Read: From Kulfi Paan To Perfume Paan; Try Over 100 Varieties Of Paan At The Paan Studio In Bangalore
View this post on Instagram
Also Read: Enjoy Insta-Worthy Rainbow Ice Cream Sandwiches At This Bangalore Restaurant
Delicious Pub Grubs Like Peri Peri Paneer & Meat Platter On The Menu
Asia's first dart bar ensures your pet puja, as you gear up to defeat your buddies in the dart games. Gorge on delicious pub grubs like the Meat Platter that consists of chicken tikkas, chicken fries, chicken strips and satay. Seafood lovers can try the Lasooni Jhinga, which is one of our favourites here. The large prawns are succulent, laced with a mouth-watering spicy masala. Vegetarians can order the Tandoori Mushroom and Peri Peri Cottage Cheese.
Also Read: Relish Authentic Gujarati Thali For Just ₹190 At This Bangalore Restaurant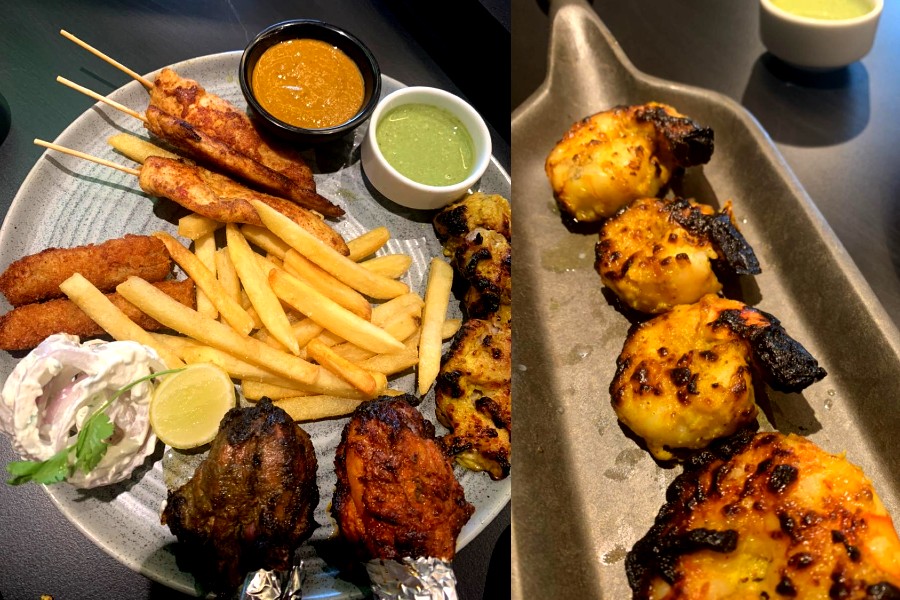 Also Read: New Mangalore Stores In Bangalore Sells Delicious Samosas That Get Sold Out In Just 2 Hours
Refreshing Cocktails & Array Of Booze To Keep The Party Going
Pair your food with their signature cocktail, "Keep Your Eye On The Ball", a gin-infused drink with apple juice, green chilli and lime. If you're a teetotaller, we suggest you order BlackJack, a black current mocktail that has a lovely sweet and sour taste. Chill at the bar as you try out the bartender's fun concoctions and sample mouth-watering platters of fun. With fun, food and booze on the cards, you know where you need to go this weekend!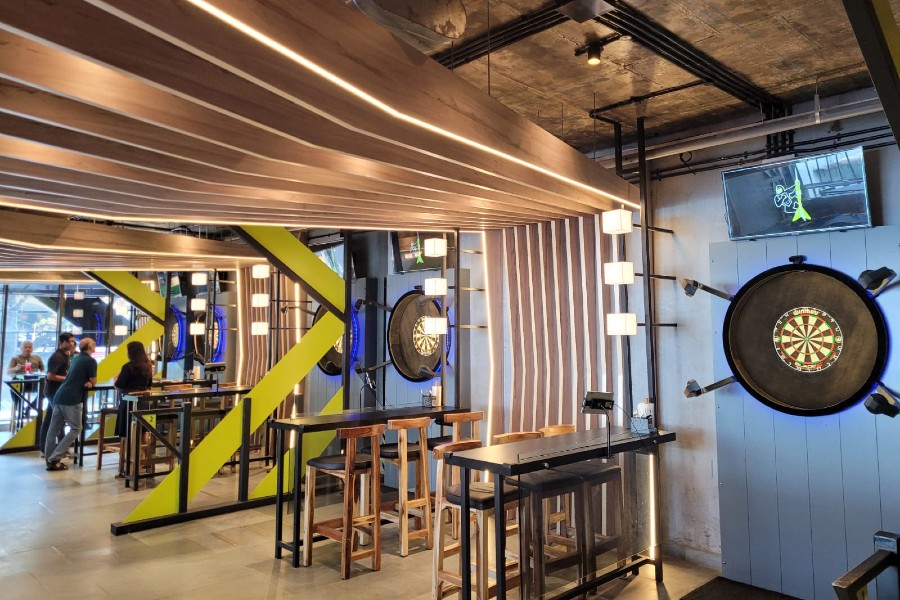 Address: 115, 1st Floor, 80 Feet Road, Koramangala 7th Block, Bangalore
Timings: 12 pm to 12 am
Cost: ₹1,400 for two people appox
Contact: +919972104540