Lassi Ghat is on a quest to quench your thirst, refresh your senses and give you the authentic Banarasi food experience. You'd find it tucked away in the heart of Jayanagar's 4th block, in a lane bustling with street food eateries. Lassi Ghat, like Varanasi's Ghat, welcomes you with kulhads of refreshing lassis, katoris of milk sweets and hot chaat. Let's take you through some of the iconic dishes and beverages served here for the quintessential Banaras food experience.
Lassi Ghat Promises You The Taste Of Banaras In Bangalore
Walk into Lassi Ghat, a small lassi shop that offers you the 'Taste Of Banaras' like the name board, rightly states. The lassi shop is brightly lit with a few seats set up on one side. A glass cabinet filled with delicious desi milk sweets invites you to sample sweets you wouldn't normally find in Bangalore. A lassi-preparation stall, adorned with different-sized kulhads and churning pots grabs piques your interest. At Lassi Ghat, tantalise your tastebuds to an array of lassis like Jaggery Lassi, Dry Fruit Lassi, Sugar-Free Lassi, the seasonal Mango Lassi and more.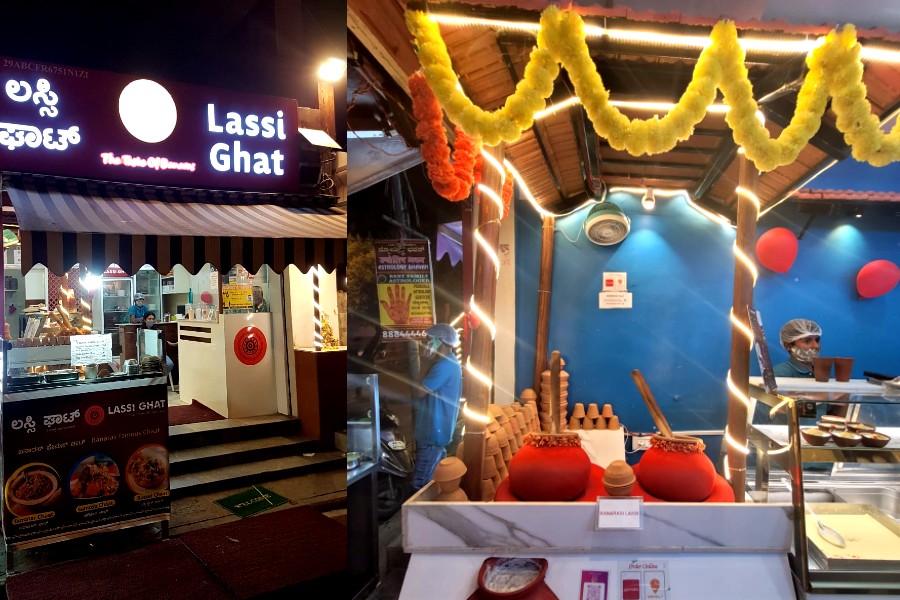 Also Read: Chocolate Parathas & Paneer Bhurji Parathas Await You At Bangalore's BaraThas
Rabdi Malai Lassi Soothes Your Senses
Start your quest for authentic Banarasi food with a glass of their signature Rabdi Malai Lassi. Served in a kulhad, Rabdi Malai Lassi tastes miles apart from Punjabi Lassi. For starters, the Banarasi lassi is a dessert drink. Sweet buttermilk is topped with a generous blob of fresh malai and cardamom-infused rabdi. The thick creamy texture of the lassi caters to all mithai loving people, It's rich, decadent and sinfully good. Since the portions are generous, you can opt for one-by-two glasses of lassi instead of two, if you have a smaller appetite.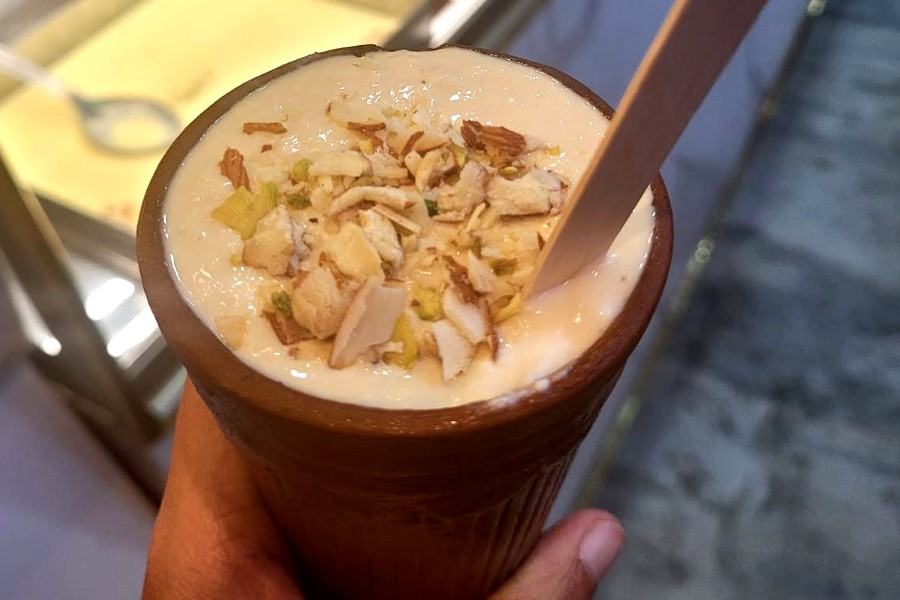 Also Read: Sanchez In Bangalore Will Transport You To The Lanes Of Mexico City With Its Delicious Menu
Banarasi Tamatar Chaat In A Kulhad Tantalises Your Tastebuds
Bangaloreans! Seal your footsteps into the unexplored land of Banarasi food with the iconic Tamatar Chaat. Prepared hot in front of your eyes, the Tamatar chaat is a mish-mash of tomato and potato gravy cooked in masalas. The spicy-sour chaat is topped with crunchy Namak Para and aromatic coriander presented to you in an adorable kulhad. The speciality of this chaat is that it doesn't consist of onion and garlic. The comforting taste of hot, spicy tomatoes with a crunchy layer of papdi, tantalises your tastebuds. Lassi Ghat also offers samosas and kachoris, a lovely evening snack.
View this post on Instagram
Also Read: This Bangalore Eatery Serves Dilli-Style Chhole Bhature That Will Transport You To The Gullies Of Paharganj
Relish Laung Lata, Chhena Poda, Malai Jamun & More!
The sojourn into Banarasi street food experience is incomplete without the beloved Laung Lata or Lavang Lata. This is a Banarasi take on Bengal's Lobongo Latika that reached the ancient city 500 years ago. Laung Lata is made of white flour that's shaped into a pocket, cradled with khoa and laung (clove). The khoa stuffed pocket is deep-fried in ghee till it turns golden brown and then dunk in sugar syrup. Savour the authentic Banarasi Laung Lata here at Lassi Ghat. Some other sweets that you must sink your teeth into are the Chhena Poda, Rabdi Rasgulla, Malai Jamun and Jalebi.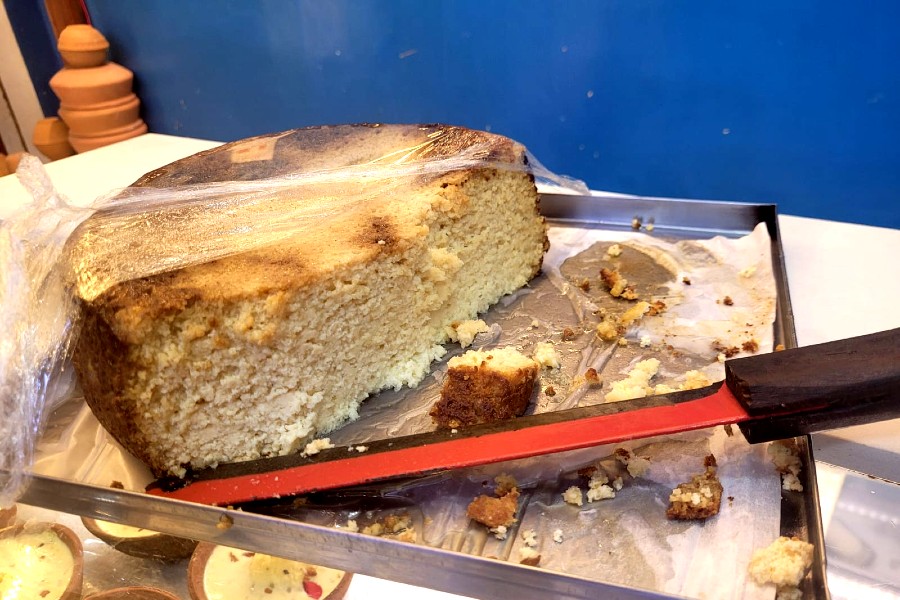 Also Read: This Tea Shop In Bangalore Serves Insta-Worthy Red, Yellow, Blue & Purple Tea Made From Fresh Flowers
Foodies! Are you ready to go on this gastronomical quest to explore Banarasi food in Bangalore? Look no further than Lassi Ghat. You can also order your kulhad lassi, chaat and mithai to the comfort of your home. This is one authentic food experience you shouldn't miss out on!
View this post on Instagram
Address: Shop 42, 6thC Main, 4th Block, Jayanagar, Bangalore
Cost: ₹100 for one order approx
Contact: +917978045020