Mumbai is the land for the funkiest dosas ever. Right from the flying dosa that lands straight into your plate, to Shruti Haasan's favourite Disco Dosa, there are endless options for dosas with a twist in Aamchi Mumbai. We're here to give you yet another dosa recommendation in your city, this one's inspired by the tallest building in the world. That's a big enough hint alright! Cutting the chase, feast on Burj Khalifa Dosa at Angel Dosa Centre in Thane west. Read on to grab a bite.
Burj Khalifa Dosa At Mumbai's Angel Dosa Centre Will Satisfy Your Cravings
Mumbai's tallest tower dosa is available at Angel Dosa Centre nestled at Thane West. The Burj Khalifa Dosa is a besteller here. This 3-layered dosa is prepared with oodles of fresh and aromatic ingredients. The bottom layer has a stuffing of Manchurian balls and vegetables in masala. The second and third layers are filled with noodles and crushed paneer. The Burj Khalifa Dosa is then topped with oodles of mayonnaise and stringy cheese. It's then served with flavoursome sambhar and chutney. Priced at ₹400, this is the city's tallest dosa, and you'd certainly need an army to finish this feast.
Also Read: This Pink Dosa In Delhi Is Pleasing To The Eyes And Soothing On Taste Buds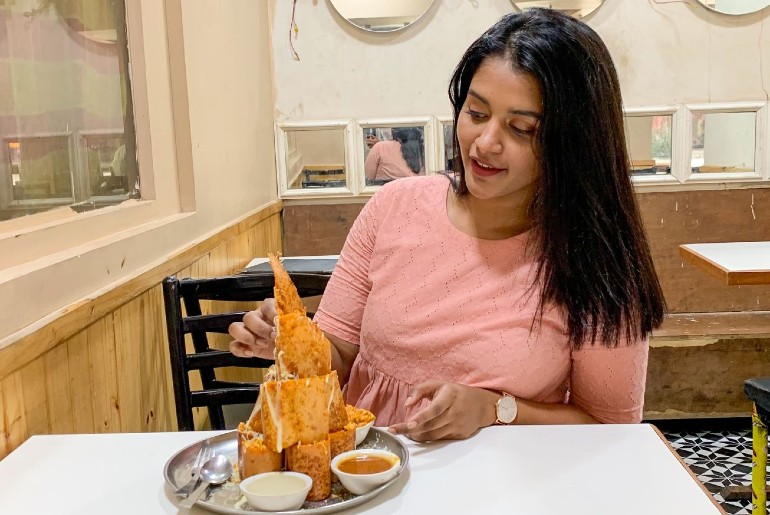 Also Read: British High Commissioner Eats Vada Pav &Masala Dosa; Gets Food Recommendations
This 3-Layered Tower Dosa Has Manchurian, Noodles, Cheese & Veggies
Burj Khalifa Dosa at Angel Dosa Centre is not only a feast for the stomach but a treat for the eyes. Just watch the street food vendors preparing this larger than life dish. It's fascinating to watch them patiently pouring the batter on the pan, adding the filling and then slicing the dosa and rolling it. Assembling the Burj Khalifa dosa is another ball game altogether. The mayonnaise acts like glue holding the tower of dosas together. Cheese lovers can salivate knowing oodles of cheese goes into the preparation of this magical treat.
Also Read: Move Over Wheat Flour, Karnataka's Banana Flour Is Giving A Spin To Dosas, Cutlets 
View this post on Instagram
Also Read: 12 Best Dosa Places In Bangalore That Will Make You Go Om Nom Nom!
Feast On Over 50 Varieties Of Dosa Here
For those of you craving simpler dosas, Angel Dosa boasts of over 50 varieties of dosas. With Indo-Western flavours like Pizza Dosa, Pasta Dosa, Paneer Chopsuey Dosa and more, you'd be spoilt for choice. For authentic dosas, you can try Masala Dosa or Mysore Masala Dosa. The next time you visit Mumbai, bring your friends along to feast on the ultimate Burj Khalifa Dosa. Meanwhile, here are the top 5 types of dosas you'd get in Mumbai.
View this post on Instagram