I can't remember the last time I was alone, by myself. My only companion- solitude.  No phone buzzing, no birds chirping and not even the ceiling fan noise. Absolute silence. As I checked into this business hotel in Delhi all by myself, silence is the first thing that struck me. So much so that despite a packed day ahead of me, I let the room suck me into its silence and from the chaos outside. I spent a day locking myself in a hotel room with my phone switched off and it was probably the best thing I ever did.
A Bit About Me
I am a mom to a 6-year-old, an entrepreneur to a team of 23+ young & annoyingly fickle professionals, a wife to a husband who often complains of getting less attention, a daughter-in-law who often forgets to stock up groceries in time, a daughter to parents who I don't call or meet enough, and finally a woman with lots of dreams and ambitions. My day involves a lot of running around and I wish it was on the jogging track. At least it would have helped me lose the belly fat. But its a lot of mental running, multi-tasking, staying alert and sticking to deadlines & timelines to finish work & be able to get home before 6 pm. Or my daughter will miss her football class yet again, because of me! Also, I want to have dinner with her when I am not travelling and finish my pending work only after she goes to bed.
I know I am not the only one living a life like this. Most working women are working as much as three full-time jobs!  On most days, I love my life to be able to do everything but I only realize how tired I am once I get to bed. But my dreams and ambitions keep me going. For those who follow me on social media, you would know how much I love making food & travel videos. And as you would have guessed it – Yes, I travel a lot. I travel to the most exotic places, check into the most gorgeous hotels and see the most beautiful things.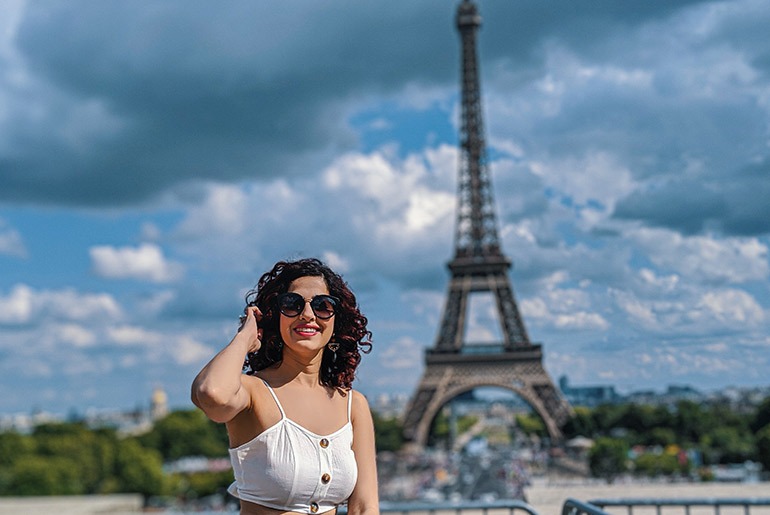 This is what people get to see through my job. What they don't see is the whole process that involves me being on my feet for 20 hours a day. I check into my room, change into my shoot outfit, explore & shoot the city for the rest of the day and return to the room only when its pitch dark. The drill continues on the following day too. I am always on a very tight schedule. But to be honest, I shouldn't be complaining. It's the best kind of life I could have ever asked for.
The Day Of The Flight
6 AM: Like every day I woke up at 6 am to get my daughter and her two tiffins ready for school. Both these tiffins are often unopened & unused yet the motherly instinct takes precedence over any sort of logic.  She was in no mood to go to school and would run to catch a 30-second nap after every activity being performed on her – be it brushing, changing or combing. Thankfully, I had packed my suitcase a day prior and I only had to shower & change. Yet my curly hair makes me look like an Einstein in the morning and I hate to meet anyone in the lift, especially those who say, "Good Morning!'
7:15 AM: We leave the house and we meet no one in the lift. I had a feeling that it's going to be a good day. The feeling didn't last for long as the roads were all dug up and there was so much traffic on the way. I chat with my daughter in the car and drop her off to school.
07:50 AM: Enroute to the airport, I get a chance to open my WhatsApp messages. On a daily basis, three out of 20 team members are feeling sick, two are feeling demotivated and four are fighting amongst themselves. I never knew I had to do a course on human psychology before becoming an entrepreneur. But that's alright, we all learn things on the job.
 08:30 AM: I reach the airport and also receive an email from the client on why the branded video is not VIRAL yet? I roll eyes at this email and ask my team member about the same. They reply politely but I bet they are rolling their eyes at me!
09:00 AM: Flight's delayed!
10:00 AM: Flight delayed. Estimated time of departure not announced.
11:00 AM: Gate changed
11:15 AM: Gate closing soon!
12 noon: Flight takes off
12:20 PM: Meeting in Delhi is cancelled
2 PM: Flight lands
2:10 PM: Reads message & facepalm!
Checking Into Silence
My trip to Delhi was not for any shooting purpose, but I had a lot of meetings scheduled to expand into the region. I was all pumped up to finish everything since I was going to be in the capital only for the next 48 hours. But to read the message that the meeting for the day has been cancelled, I instantly thought of things I could have finished back home. I told you I have this temptation of being productive at all times and use every second of my life to feel less guilty.
3 PM: I reach my hotel reception, finish check-in formalities, scan the card to enter the room and suddenly, the silence dawned on me. A crisp white bed with minimalistic furniture around, soundproof windows and a sense of calm. I dropped my suitcase and fell flat on the bed feeling the cold linen. I knew I didn't want to get out of this space.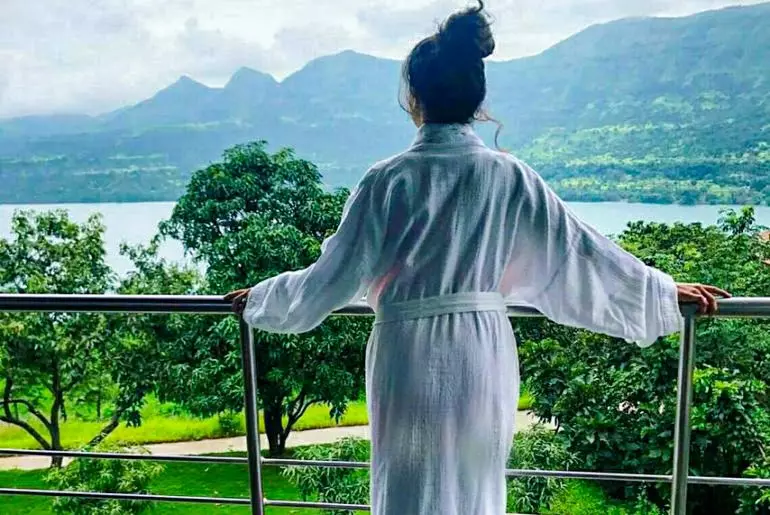 An Unplanned Staycation
4 PM: I put my mobile data off knowing that the family will take care of my daughter, as planned. The team in Mumbai will manage without me, as planned and the Delhi team has been doing it for so long that one more day won't make any difference. I decided to finally unwind, withdraw from the world and experience my unplanned solo staycation. I was left with a whole day to myself, with no plans or communication whatsoever.
A house can never be as quiet as a hotel room. Even if you are alone, doorbells keep ringing, the domestic help will keep hovering and responsibilities will become daunting. There is a sense of calm that a hotel room offers that no other place can. Not even an Airbnb, especially those which come fully equipped with a kitchen, fridge and washing machine.
The room's silence was making its space inside me as well. I was feeling calm from deep within. So much so that I didn't even realise when I fell fast asleep in broad daylight with the curtains open. I am someone who likes the room to be dark while sleeping, but I guess the same rules didn't apply here. I realised that at home, I am trying to tell myself to switch off and go to sleep but here the process was natural.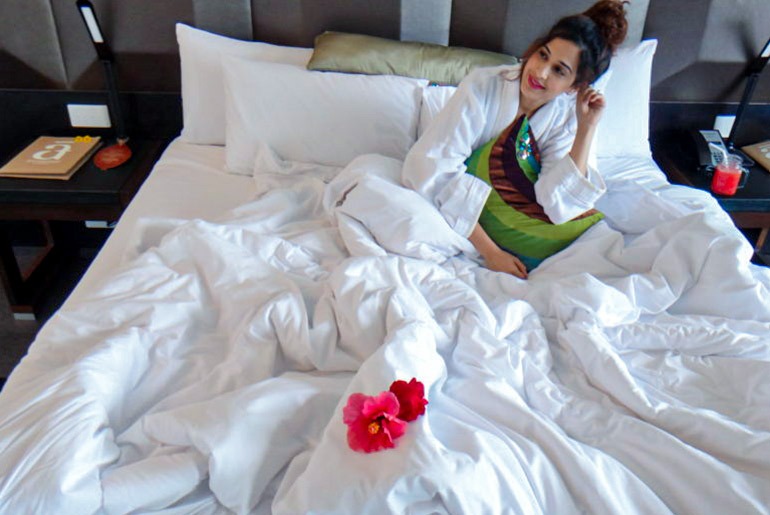 8 PM: When I woke up, I realised the room was dark as it had been 4 hours since I had been sleeping. Trust me, it felt like a 10-hour long sleep. I woke up to beautiful silence yet again but the fear of having many missed calls and msgs took over. I checked my phone and I only had calls from unknown numbers and only one familiar i.e. my husband. I told him about my cancelled meetings and what I chose to do instead. He laughed and reminded me of Vidya Balan from the film 'Shaadi Ke Side Effects' who does the same thing to take a break from her daily routine. He confirmed that things are on track back home. And as far as work is concerned, no news is often good news.
Dining Alone
9 PM: By now, I was also craving some good food. The hotel I was staying at is known for its fine dining Asian restaurant and that became my choice for dinner. Now a lot of people find it awkward to sit and dine alone at a restaurant. Funnily enough, I don't find anything weird about it, not even as a teenager. My college friends would be surprised to spot me at a restaurant alone but that didn't deter me in any way. My food cravings have always been my priority and not the company. This day was no different. Live music, candlelit music and a table for one. I had over 4 different types of dim sum, fried rice & some assorted vegetables. I was totally content with my meal. The waitress from Assam was very sweet who kept coming to ask if I was comfortable. Of course yes, especially when I don't have to share my food.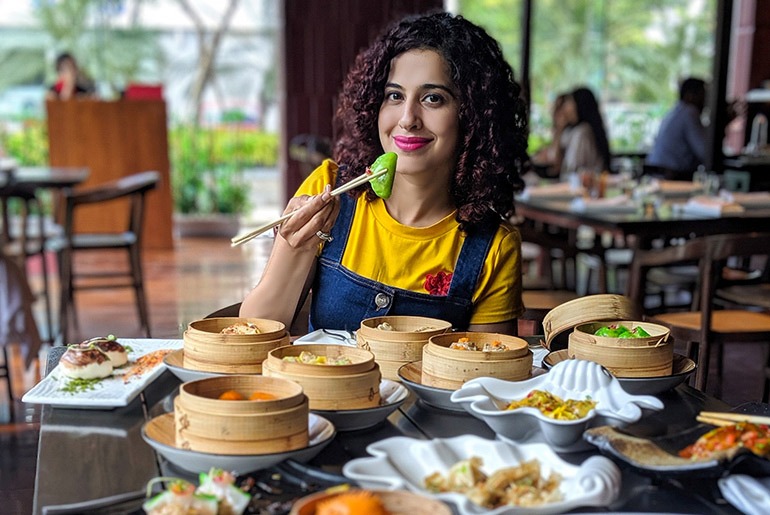 11 PM: I get back to my room with the same feeling as after a 90-minute long spa treatment. And BTW, I didn't even get one. It felt like a total detox. I didn't want to switch on the TV, read or listen to music. I just wanted to engulf myself in the silence around me. Yes for a moment, I was asking myself if this is normal? My heart declined to discuss the subject and went back to closing eyes into a deep slumber yet again.
Next Day
11 AM: With hardly any communication with anyone through the day and night, my mind thanked me for pausing before playing yet again. We're all so busy playing multiple roles in life, taking care of our loved ones and our job, that we hardly get enough time for ourselves.
This staycation made me realize that it's important to catch up on some me-time. It can really rejuvenate you. You can get all the pampering you need, by just checking in to a beautiful hotel, spending quality time in your room, reading, sleeping, dining at the restaurant in your hotel and even visiting the spa. It's good to find some time for yourself and put the world on hold. You owe it to yourself. Don't feel guilty. I would recommend this to everyone. Just check in to a beautiful hotel room by yourself, don't step out.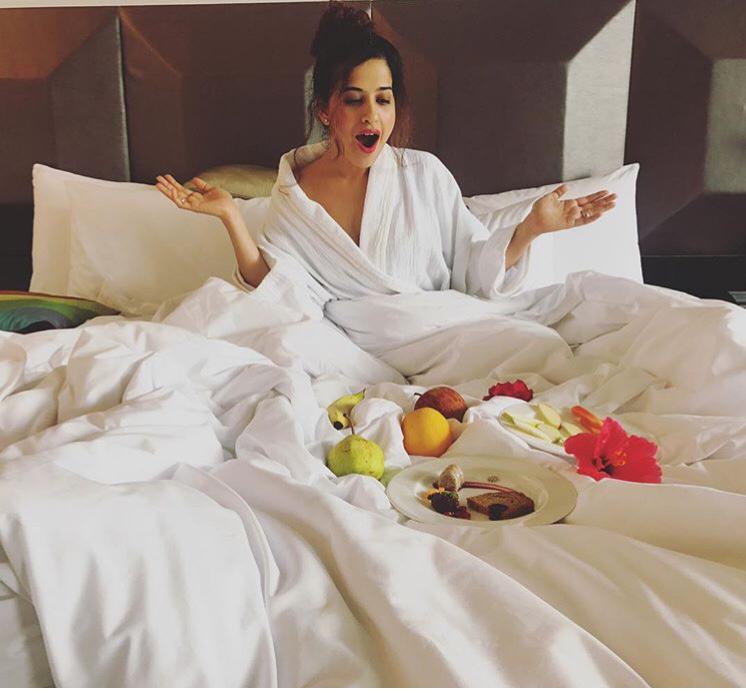 Although mine wasn't a planned staycation and a series of events led to this amazing experience of locking myself in a room, the next time I am consciously going to plan this. What I'm trying to say is that it's okay to switch off and recharge your batteries. It's like gifting yourself some time to just relax, kick back and indulge in what you want. We all work so hard every day for a better life, that sometimes we forget to just pause and enjoy the present. Even your phone needs to be charged daily and we are but human! It may seem weird at first and you may even go through a tiny bit of guilt, but I urge all of you to try it just once. Think of it as a gift to yourself and I promise you that you'll love it.
Check out Kamiya Jani Travels The World Despite A Job, Husband & Kid
Travel Tales- Ep 3- Kamiya Jani Travels The World Despite A Job, Husband & Kid