Being updated about the latest occurrences in the region is crucial in today's time. But we definitely understand if we can't get a hold of all that is happening around us. What if you get a bullet list that makes you well-versed with some important incidents that happened in the MENA region every week? Sounds easy to absorb a lot of information without consuming a lot of time, isn't it? Well, that's why we curated CT Quickies so you don't waste your time reading long news pieces. So without further ado let's jump to the hot happenings from the Middle East this week.
1. Abu Dhabi Launches NowNow App
View this post on Instagram
In order to provide city residents with immediate access to a wide range of services, Noon's on-demand delivery service, NowNow, has partnered with over 150 establishments.
2. Fancy Provision Of Free Petrol For A Year In The Middle East?
View this post on Instagram

One lucky Dubai resident will receive gasoline or diesel for a year in a contest being held by the fuel provider CAFU through Monday, March 20.
3. Round-Trip Ticket From Amman To Abu Dhabi For Dhs899
Today we celebrated Air Arabia Abu Dhabi's first flight to Amman. We look forward to welcoming our customers onboard to explore the vibrant city! #wherenext pic.twitter.com/RX978B67Xe

— Air Arabia (@airarabiagroup) March 12, 2023
Flights connecting the two cities have recently been introduced by Air Arabia, and a return ticket on the indicated itinerary begins at Dhs899.
4. Hilton Group Announces Green Ramadan In The Middle East
View this post on Instagram
In an effort to reduce food waste, Hilton has announced the beginning of its Green Ramadan programme, in the Middle East's most important locations, UAE, Saudi Arabia, and Qatar.
5. Sharjah Is Listed As One Of The Top Travel Destinations In 2023
Sharjah was chosen for its cultural resources and as a "centre for contemporary art and design" on the yearly list, which spotlights 50 must-see locations around the world.
6. Sharjah Will Soon Be Home To A Mega Musical Institue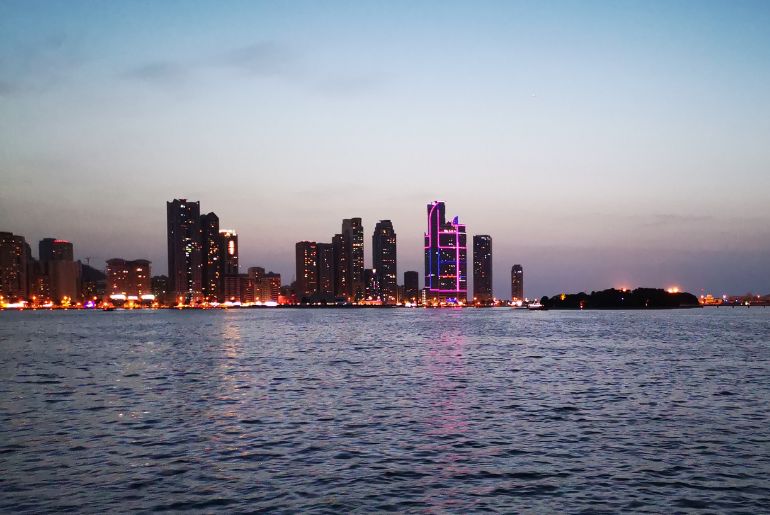 Under the SPAA, the institution will be recognized as the College of Music. The structure will have all the required amenities, such as a music hall with a seating capacity of 1,100, recording studios, practice spaces, and a music library.
7. Top Arabic Artists To Perform In Abu Dhabi During Ramadan
View this post on Instagram
Residents and visitors in Abu Dhabi may anticipate an electrifying lineup of music during the festival since Ramadan is scheduled to end on April 22.
Also Read: Good News! Kolkata-Abu Dhabi Flights Finally Resume After A Gap Of 3 Years
8 Abu Dhabi Eliminates The Tourism Tax On Event Planners
Event planners will not now be subject to the 10% tourist fee for each ticket sold.
9. Relish Iftar & Suhoor Under AED 99 In The Middle East
Barbecue Delights, a restaurant in Dubai, is offering excellent Iftar and Suhoor buffets for AED 69 and AED 49, respectively.
10. Race Against the Clock with Amano's 1-Minute Hops Challenge
One of the top Hops Challenges is being offered by the recently opened, licenced Italian restaurant Amano in Abu Dhabi. To win a voucher upto AED 500, each person must finish 5 hops in one minute.
We hope you now have your share of news from the Middle East for this week. Until next week, Ma Salaama Habibis!
Cover Image Courtesy: Emirates