Bengalis can't keep calm as Durga Puja festivities are knocking at the door. 2022 is going to be very special as people can finally be everywhere pandal hopping post-pandemic. The roads are crowded with people shopping their hearts out and every corner is lit with pandals and lights. Especially, with Mahalaya arriving in a day, the entire West Bengal cannot hold their excitement to celebrate the biggest festival. All these shopping and hard work are to welcome Maa Durga and celebrate these 5 days in the grandest way possible. And above all, pandal hopping is a must to enjoy the festival. If you're also planning to hop pandals for the darshan of Maa Durga, here's a list of the best pujas.
Must-Visit Durga Puja Pandals In Kolkata In 2022
1. Sreebhumi Durga Puja Pandal
From far away crossing long distances, devotees come to Sreebhumi in Lake Town to witness one of the most unique pandals in the city. Durga Puja without Sreebhumi is incomplete for many. This year Sreebhumi made sure to be one of the city's best like always and is creating a 'Vatican City' themed pandal. 2022 is very special for this pandal as they will celebrate the Golden Jubilee. If you want to see the grand pandal of Vatican City, you can visit right now. The doors are open already.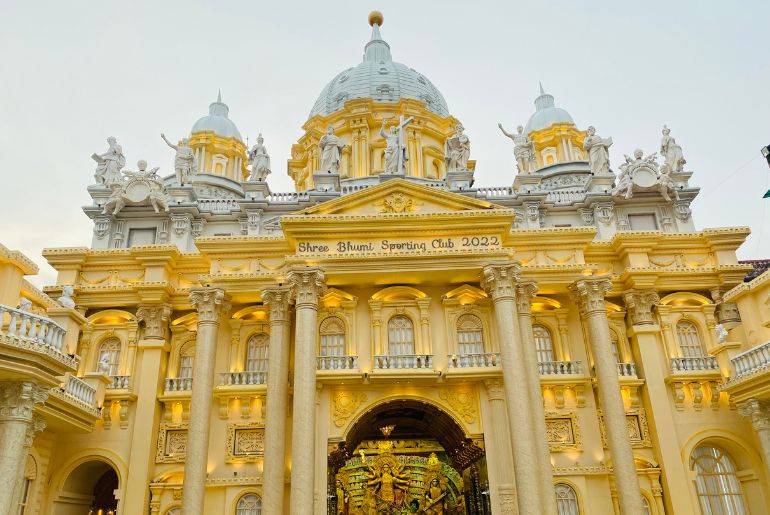 Also read: Durga Puja 2022: Kolkata Police Utsav App Features Details On 60 Iconic Pandals For Travellers 
2. Ahiritola Sarbojanin Durgotsab
One of North Kolkata's most celebrated pandals, Ahiritola Sarbojanin Durgotsab is known for displaying immaculate artistic skills every year. And the theme for this year is 'Akashbani'. The thought process behind selecting a theme is so iconic as the pandal committee wants today's generation to know about the musical instruments of the past. People before used radio, cassettes, gramophone, harmonium, and more to listen to the soothing music of legends such as Kishore Kumar, Lata Mangeshkar, R. D. Burman, and more timeless artists. The pandal will have pictures of the musical legends and humongous structures of the musical instruments and record players surrounding the pandal.
3. Bhowanipur 75 Palli
Bhowanipur 75 Palli planned a very unique theme for this year's Durga Puja celebrations. The concept is 'Aitijhya Beche Thakuk' – 'Let the Heritage Live' and it is to uplift the morale of the rich heritage and culture of West Bengal and its grandeur and glory of the biggest festival of the year. To celebrate the 58th year the renowned artist Sri Prashant Pal is showing his magical skills to construct the themed pandal. This pandal surely stands out to become one of South Kolkata's most stunning theme pujas and they ensured to make the mark this year as well.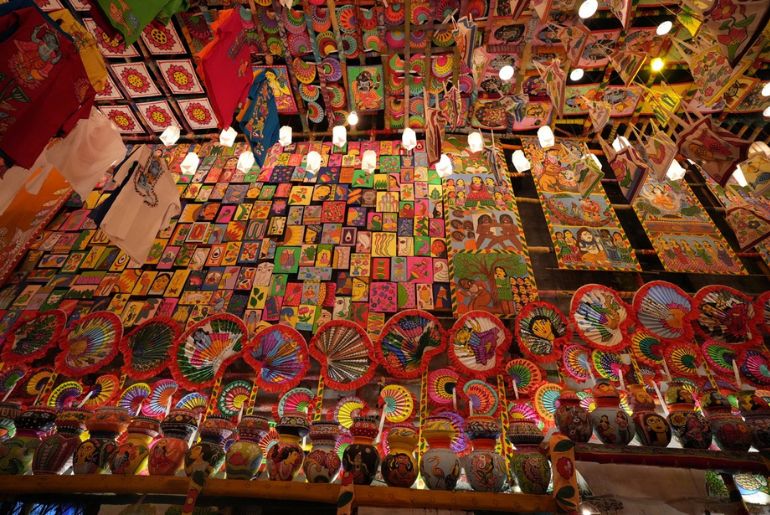 Also read: IRCTC To Serve Special Bengali Delicacies On Trains For Durga Puja Festivities
4. Samaj Sebi Sangha
Just like the name of the club, Samaj Sebi Sangha stays involved with lots of social work all around the year. When it comes to Durga Puja, this is a must-visit pandal. The theme for 2022 is 'Sebiche Ishwar' and this puja on Lake road is constructing a magnificent pandal this year. Their aim is to execute the famous saying by Swami Vivekananda 'Jibe prem kore jei jon, sei jon sebiche ishwar' (Those who serve others, serve the Lord in the true sense). The decorations and intricacies are being done using tons of tin, wood, and iron to build the Mandap.
View this post on Instagram
Also read: West Bengal To Enjoy 10-Day Government Holiday For Durga Puja 
5. Chetla Agrani Club
Durga Puja of the Chetla Agrani Club is one of the most iconic pujas in and near South Kolkata. Every pandal hopper going to South Kolkata makes sure to include this club in their itineraries. Continuing their legacy, the Chetla Agroni Durga Puja finalised the theme '16 Kola' for this year, and we are more than excited to witness the glory of the pandal.
6. Young Boys Club
Just like every year, Young Boys Club is back with an amazing themed pandal this year, and they took up the challenge to conceptualise the theme of 'Mayurpankhi Nouka'. They aim to portray social issues as their theme every year and they are celebrating their 53rd year with something that the world can relate to at the moment.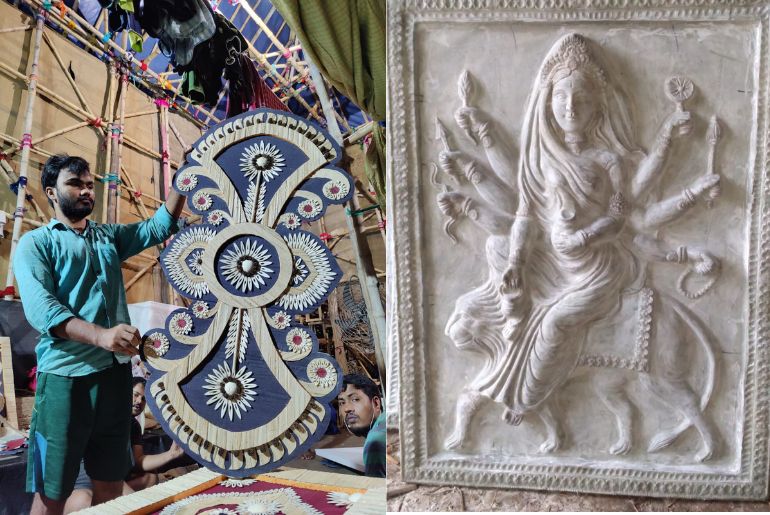 Also read: Vistadome Coaches In West Bengal Will Run Daily During Durga Puja
7. Hazra Park
Hazra Park is celebrating 8 decades of Durga Puja this year. And for their grand 80th year's festivities, they chose 'Tandav' as the theme. Hazra Park is known for their remarkable themes and this year is going to be bigger and grander than ever. With the Tandav theme, they try to showcase the force of life with artistic excellence.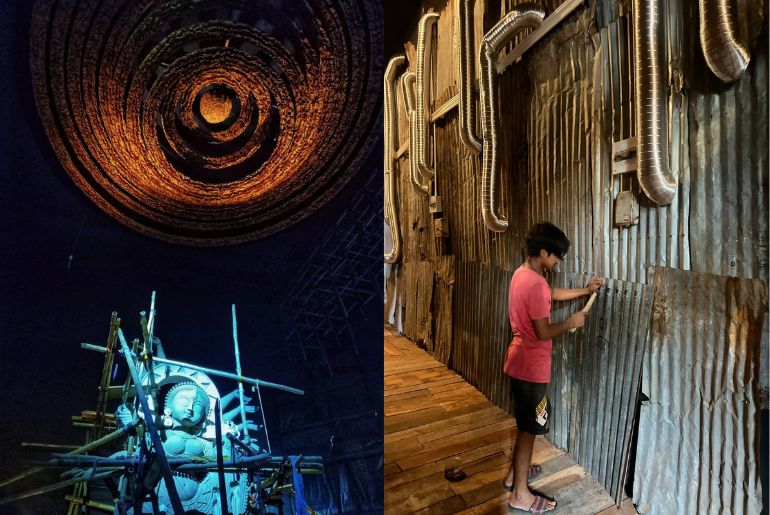 8. Deshapriya Park
Pandal hopping in South Kolkata is incomplete without lining up for long outside the pandal of Deshapriya Park every year. Starting in 1938, this pandal and its committee have been established as one of the City of Joy's biggest Durga Puja, and they are ready to set the bar high this year as well. This year's theme is 'Rajbari' and it is a humongous pandal, just what the park is known for. To witness the almost life-size pandal come to life, you need to be at Deshapriya Park.
9. Santosh Mitra Square
India celebrated 'Azadi ka Amrit Mahotsav' this year to commemorate 75 years of independence and Santosh Mitra Square chose this theme to represent the Durga Puja of 2022. The Lemon Floor Park will be displaying India's most famous historical establishments such as India Gate, Red Fort, and Parliament Of India. All these three hold a very prominent part of India's history and hence to celebrate freedom, they chose this unique theme.
10. Tridhara Sammilani
Ballygunge's iconic Tridhara Sammilani has kept everyone on their toes with their brilliance executed on pandal's intricacies. The theme of the year is 'Run' and the development process to complete the structure is exciting for the pandal hoppers. Surprisingly, the concept of 2022 is very similar to our everyday life, always running, and they are portraying this idea with their Durga Puja pandal.
Also read: Revenge Travel On Rise For Durga Puja; 70% Hotel Rooms Booked In West Bengal 
11. Suruchi Sangha
Suruchi Sangha is one of Kolkata's most prominent Durga Puja pandals and it attracts devotees from the entire West Bengal with its glorifying pandals every year. The theme of Suruchi Sangha for 2022 is 'Prithibi Abar Shanto Hobe' (the world will be peaceful once again). With their pandal, they are presenting the last 2 years of people's lives and how everything went on a toss, a very rollercoaster-like situation.
12. Ekdalia Evergreen Club
Celebrating the 80 years of Durga Puja, Ekdalia Evergreen Club is all set to continue its reign of being one of South Kolkata"s most prominent pandals this year as well. Unlike most pujas in the city, this club does not follow a specific theme and constructs a pandal accordingly. Above all, they firmly believe in 'sabekiyana' (rich heritage) and they are presenting the most authentic Bengali culture with that concept.
Also read: Experience And Explore 10-Day Durga Puja In West Bengal With This Travel Package 
13. Naktala Udayan Sangha
In the recent past, Naktala Udayan Sangha has established itself as one of Kolkata's most celebrated and important Durga Puja pandals. Their thoughts and execution are always magnificent sights to behold. The theme of this year is 'Kaal' (Time) and the artist behind all the artistic charisma is Susanta Pal. With this year's theme, they are presenting the thought of 'Time is nothing but an illusion'.
14. Mudiali Club
Mudiali Club turns 88 years this year and to bring in this year's celebration, they are building the pandal on the theme 'Pratikkha' (waiting). The thought behind working on this theme is to portray the world post 2 years of turbulence of the COVID-19 pandemic. Furthermore, they are constructing the pandal beautifully adding lots of colourful elements to light up the place and devotees. The most stunning artistic skill executed here is the handmade designs and decor for the pandal.
Also read: Mouni Roy Travels To Kolkata Pre Durga Puja; Relishes Sandesh & Mishti Doi
15. Sovabazar Rajbari
Sovabazar Rajbari is the most iconic puja of North Kolkata. Pandal hopping in this part of the city is incomplete without Sovabazar Rajbari. It is a mesmerising experience to witness the puja and the celebrations here. The presentation of authentic Bengali culture surrounded by red and white rajbari (mansion), green windows, lots of lights, and the commotion of the crowd indeed looks like a dream. Everything falls into place with the dhaker awaj in the background.
16. Baranagar Nawpara Dadabhai Sangha Durga Puja Committee
For the first time in the history of Durga Puja in Kolkata, a pandal has created a silicon idol of Maa Durga portraying the lives of the sex workers. The silicon idol is of Maa Durga holding a baby on her lap. She wears the traditional red and white saree with her children, idols of Goddess Lakhsmi, Goddess Saraswati, Lord Ganesha, and Lord Kartikeya standing behind her. Many of us have seen Kolkata pandals on the theme of sex workers before but this is the first time for the silicon idol. The theme is to show the other aspects of a sex worker's life, her life as a mother.
View this post on Instagram
17. Mohammad Ali Park Durga Puja
Save your trip to Rajasthan as you can now witness Sheesh Mahal in Kolkata itself. Youth Association of Mohammad Ali Park Durga Puja is celebrating its 54th year with the pandal theme of 'Sheesh Mahal'. The pandal is constructed with beautifully detailed intricacies made of mirrors, glass, and hand-crafted paintings.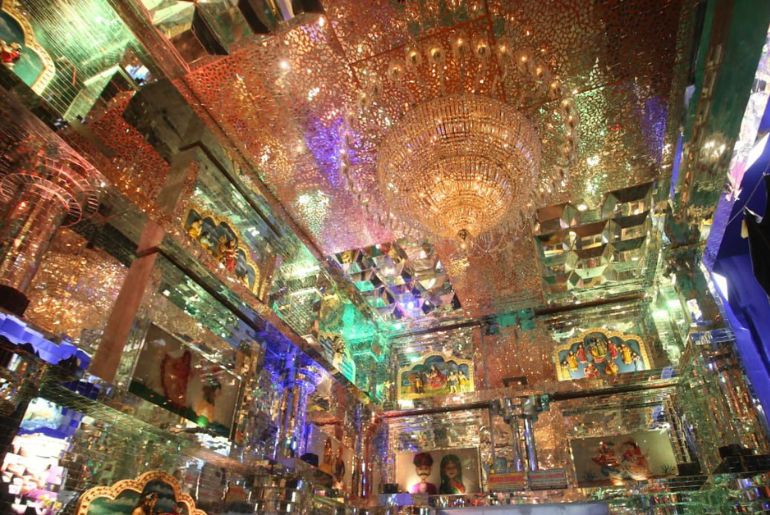 Many pandals have already opened their doors to the crowd. In addition to this, most pandals will start welcoming the devotees from Mahalaya. So gear up and get set ready to witness the biggest Durga Puja pandals of the year.
Cover Image Courtesy: Pixabay