It's that time of the year again when Delhi sees a surge of young college students as aspirants from all across the country come over to the national capital to take admission in the many Delhi University colleges. All of us who have been there are aware that college life is all about chilling with friends and hanging out at the nearest eateries all day long. For all those students who are new in Delhi and have just started exploring the campuses, don't worry we are here to rescue you and make you an expert in which places to hang out at.
For those of you who have moved to DU's North Campus, you must know that there is no one place that can be deemed as the best one in North Campus. they are all equally at par and anyone who has ever been a student at any of the colleges in North Campus must have infinite memories associated to these eateries. Here are 5 eateries that every DU student in North Campus must know about.
1. Chache Di Hatti
For all street food lovers, Chache Di Hatti is famous across North Campus for its scrumptious Choley Bhature. They are known for serving some of the fluffiest, and non-greasy bhaturas along with choley that have the perfect combination of spices. It is the perfect breakfast to have before you start a new day and the go-to meal everytime you are short on cash. A piping hot plate of Choley Bhature at Chache Di Hatti is easy on the pockets but not on taste. It boasts of flavours that will pull you each time. But make sure you reach there on time because it is usually over by 2:00 pm.
Also Read: 5 Budget-Friendly Cafes In Delhi's North Campus
Deets:
Address: Chache Di Hatti, 32, Near All Smile Dental Clinic, Kamla Nagar
Price: Rs 50
2. Bille Di Hatti
Another favourite haunt of North Campus Students, Bille Di Hatti serves the best Choley Puri taht will surely make you think of home. But that is not the only reason students crowd the place at all hours of the day. Bille Di Hati is known for preparing the most creamiest, and thick lassi in the entire North Campus, and students just don't seen to be able to have enough of it. A class of Bille's Lassi and a plate of the scrummy choley puri make for a complete meal and will certainly keep you full for a very long time.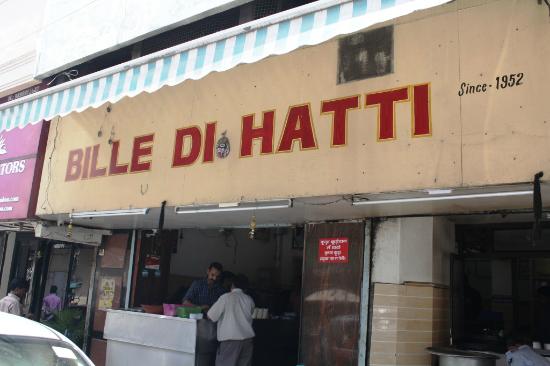 Deets:
Address: Bille Di Hatti, 72 D, Kamla Nagar
3. Tom Uncle's Maggi Point
When living away from home, Maggi automatically becomes life and the saviour of every student. It is the breakfast, lunch and dinner for days when the pockets are empty. But if you are tires of having the same old masala maggi again and again then head over to Top Uncle's Maggi point in Hudson Lane and chose from 50 different types of Maggis. People from all across Delhi (even South Campus) come to get their hands on Tom Uncle's delicious maggi and no one ever goes back disappointed.
Also Read: Food Overloaded Serves Butter Chicken Maggi In Delhi
Deets:
Address: Tom Uncle's Maggi Point, Near Ramjas College, Maurice Nagar Chowk, North Campus, Delhi University-GTB Nagar
Price: Rs 40 onward
4. Pandit Ji Parathe Wale
Any after college haunt is incomplete without a trusted 'parathe wale bhaiya' and Pandit Ji Parathe Wala is just that. The parathas prepared by panditji will surely give you a taste of home and you won't miss ghar ka khaana any more. These parathas are generously stuffed and not at all greasy making for the perfect dinner. Panditji also sells samosas, bread pakodas and tea.
Deets: 
Address: Pandit Ji Parathe Wala, Shop 14, Ashok Vihar Phase 2, New Delhi
5. Majnu Ka Tilla
Majnu Ka Tilla is a beautiful place to spend your weekends at. It is more than just a Tibetan Monastery. It is a place where you can indulge in Laphing, an authentic Tibetan delicacy perfect for summers. Laphing is a cold noodle soup that offers a burst of flavours with every bite. But that's not it. Majnu Ka Tila is also the home to one of the best breakfast places in the entire North Campus, AMA Cafe. They have the most exquisite breakfast menu that offers fluffy pancakes, loaded sandwiches, and freshly made raw pressed fruit juices.
Also Read: Authentic Tibetan Laphing At Majnu Ka Tilla, Delhi
Deets:
Address: Majnu Ka Tilla, New Aruna Nagar, Delhi
These are just a few famous joints in the North Campus. There are a whole lot of eateries still left to explore in the winding lanes of North Campus. Untill then we are here to guide you through the city.