Eid Al Fitr vacations are here, and we couldn't be more excited with all the festivities coming up. So what are we looking forward to? Yas Bay Waterfront will light the skies with a colossal firework show, and we can't wait to watch it. Apart from the fireworks, there's an array of concerts to celebrate the Eid Al Fitr festivities. Here's a detailed list of the venue and timings of the celebrations.
A Series Of Firework Shows To Celebrate Eid Al Fitr
The Eid declaration, expected to come on or around May 2, would light the joyous touch sheets on a three-night fireworks show. The Yas Island sky pyrotechnics is traditionally launched from Yas Marina. They are a standard component of Abu Dhabi's Eid celebration programme and are absolutely free to see. The magnificent display will have pyrodrones, lights, colours, and forms to usher in the Eid Al Fitr celebrations.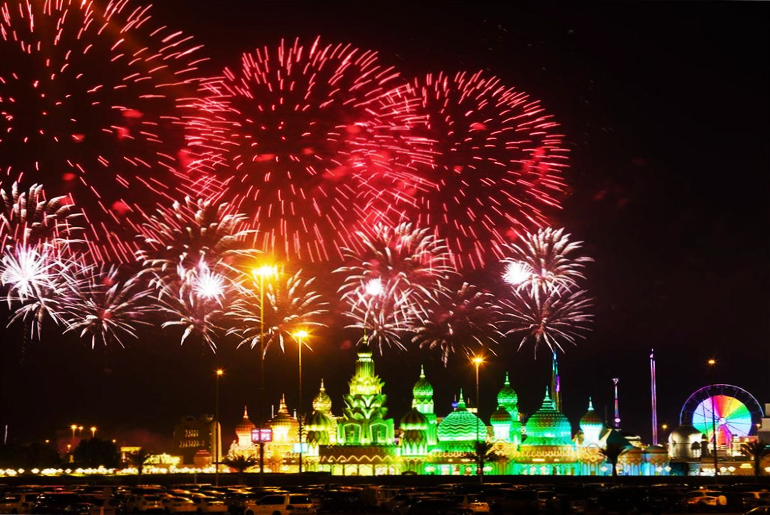 The festivities should be an enjoyable event and adhere to safety protocols. How about sitting in a cafe and relishing the vistas of fireworks while grabbing your favourite bite? Hence we suggest you book a table at your favourite restaurant beforehand for this occasion to indulge in the views peacefully.
Also Read: UAE's First Ever Fireworks Contest Is Coming To Abu Dhabi
View this post on Instagram
Etihad Arena To Host A Live Concert
The stage in Etihad Area will feature a series of Arabic music events, including Amr Diab (priced from Dhs100) on May 2. Guests can expect an all-star duet of Sherine and Kadeem Al Saher (priced from Dhs250) on May 4. These activities would be a fun way to celebrate, in addition to the sky lighting up for Eid Al Fitr at Yas Island. Their official website is now selling tickets for the shows.
Then, on May 6, iconic pop-rockers Maroon 5 will drop some lyrical sugar (yes, please) at the same venue. It will be a night filled with catchy, sing-along bumble gum bangers. There are still a few tickets left, starting at Dhs605.
Also Read: Maroon 5 Will Perform At Abu Dhabi's Yas Island In May