Etihad is all set to begin services to 15 new cities from 16 July. The airline will now fly to 40 destinations across the globe. The airline will operate inbound and outbound flights to cities across Europe, the Indian subcontinent and the Middle East.
Meanwhile, we spoke to Neerja Bhatia, the India Vice President of Etihad Airways, on how to inspire confidence in the passengers for travelling, once the travel bans are lifted. Read the full interview here.
List Of Etihad Flights Resuming Services
Bengaluru
Mumbai
Delhi
Manchester
Munich
Istanbul
Amman
Jordan
Cairo, Egypt
Dusseldorf
Belgrade
That said, could The Future Of Airplanes Be Double-Decker Seats? Read on to find out.
Etihad Resumes Services To Maldives
In addition, Etihad will also resume flights from Abu Dhabi to the Maldives. A statement issued by the Tourism Ministry states that Maldives will reopen its borders on 15 July 2020. Besides, visitors will not be charged any additional fees. An earlier proposal suggested that there would be landing fees and extra tourist charges. The Ministry of Tourism said, 'We are planning to reopen our borders for visitors from July. We also want to assure our guests that they will not be charged any additional fees to enter the Maldives.'
The government will issue a 'Safe Tourism License' to tourists who visit, in order to ensure safety of workers and holiday goers. In addition, international travelers visiting the place must have a confirmed booking with one of the hotels that has a Safe Tourism License. Besides, travelers must also provide a medical certificate confirming they tested negative for COVID-19 at least 14 days before they arrive.
The country will issue permit for resorts to open once international flights to Velana International Airport resume in July.
Online Check In Resumes
Etihad has also resumed its online check-in services. Travellers can now check in and select a seat up to 30 hours ahead of a flight. However, some seats will appear unavailable, due to social distancing rules. Earlier, Etihad had suspended online check-in to allow staff to allocate seats to ensure social distancing on flights. Besides, did you know Qatar Airways Flight Attendants Wear Head-To-Toe PPE Suits?
Etihad Introduces Wellness Ambassadors
Etihad Airways has launched a new in-flight service to ensure wellness of passengers. The Etihad Wellness program covers a host of precautions and services, to help passengers have a pleasant flight. Etihad flights now have 'wellness ambassadors' who will be around the aircraft to ensure safety of passengers. The dedicated team will receive special training in Abu Dhabi. The wellness program ensures safety of passengers pre boarding, during check in, on board, and while landing.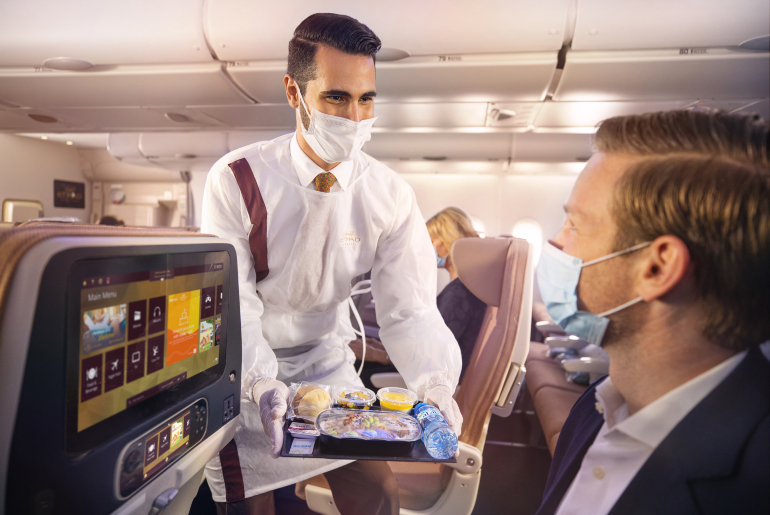 Pre-Boarding
-All passengers will be provided details about protocols 24 hours before boarding
-Etihad passengers can change their flights free of cost
-Etihad's transfer coaches will be sterilized and deep-cleaned before and after every use
-All drivers will wear face masks, and chauffeurs will be shielded with a protective screen
Check-In
-Etihad's wellness ambassadors will be available at the Abu Dhabi airport to assist passengers
-Passengers must maintain social distancing & undergo thermal screening
-All passengers and staff must wear facemask at all times. Food will be served as per Covid restrictions
On Board
-Passengers must maintain distance while scanning their boarding passes
-Aircrafts will be sterilized inside out
-Hygiene kits consisting of hand sanitizer, facemask and gloves will be handed out to all passengers
-Cabin crew will wear masks and PPE at all times
On Landing
-Passengers cannot run to exit as soon as they land. Social distancing must be followed even in the aisles.
-Before leaving, passengers will be advised on precautionary measures to be followed in the destination