Those luxurious resorts, themed hotels and charming homestays, we've been there all.  While we can't ever say no to vacations, we certainly yearn for more. More in terms of seclusion, beauty, nature, luxury and gorgeous views. So the next time you plan a vacation, book yourself a room at a floating hotel or floatel as it's conveniently called. These Instagrammable accommodations are great for relaxation and super innovative. Here are 6 of the finest floating hotels in India that give 'room with a view' a whole new meaning.
1. The Floatel In West Bengal
Imagine waking up to the serene views of the Hoogly river and the soothing sounds of the gushing waters. Nestled in the heart of Kolkata in West Bengal, The Floatel is South Asia's first floating hotel. Stay in designer rooms decked up with intricate furnishings and traditional artworks. This standing cruise has wide large windows that ensure you always get soul satiating views of the river and the bridges. So, this is a room with a view that you'd never want to miss out on.
Also Read: 5 Palatial Hotels In Udaipur You Can Book Starting From Under ₹2000
2. Poovar Island Resort In Kerala
Kerala's Poovar Island Resort offers you a chance to stay in beautiful floating cottages nestled in the backwaters of the Arabian sea.  This luxurious floating resort features 86 cottages where you can enjoy all the pampering you deserve. Relax in the hot tub, take rain showers, witness serene views of the backwaters from the balcony. The floating cottages made of eco-friendly materials like coconut wood are built on stilts. It's your chance to experience God's Own Country, in a unique manner so you'd feel like a fish in the backwaters.
Also Read: 5 Lesser Known Places In Kerala Where You Can Isolate Yourself From The Rest Of The World
3. Taj Lake Palace In Rajasthan
One of the most iconic properties of the Taj Group, the Taj Lake Palace sits on the calm waters of Lake Pichola. Situated in the City of Lakes, Udaipur this is India's most iconic floating hotel. Infact, this hotel has been the venue for the shooting of the popular Bond movie, Octopussy. Dine at exquisite restaurants, take a relaxing massage in the hotel and just feel like royalty here. Taj Lake Palace is regal and breathtaking, it's like staying in a haveli, gradually floating in the calm waters. Who can ever say no this right!
4. Mumtaz Palace Houseboat In Jammu & Kashmir
We can never run out of reasons to visit Srinagar, 'The Heaven on Earth'. And to add to the long list of reasons to attract you to this gorgeous destination has go to be the Mumtaz Palace Houseboat. The traditional of houseboats in Kashmir dates back to the colonial period. The British residents first converted houseboats into luxurious options for a petty accommodation on the Dal Lake. Till date, you can nestle in a houseboat with your loved one. Mumtaz Palace Houseboat is equipped with modern facilities. The lavish decor and local handicrafts indeed give you a home away from home feeling.
Also Read: 12 Best Luxury Hotels In The World To Live Life King Size
5. AB Celestial In Maharashtra
Mumbaikars, you don't need to even step out of your city to stay in a floating cottage. AB Celestial in Mumbai is a floating hotel that offers luxury and a unique experience near Worli Sea Link. This 3-storey yacht is docked at the Maritime Board Jetty. It can accommodate 660 guests at a time.  Visit the sky deck and enjoy panoramic views of the Arabian sea. This floating hotel gently rocks to the gushing waves of the mighty sea.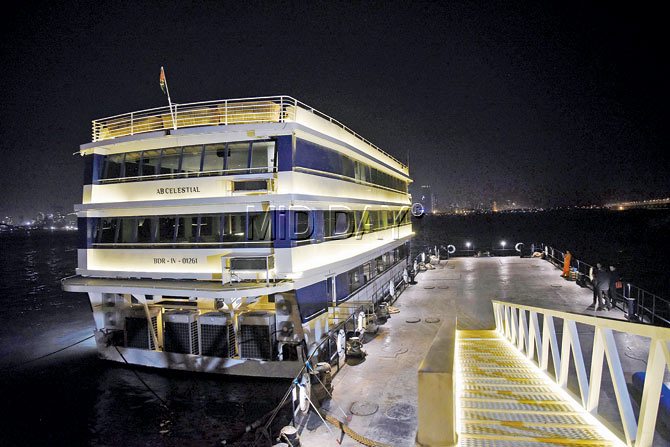 Also Read: I Lived In The Floating Huts Of Manipur's Loktak Lake & It Was An Out-Of-The-World Experience
6. Lake Palace Resort In Kerala
At Lake Palace Resort in Kerala, you never have to compromise between luxury and nature. You can have them both. Perched on the banks of Vembanad Lake, this floating hotel gives you a soothing experience away from the noisy city life. At this 14-acre resort, you can witness the gorgeous landscape of Alleppey on one side and the beautiful lake on the other. The rooms for this floating hotel is equipped with a rustic, traditional decor with modernish interiors. It gives you the feeling of staying in a traditional Kerala style bungalow floating in the backwaters.
Well, the joy and serenity of staying in a floating hotel are truly unexplainable. You'd have to stay here to truly understand the uniqueness and beauty of these types of hotels.