The Mumbai international airport became home for Randy Juan Muller, a 23-year-old Ghanaian footballer for 74 days. He got stranded there due to the coronavirus lockdown that led to a cancellation in flights. After being stuck at the airport for 74 days, the footballer was helped by the Yuva Sena and shifted to a hotel. Rahul Kanal, a Yuva Sena member helped Muller with accommodation at a Bandra hotel till international flights resume service or till a rescue flight is arranged by the Ghanaian government.
Ghanian Footballer Stranded In Mumbai International Airport For 74 days Amid Lockdown
Randy Juan Muller states to India Today about his experience staying at the airport for 74 days before being helped by the  Yuva Sena members. He extends his heartfelt gratitude to Mr. Rahul Kanal for helping him and others during their stay at the airport. He reveals that since he is a sportsperson, so he thought like a soldier and that helped him survive the ordeal.
Randy Juan Muller resided in India since November 2019. He played for the ORPC football club in Kerala.  In order to get back home, Mueller reached Mumbai before the lockdown due to the pandemic. He tried searching for accommodations since his flight was scheduled on March 30. Unfortunately, all hotels and dormitories remained shut. Some policemen advised him to visit the airport.
At the airport, Muller two other people, one Spanish and another, Indian who were also stuck there. They spent time together. After a few days, policemen took the three of them to a shelter home in Andheri. But the Ghanian footballer had to return to the airport in a few days.
Juan Muller Made Mumbai Airport His Home For 74 Days
The Ghanian footballer took inspiration from Tom Hanks' movie Terminal during his 74-day stay at the airport. He woke up early, took a shower and washed his clothes at the airport washroom. Juan Muller spent his time strolling in the garden there. CISF officials gave him samosas and money to purchase food. Staying at the airport was an expensive affair and he ran out of money quickly. But he tried to save as much as he could.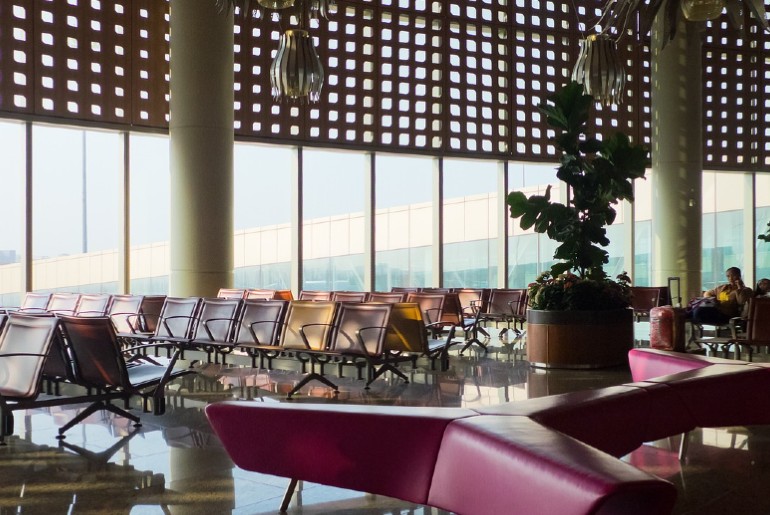 Muller spent his time watching the skies and rescue planes, hoping he could fly one too. Many travellers on rescue planes gave him money, food and books too. One of the passengers gave him a book titled 'Be Your Own Therapist'. Reading that self-help book helped him avoid depression. The footballer considered himself lucky as he knew there were many people who suffered more than him.
He reveals to Mumbai Mirror that he was given blankets and pillows to make his stay comfortable. Muller slept in different places in the airport and changed his locations several times. Even though his routine was monotonous and he hardly had any money left, he tried to stay strong and appreciate the positivity of the situation. Talking to his family in Ghana using the airport Wifi helped him feel connected and kept his spirit going.
Also Read: A 12 Yr Old Noida Girl Used All Her Savings To Buy Flight Tickets For Migrant Workers
Juan Muller Received Help From CISF And Airlines Officials During His Stay
The Ghanian footballer's stay was made comfortable by Good Samaritans. CISF officials and few others assisted him during his stay at the airport. He recalls that he stayed wherever he could find space at the airport. CISF officials JP and Chandra helped him with food and provided him with blankets. Pramila, an airline official and other officials from Krystal housekeeping and Spicejet airlines also helped him. They gave him money and looked after his well being.
When Juan Muller's phone got damaged during his stay at the airport, JP came to know. He informed his superior from CISF and a new phone was given to Muller. This helped him get in touch with his family in Ghana. When domestic airlines resumed services the airport was busy with passengers. If you want to take a domestic flight here is An 8 Pointer Checklist 
JP then advised him to tweet about his condition, seeking help. It was then that Rahul Kanal from Yuva Sena came to the airport to help him. The Yuva Sena member rescued Muller and put him up in a hotel. Juan Muller revealed the hotel is nice. He also said that he contacted the Ghanian High Commission who assured him that they are trying to arrange a rescue flight. Indians Stranded Abroad Share Their Experience Of The Vande Bharat Mission
Yuva Sena Helps Juan Muller; Shifts Him To Bandra Hotel
Rahul Kanal from Yuva Sena reveals that the tweet from Muller caught Aditya Thackeray's attention. He informed Yuva Sena to get in touch with the footballer and help him out. Kanal informs that whenever a person tweets for help they have a huge team working on it.
So he is surprised that something like this happened in India.  Kanal states that they are thankful to the person who tweeted about Juan Muller and his condition. He also thanks Aditya Thackeray who brought this to their attention so they could help him however possible.
He reveals to Mumbai Mirror that Aditya Thackeray directed the team to help Juan Muller as he is also the President of the Mumbai District Football Association (MDFA). Yuva Sena has given him clothes, shaving kit and other essentials. The Yuva Sena functionary lauds Muller's sportsman spirit which kept him going through these tough times. Once international travel resumes money will be collected and Muller's return flight will be funded as he has no money left. International Flights To Resume In Phase 3 Of Unlock
Ghanian Footballer stranded for 74 days due to lockdown at Mumbai International Airport… @rogee99 ,23 years wanted to thank @AUThackeray ji and @AbhaGoradia ji he was crying in happinesss when I met him at the airport , best feeling a youth could get and yes pic.twitter.com/F3gaYwfwts

— Rahul.N.Kanal (@Iamrahulkanal) June 3, 2020
Currently, Randy Juan Muller is lodged in the Lucky Hotel in Bandra. Yuva members are helping him further with everything he needs till a rescue flight is arranged for his return by the Ghanaian government. Fans of Steven Spielberg's 2004 film, Terminal compare the Ghanian footballer's story to that of the film. It's about a man stranded at the US airport after being denied entry into the country. Air Travel Is Still The Safest Way To Travel: Vistara CCO