Bill Gates, co-founder of Microsoft, philanthropist, and co-chair of the Gates Foundation, visited India for the G20 Summit 2023.The philanthropist made sure that his trip to India was fulfilling as he indulged in many activities and meetings. On this trip, he visited India's metropolitan cities like Bengaluru, Delhi, and Mumbai. He calls his trip to India an inspiring one, and here is a sneak peek into Bill Gates's India Diaries. 
Bill Gates's India Diaries
Meeting Narendra Modi
Delighted to meet @BillGates and have extensive discussions on key issues. His humility and passion to create a better as well as more sustainable planet are clearly visible. https://t.co/SYfOZpKwx8 pic.twitter.com/PsoDpx3vRG

— Narendra Modi (@narendramodi) March 4, 2023
Bill Gates met India's prime minister, Narendra Modi, and felt honoured about the same. The two discussed India's progress in different fields like finance, health, digitalization, and women's economic empowerment. 
Urban Health Centre With Shraddha Jain
View this post on Instagram
The first place that Bill Gates visited in Mumbai was an urban health centre, which serves as the very first point of contact for patients with tuberculosis. He was joined by YouTuber Shraddha Jain, and the two indulged in a fruitful talk about India's aim to reduce TB. 
Meeting Bridge Champion, Anshul Bhatt
View this post on Instagram
Bill Gates met the youngest bridge champion, Anshul Bhatt, in Mumbai. At the age of 13, last year, Anshul became the World Youth Bridge Champion by winning three gold medals. He said that bridge is one of his favourite pastimes and was amazed at Anshul's ability. 
Indian Agricultural Research Institute With Prajakta Koli
View this post on Instagram
On his very first morning in Delhi, Bill Gates was accompanied by YouTuber and actor Prajakta Koli on his visit to the Indian Agricultural Research Institute. He learned about the advanced technologies that are being used to create climate-resilient crops. 
Smriti Irani
Recognising the Super Food of India and its POSHAN component..

When @BillGates gave tadka to Shree Ann Khichdi! pic.twitter.com/CYibFi01mi

— Smriti Z Irani (@smritiirani) March 2, 2023
He met the Minister of Women and Child Development for India, Smriti Irani, and prepared millet khichdi. He also participated in the Annaprashan ritual, which marks a child's first food other than milk. Bill congratulated Smriti and her team for the progress they had made in promoting nutrition in India. 
On The Road
View this post on Instagram
The next amazing thing he did was drive an electric rickshaw in Delhi. The rickshaw was a Mahindra Treo, and he expressed his happiness at experiencing this new innovation, which will help fight climate change. 
Digitalization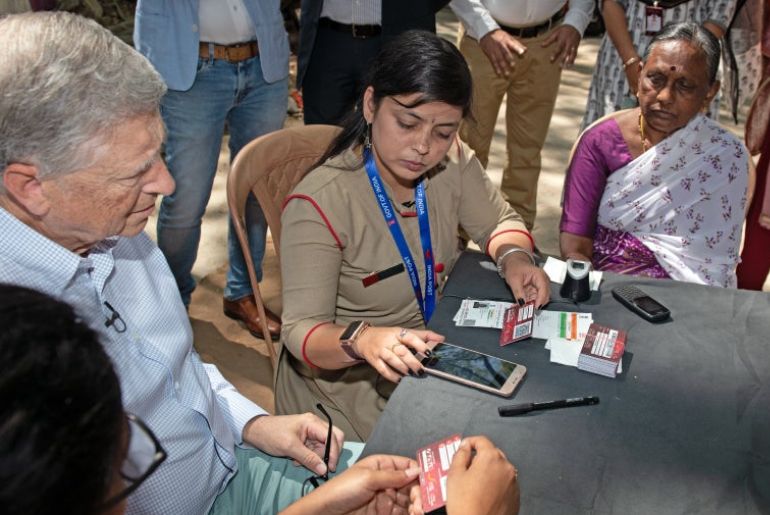 As part of the G20 Summit in New Delhi, Bill Gates gave a speech and participated in a discussion at an event focused on the role digital tools and applications play in our lives and how they can transform the lives of low-income people. 
Also Read: Woman Caught Smoking On Kolkata-Bengaluru Flight's Washroom; Arrested
He truly did have an amazing time!
Cover Image Courtesy: Raw pixel