I am sure every day when you get back home and your parents look at the TV screen and not you, you know they are watching Anupama. The hit TV serial's main lead, Rupali Ganguly, is the latest guest on Curly Tales Tere Gully Mein. Rupali, the highest-paid actress on television, and our Editor-in-Chief, Kamiya Jani, had a fun conversation over some delectable Bengali food talking about her favourite Maharashtrian dishes. Here is a small sneak peek for you!
Rupali Ganguly Loves This Maharashtrian Dishes
Rupali Ganguly, though Bengali because her father is from Kolkata, resonates more as a Bombay girl. She was born and brought up in Mumbai, and she loves calling herself a typical Mumbaichi mulgi (girl). She said that one of the main reasons why she calls herself a "Bombay girl" is that her predominant food preferences are Maharashtrian dishes.
Thalipeeth, Vada pav, Misal pav, and everything that is typically a Marathi dish are her favorites. She mentioned that she loves Valachi bhaji, which is a Maharashtrian delicacy that is not much liked by everyone. Rupali Ganguly told Kamiya that Maharashtrian cuisine has her heart. 
 Also Read: An Insider Guide To Pune's Best Mutton Thalis
Bengali Cuisine Is Not Only About  Non-Vegetarian Dishes
Being a Bengali Rupali debunked a long-held belief among Bengalis. Every time people talk about Bengali cuisine, they think mainly of fish dishes or non-vegetarian dishes. She said that Bengali cuisine also has some delectable vegetarian dishes, and she loves them all. She compares the Durga Pujo Bhog to an emotion for her. 
Our Editor-in-Chief Kamiya Jani and actress Rupali Ganguly relished some delectable Bengali dishes at The Calcutta Club in Andheri's Oshiwara. Rupali shared her life experiences as an actor and before. To know more about Anupama's real life, tune into the latest episode of Tere Gully Mein.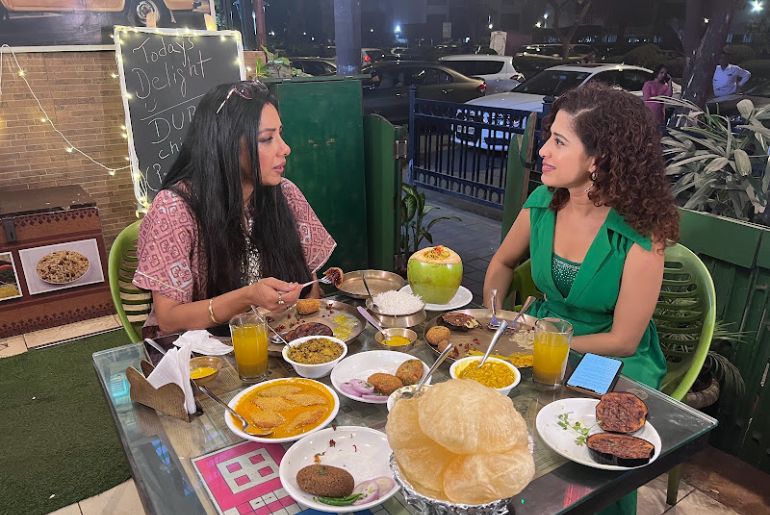 Also Read: Anupamaa Fame Rupali Ganguly Busts The Myth That Bengali Food Is Just About Fish And Non-Veg. Here Are Her Fav Veg Bengali Dishes | Curly Tales
Go and watch the recent episode and let us know your views!
Cover Image Courtesy: Media Library