Bollywood loves celebrating every milestone they achieve. Be it celebrating the number of followers on social media or the release of new projects. Shahrukh Khan and Gauri Khan's daughter Suhana Khan is set for her acting debut with The Archies on Netflix. Zoya Akhtar has directed the film. Recently, an exciting teaser of the film was also released. The teaser is receiving much attention and love on social media; after all, King Khan's daughter is debuting on it.
The Archies Themed Cake
Gauri Khan recently shared the photograph of The Archies themed cake to celebrate Suhana's acting debut and her beginning in the film industry. The cake featured The Archies poster with Suhana and the entire cast. Along with the large cake, there were also gorgeous cupcakes with Suhana's photographs and the film's clapperboard.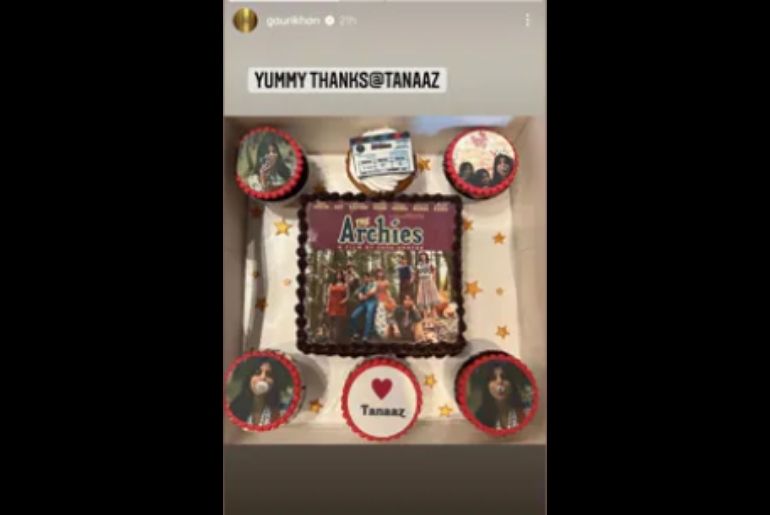 The Archies – Acting Debut Of Khushi Kapoor
Along with Suhana Khan, Khushi Kapoor, youngest daughter of Boney Kapoor and late actor Sri Devi is also featured in this Netflix film. Her sister is already an actor, and this Netflix drama, The Archies will be the debut project of Khushi Kapoor.
Coming back to Suhana's celebratory The Archies themed cake, does it make you crave delicious cakes too? Well, we are listing some delightful homemade cake recipes that you can quickly try at home and binge watch Netflix while you savour it!
Also Read: Move Over Regular Birthday Cakes & Try These Lip-Smacking Sushi Cakes From This Mumbai Kitchen
Chocolate Cake
Bake a rich, delicious homemade cake which is no less than the patisserie cakes. It is a heavenly mix of all things chocolate and can never disappoint you. Check out the recipe here.
Mug Cake
Do you not want to gorge on a whole cake? Now, you can quickly treat yourself with mini mug cakes, which are sufficient for one individual. You can prepare these in very little time. Check out the recipe here:
Red Velvet Cake
Not a fan of chocolate? Then check out this easy red velvet cake which can be prepared easily at home. Check out the recipe here.
Also Read: This Dessert Shop In Bandra Offering Mouthwatering Cheesecake Is Straight Out Of Pinterest