The Kailash Mansarovar Yatra is amongst the most anticipated yatras taken by Shiv Bhakts every year. The Yatra includes a parikrama of Mount Everest and taking a dip into Lake Mansarovar. One can either take the journey on foot or visit the place via land cruisers, helicopters or even luxury buses. The prebooking to visit Kailash Mansarovar has to be done through the Ministry of External Affairs. Also, a passport is mandatory since Kailash Mansarovar sits in China occupied Tibet.
How to Apply For Kailash Mansarovar Yatra 2022?
The Yatra begins from Delhi and takes around 24 days to complete. One can cover the Narayan Ashram, Chialekh Valley, and Patal Bhuvaneshwar during the Yatra and book the Kailash Mansarovar Yatra package from Uttarakhand on the Kumaon Mandal Vikas Nigam Limited website. A non-refundable amount of ₹5,000 has to be paid to them, following which the registration will take place.
Website Address: https://kmvn.in/
Other website: https://kmy.gov.in/kmy/?lang=en
Also Read: How To Spend A Week In Spiti Valley? Here's A Guide
You Must Clear The Medical Tests
Once the registration completes and a group of 30 is formed, the organizers will ask you to visit Delhi at a specific time. In addition, medical tests will be conducted in Delhi before the Yatra begins. But, if one fails the medical tests, the registration amount paid in advance for the journey will not be refunded. You will be covering more than 110 KMS, and a proper security guard will also accompany the devotees. The organizers themselves will provide food, drink and accommodation.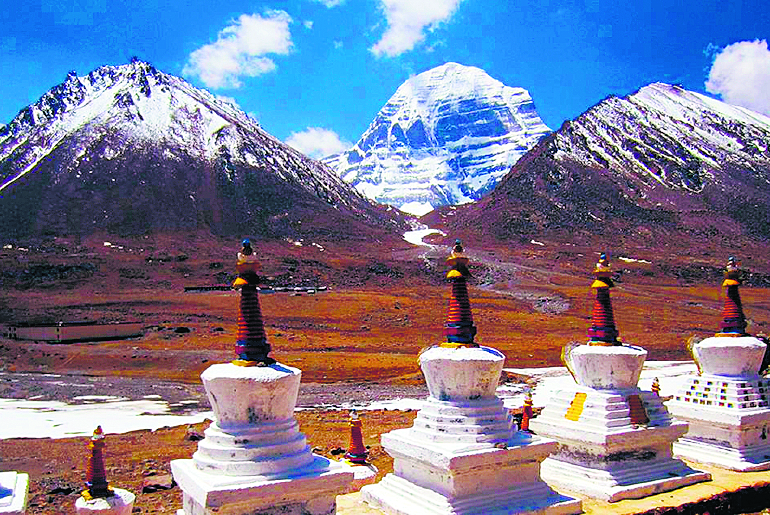 Holy Significance
Kailash Mansarovar is a holy place for the Hindu devotees as it is considered the place where Lord Shiva resides.
Other Major Attractions
Besides the Mansarovar lake, there are several other unique spots where devotees bathe after the parikrama. Gauri Kund, Yam Dwar, Asthapad and Tarboche also hold religious significance. Apart from Hindus, Tibetan Buddhists also believe Kailash Mountain to be the abode of Buddha Demchok.
Devotees visit this place to wash off their sins and attain purity or moksha at the end of their lives.
Also Read: Tourists Might Soon Be Able To Drive Up To The Scenic Kailash-Mansarovar Lake And Here's How